Home / Opinion / Staff Columnists
State ranking thrills Reynolds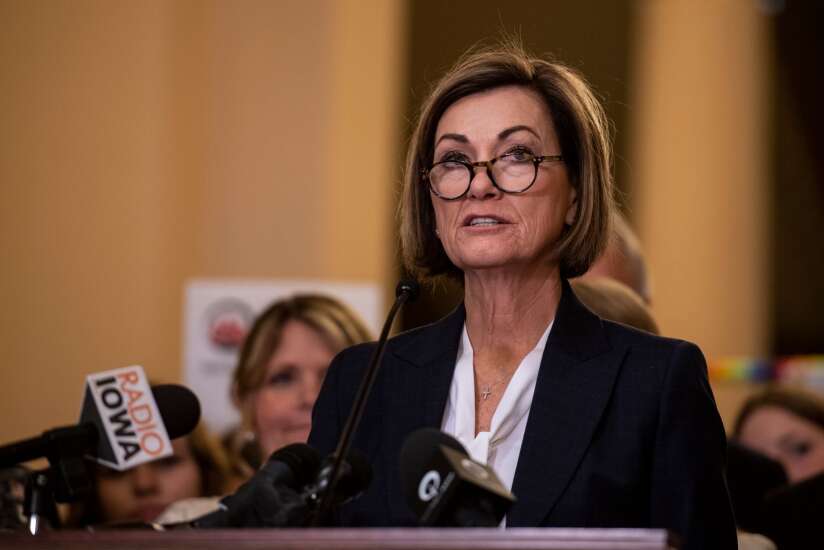 Maybe you, like me, could not care less where Iowa ranks on a list compiled by some online news site. But Republican Gov. Kim Reynolds is not among us. She cares a lot.
In 2018, Reynolds based her case for election on the online magazine U.S. News and World Report's ranking of Iowa as the nation's best state. In the latest rankings, U.S. News says Iowa is the 12th best state, so the governor doesn't mention it.
On Friday, the website for the business news cable channel CNBC reported that Iowa is the 10th best state to live in America. The governor was thrilled.
"GREAT NEWS for this Friday! Iowa ranked in the TOP 10 best states to live! We're doing big things here!" Reynolds proclaimed on Twitter.
We got credit for the fact just 5 percent of Iowans don't have health insurance, and for above average public health spending per capita.
But CNBC also gave Iowa credit for its Iowa Child Care Resource and Referral website, which has been around for 30 years. CNBC said the site "links Iowans to relatively abundant facilities in the state."
Iowa has abundant child care? That's news to us.
Reynolds' own official website says over the past five years, Iowa has lost 33 percent of its child care businesses and the state is currently short 330,000 slots. Her child care task force reported that 23 percent of Iowans live in a child care "desert," or an area with a shortage pf providers. That number jumps to 35 percent in rural Iowa.
In Linn County, according to the United Way of East Central Iowa, 50 child care businesses have closed since 2020. What's left is expensive, with a family making the median income in the county spending 11 percent of their annual pay to afford care for a single infant. For a single-parent household earning the median, it jumps to 41 percent.
Also, the median income for child care workers in east central Iowa is $11.21 per hour, creating high turnover as workers leave for more lucrative jobs, sparking a labor shortage.
Are we really doing great things here? Well, we are doing things.
Early this year, the governor announced $25 million in grants paid for by federal COVID recovery funds to support efforts to build or expansion of child care capacity at centers and to fund arrangements to between businesses and centers to reserve child care slots. The money also could be used to put day cares on site at business in cooperation with child care providers.
But the Legislature passed only two major bills. One raised child-to-staff ratios for 2-and 3-year olds while allowing 16- and 17-year olds to work without supervision. The other permitted child care providers to ask families using state child care subsidies to pay the difference between aid and normal fees.
So we get bills that raise safety concerns and that may push families to pay more, and no actions to address low pay and benefits for care workers. Billions in surplus dollars are being funneled to tax cuts.
Iowa's "weakness," according to CNBC, is "inclusiveness," which takes into account state laws affecting discrimination and voting rights. I'm guessing there must have been a typo. It's our lack of inclusiveness that's "abundant."
(319) 398-8262; todd.dorman@thegazette.com
Opinion content represents the viewpoint of the author or The Gazette editorial board. You can join the conversation by submitting a letter to the editor or guest column or by suggesting a topic for an editorial to editorial@thegazette.com