Home / Opinion / Staff Columnists
Some Iowans obsessed with idea of 'the public school teacher'
Student scholarships proposed in Iowa would be good for teachers but bad for unions.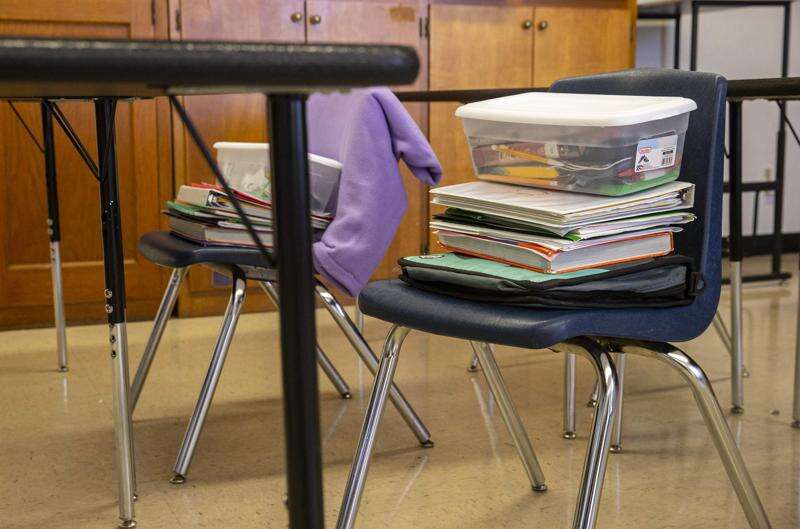 Every few years I see yard signs pop up with some variation of "support public school teachers." I agree with the sentiment but have always wondered, why do signs say specifically public school teachers, and not simply all teachers. After all, don't all teachers matter?
During the pandemic, health care worker discounts were pretty common at businesses and no one was checking IDs to make sure that the hospitals or facilities that nurses were working at were nonprofit instead of for-profit. It was understood that health care workers at Walgreens and at Mercy One were providing essential, important services. Teaching children how to understand the world is also an important, essential service, so why do we see messaging specifically hailing the platonic form of the public school teacher?
After my last column on school choice was published, I received some angry emails from people defending public school teachers from my "utter fearmongering hogwash." I was surprised to learn that some readers thought that I, Patricia Patnode, hate public school teachers.
I am a product of public schools. I loved my public school experiences and I think that my secular education gave me a greater appreciation for my Catholic-centered classes at Loras College. Although there are Christian schools in my hometown of Waterloo, it's pretty obvious that academic opportunities are richer there in public schools than in private schools. However, this wasn't always the case.
Waterloo, like many cities, used to have competing neighborhood Catholic schools. Students at the time, my dad being one, were mostly taught by nuns. Today, thanks to the baby boomer generation largely losing interest in religion, tuition increases and the almost total disappearance of religious orders in American mid-sized cities, many Catholic schools have consolidated or closed completely. Waterloo now only has one Catholic middle school and a few small, and frankly fading out, elementary schools.
Catholic school systems weren't ready for the supply shock of having to hire teachers with families to support and pensions to pay out. Many of the remaining nuns in our state reside in a retirement home in Dubuque, not in classrooms. Had student scholarships existed, parents could have had the opportunity to afford parochial schools and helped the schools pay teachers.
We can't correct the past or reopen the closed schools my parents attended, but we can offer incentives for future, diverse education opportunities. Innovative education ideas are easier to communicate through our digital world. For example, the Montessori education style is very popular on TikTok and Instagram, it focuses on self-directed activity, hands-on learning, independence and collaborative play. Language immersion schools, common in Europe and Asia, are now springing up around America. And pod learning, similar to the one room schoolhouse, became popular during the pandemic and seems to be here to stay.
Student scholarships are good for teachers but bad for the extremely well funded public school unions, of which most public teachers pay dues to. The "I support public teachers" signs, although probably well intentioned by those who put them up, are a propaganda tool to communicate that some teachers are better than others, and some school systems deserve to be protected from competition by the law and funded by tax dollars.
Advocating for student scholarships or similar policies shouldn't signal that public school teachers aren't important. Teaching is a necessary vocation, but at the end of the day, it's also a job that people can be hired and fired from, or quit. Student scholarships and the resulting increase of diverse job opportunities for teachers would make the market for the institutions hiring teachers a lot more competitive.
Patricia Patnode is a Gazette editorial fellow. Comments: patricia.patnode@thegazette.com
Opinion content represents the viewpoint of the author or The Gazette editorial board. You can join the conversation by submitting a letter to the editor or guest column or by suggesting a topic for an editorial to editorial@thegazette.com