Home / Opinion / Staff Columnists
Sensors indicate another attack on Iowa's environment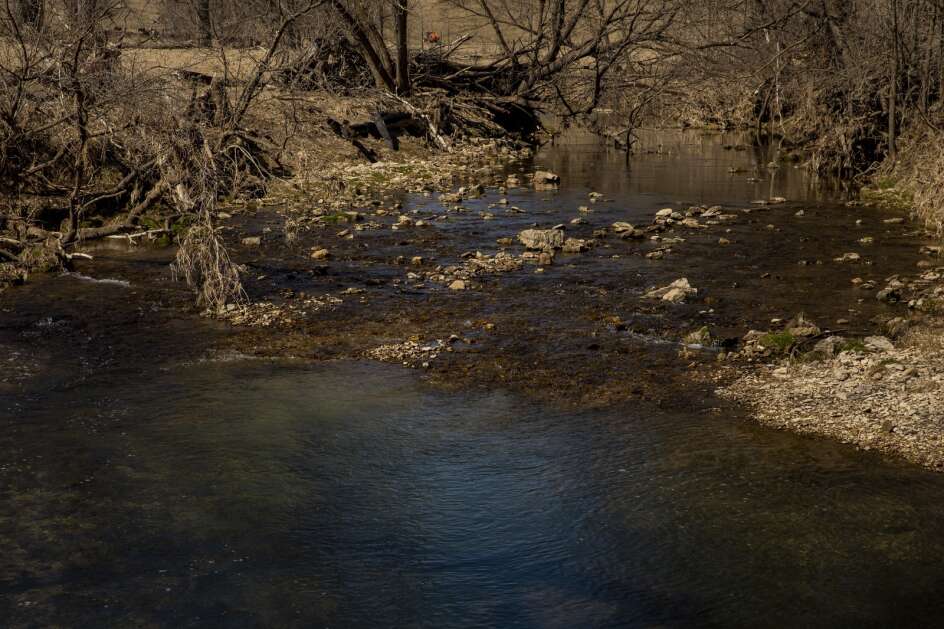 Republicans who run our Golden Dome of Wisdom, now redder than ever, are delivering a swift kick to Iowa's environment on their way out the door.
With just days left in the legislative session, the GOP-controlled Senate added language to a budget bill that would eliminate funding for a network of 66 river and stream sensors scattered across the state. The sensors measure nitrate and phosphorus pollution flowing mostly from farming operations into Iowa's waterways, letting us know if conservation efforts are working.
With a quick sleight of hand, lawmakers shifted $500,000 from Iowa State University's Nutrient Research Center budget, which shares its sensor data with the University of Iowa, to the Iowa Department of Agriculture and Land Stewardship. The Department of Agriculture will apparently use the money for conservation practices. A House committee signed off on the language Thursday.
But you don't need a sensor to detect what's really going on.
Republicans, led by Sen. Dan Zumbach, a Republican farmer from Ryan, don't want us to know about the nitrate and phosphorus load still pouring into our streams and rivers, and on to the dead zone in the Gulf of Mexico. That way, researchers can't sound the alarm on how the state's strictly voluntary efforts to clean our dirty water aren't working.
Basically, what we don't know can't make them look bad. Republicans who run the Statehouse and Department of Agriculture would rather count taxpayer-funded conservation projects without presenting data on whether the projects are actually working.
"I think the loss of the network will be devastating, both for its impact on the research and educational mission of UI and the public's right to know about the quality of their waterways," David Cwiertny, a professor of civil and environmental engineering at UI who leads the Center on Health Effects of Environmental Contamination and the Environmental Policy Research Program, told me in an email.
"The sensors have been enabling technologies for securing external funding, having leveraged well over $100 million in other sources of support both for UI and Iowa State," Cwiertny wrote. "The sensor network has also driven collaboration across the state, including state agencies that benefit from its existence. For example, the sensors have also supported several IDALS-coordinated Water Quality Initiative (WQI) projects around the state."
Larry Weber, professor of civil and environmental engineering at UI and a co-founder of the Iowa Flood Center, said in an email the loss of the sensors would have multiple effects.
"It will impact several scientific research programs, several municipalities using the sensors to inform drinking water utility decisions. Measurement of progress (or lack thereof) towards our nutrient reductions goals will be no longer based on reliable data, on and on," Weber wrote. "Additionally, we operate and maintain several sensors for state and federal agency partners which are funded on our statewide efforts so their research will be impacted as well. This is a world class water quality monitoring network, it will be sad if we have to shut it down."
Sounds like the sensors are valuable. But Zumbach doesn't see it that way.
"What we do know is practices on the land and in our towns is what makes cleaner water," he said Tuesday on the Senate floor, according to The Gazette's Erin Jordan. "When we made the decision on how to appropriate dollars, it was all about let's put practices that help clean our water."
But how will we know our water is actually cleaner? Well, I'm sure Sen. Zumbach will let us know. Otherwise, we can hope the Nutrient Research Center finds money someplace else to keep the network afloat.
"This is clearly a punitive measure from where I sit," Silvia Secchi, a professor in the Department of Geographical and Sustainability Sciences at UI and a senior research fellow at the Public Policy Center, said in an email. "The Legislature does not like that the data and the science show our water is getting worse and so they are trying to get rid of the data and show other institutions in the state that their funding will be cut if it produces information that they find inconvenient."
It's curious that two of the sensors are on Bloody Run Creek, a trout stream designated as one of Iowa's Outstanding Waters. That's where the Iowa Department of Natural Resources, in its infinite wisdom, permitted an 11,600-head Supreme Beef cattle feedlot in the Bloody Run watershed.
The owners of the feedlot include Zumbach's son-in-law. In 2021, Jordan reported that Zumbach spoke with DNR Director Kayla Lyon as the feedlot was navigating the permit process.
"Since I sit on the Natural Resources Committee I'm in communication with the DNR and I simply asked Kayla to get the right folks in contact with Supreme Beef so they could continue working through the permitting process," Zumbach told The Gazette in May 2021.
Groups opposed to the feedlot saw it differently.
"We're sick and tired of our state elected and appointed officials colluding with the factory farm industry to make sure they get what they want," Jessica Mazour, conservation program coordinator with the Iowa chapter of the Sierra Club, said in a statement in 2021.
Opponents of Supreme Beef's feedlot, built on porous karst topography, argue its flawed manure management plan raises the risk it would foul Bloody Run Creek. Now Zumbach is pushing to defund the pollution sensors.
On Friday afternoon, a Polk County judge overturned the DNR's decision to issue a permit to Supreme Beef, ruling the department used "illogical interpretations and applications" to approve the feedlot's manure management plan.
The Senate also struck language from the Iowa Code setting a goal for placing 10 percent of Iowa's land under open space protection by 2000. Only about 3 percent of state land is public, while 30 million acres are used by agricultural operations.
Earlier this session, a bill was floated that would direct the DNR to prioritize maintaining existing public lands over new acquisitions. Its backers argued acquiring property for conservation puts farmers at a disadvantage in the market for land. It was strongly opposed by conservation and outdoor recreation groups, as well as farmers. The bill was declared dead, but now it's back in spirit at the eleventh hour.
"We're all aware of driving through a park that isn't being mowed the way it used to be. We moved some dollars around so the DNR is in a position to take care of that property," Zumbach said this past week.
Last year, lawmakers attempted and failed to penalize landowners who sell their land to county conservation boards or the DNR. Zumbach backed the legislation, arguing it was needed to make sure "Iowa remains an agricultural state."
It would be more accurate to say Iowa remains a state tightly in the grip of powerful agricultural interests. Sensors indicate that's not going to change so long as Republicans carry their dirty water.
(319) 398-8262; todd.dorman@thegazette.com
Opinion content represents the viewpoint of the author or The Gazette editorial board. You can join the conversation by submitting a letter to the editor or guest column or by suggesting a topic for an editorial to editorial@thegazette.com