Home / Opinion / Staff Columnists
Running toward the runoff in Cedar Rapids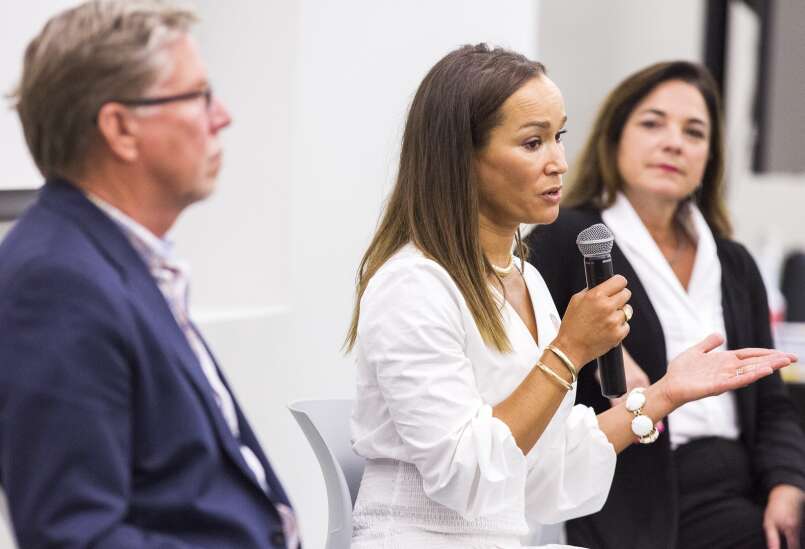 Candidates vying to become Cedar Rapids' next mayor can't take a post-election breather as they race toward a Nov. 30 runoff.
Tiffany O'Donnell clearly was the top vote-getter on election night, with 11,023 votes, but election winners don't always win a runoff. Amara Andrews came in second, with 7,359 votes, barely holding off Mayor Brad Hart, but Andrews won among absentee and early voters, suggesting some organizational strength. Hart endorsed O'Donnell on Tuesday.
Voting is already underway. And even with the Thanksgiving holiday sitting just five days before the runoff, I'd be surprised if turnout drops off dramatically.
In 2017, 17,661 ballots were cast in the general election for mayor. In the Dec. 5 runoff, 17,594 were cast. Monica Vernon was the top vote-getter on election night but Hart won the runoff easily. True, the general election field was much larger.
On Nov. 2, 26,175 voters weighed in on the mayoral race. As hotly contested as the race has been this year, I'd expect many of those voters to participate in the runoff, barring a blizzard or some other unforeseen development.
The Andrews campaign has confirmed that it's enlisted Stephenine Dixon to run its ground game in the rush to the runoff. Dixon was regional organizer for Pete Buttigieg's presidential campaign in Iowa and knows Cedar Rapids.
"Working in Cedar Rapids, Iowa for Pete Buttigieg was amazing. I've always dreamed of working on a caucus and I'm thankful but it was truly the hardest challenge I've had while working on a campaign" Dixon told Front Runner New Jersey, a political news website.
Buttigieg's campaign used "relational organizing" to build support for his underdog campaign. Instead of using voter rolls to find likely caucusgoers, rational organizing encourages supporters to reach out to people in their own personal networks to build more support. Buttigieg narrowly won the caucuses, although a long delay in reporting results blunted his momentum.
He won 61 counties and his Iowa ground game was regarded as the most robust. In addition to her work on big political stages, Dixon has also worked on local city and school campaigns in Atlantic City.
O'Donnell said she's sticking with the ground game her campaign implemented before the election.
"We'll have volunteers out across the city knocking on doors, making calls, dropping literature and spreading the word on social media that we need to get everyone back out to vote again," O'Donnell said in an email. "We don't pay to canvass or anything like that — it's going to be up to people in Cedar Rapids, win or lose."
Sure, bringing in a nationally known Democratic organizer could lend more fodder to Andrews' critics, who complain her campaign for a nonpartisan position has been too overtly partisan. But Andrews made it to the runoff despite that intense criticism. Now she needs to make up ground and has precious little time to do it. Dixon has a track record of helping candidates win.
But clearly, O'Donnell is in the driver's seat. Hart's endorsement will help. It's a Democratic town that elects moderate Republican mayors. As Andrews tries to make history, tradition stands in the way.
(319) 398-8262; todd.dorman@thegazette.com