Home / Opinion / Staff Columnists
Protesters block traffic, surround vehicles in Iowa City after conservative speaker's lecture
Althea Cole
Apr. 23, 2023 6:00 am, Updated: Apr. 23, 2023 10:16 am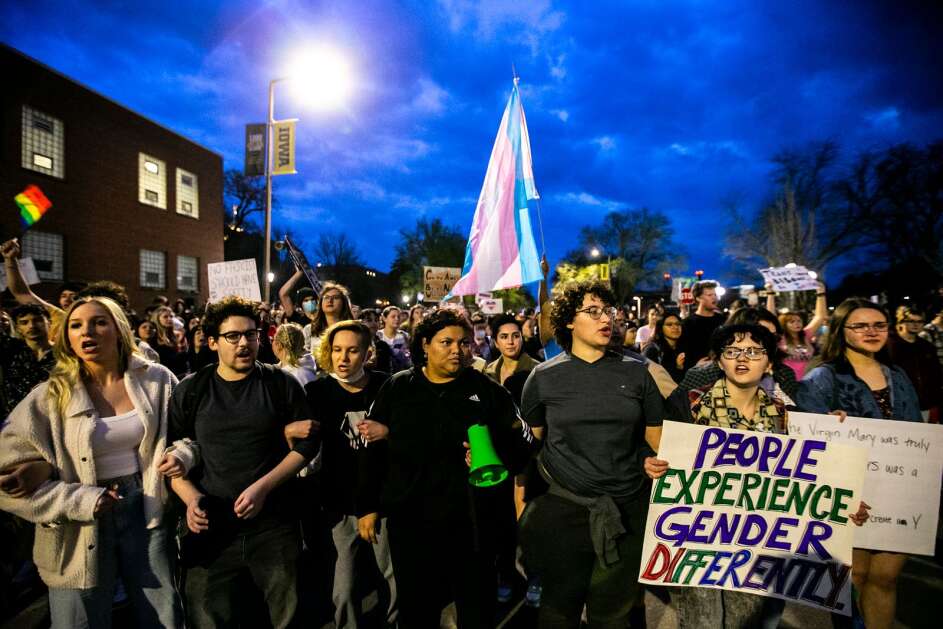 As I wrote on the Twitter after it happened, being stuck in my vehicle while surrounded by a hostile crowd isn't something I need to experience to know it's something I don't ever want to experience. Yet that's exactly what I experienced as I left an event at the University of Iowa featuring conservative commentator Matt Walsh.
Walsh is a writer and podcast host who is critical of gender identity ideology. He appeared last Wednesday for an hourlong lecture organized by the school's chapter of Young Americans for Freedom, a national organization that promotes conservative political values on high school and especially college campuses.
Most of Walsh's prepared remarks detailed the harassment faced by him and his family, harassment severe enough, he said, to require round-the-clock armed security in his home. He also commented publicly for the first time on his smartphone having been targeted the previous day by a hacker, who obtained huge quantities of his personal data, including social media logins and troves of emails. Walsh ended up devoting less than 10 minutes of his hourlong appearance to his planned topic: gender identity and the zealous ideology of its activists.
Disclaimer: This Video Contains Profanity
Of course, that topic is going to cause leftists whose ideology imbues college campuses to lose their goose feathers. While Walsh's lecture drew an audience of 800-900 people eager to welcome a notable conservative to the People's Republic of Johnson County, it also attracted a few hundred protesters, most of them college students, many of the "dye your hair to match a glow stick" type.
It's no mystery why all these kids came to protest. We Millennials, Gen-Xers, Boomers and Golden Oldies were all that young once, when we could let excitement and emotion take a back seat to common sense. Who's the fascist? Who cares? What makes him a fascist? Who knows? Wanna go protest the fascist with everybody? TOTALLY!
Protesting is cool. It's exciting. It makes one feel righteous and empowered, and the kids should have their fun. I had my fun too, once upon a time: When I was 25, I attended what was planned as a counter-picket to an anticipated appearance by the anti-gay hate group from Westboro Baptist Church in Kansas. To the disappointment of assembled counter-picketers, the Westboro Baptists never came. We wanted them to show up. We craved action and fury; to shout and stick it to the homophobes. Instead, we shrugged and wandered to a nearby gay bar to see a drag show. (If it surprises you that I would attend a drag show, shame on you for putting me in a box.)
I dislike protests only when they're unsafe. When large crowds and assertedly controversial figures are involved, flaring tempers can ignite chaos. That's why the college arranged a heavy security presence, why lecture attendees all got wanded before entering the event hall at Iowa Memorial Union, and why we couldn't bring backpacks, pocketknives or even water bottles in with us.
At least a few of the protesters attended the event with the obvious intent of stoking fear among eventgoers — and maybe even inflicting harm. After the event's conclusion, one protester dumped an enormous quantity of marbles in front of and down the stairs leading to the main exit to create an unstable floor surface. That could have caused significant accidents and injuries to who knows how many eventgoers had they not been cautioned to stay away from the area.
Outside the IMU, from which I exited through a side door, crowds began to grow as protesters coalesced to block vehicle traffic on N. Madison St, preventing cars from leaving the area via N. Madison or the one-way eastbound W. Jefferson St. Daylight was quickly fading, replaced by the flashing of the strobe light another protester brought for purposes that couldn't possibly have any legitimacy.
I wasn't going to stick around and wait for the crowd situation to deteriorate. I crossed N. Madison a safe distance from the protesters, got in my car, and waited in line to exit the parking ramp. With N. Madison and W. Jefferson blocked, cops were directing those exiting the ramp to turn right and proceed east onto W. Market St — a one-way street normally for westbound traffic. It was the only street left on which we could leave. (Another eventgoer wrote on my social media that he had managed to leave the scene of the event by driving his car along a pedestrian path next to a nearby residence hall — presumably Catlett Hall.)
Without haste, I followed police instructions to take the left, less trafficked lane going the wrong way eastbound toward N. Clinton St. and came to a stop behind the other wrong way-driving vehicles. As soon as the vehicles ahead of me were cleared to turn onto N. Clinton, I would finally be able to, as I muttered to myself at the moment, "get the hell out of [t]here." But before the chance came, a large bloc of dozens of protesters started marching from behind us up E. Market St and linked arms to form a human chain, blocking the vehicle in front of me and subsequently the rest of us in place.
My memories of the following 22 minutes are a bit of a blur, pieced together by a series of videos I took on my phone thinking that if nothing else, I could give some close-up footage to our digital team. Over the span of that 22 minutes, the vehicle in front of me managed, inexplicably, to slip past the crowd. Determined not to let a second vehicle through, the crowd of protesters moved in front my vehicle to ensure I couldn't drive off. Other vehicles behind me had managed to back up one at a time and turn around, presumably rerouting to a newly cleared N. Madison St. But by the time it came my turn to back up, more protesters had moved in, surrounding my red Nissan. Mine was the last of the trapped vehicles.
In one of the videos, I can be heard telling a small group of kids who attempted to admonish the protesters to let me leave that I was scared. I was a disabled woman, prone to severe if not catastrophic injury from even a mild physical clash, should one occur. I was surrounded by a horde of immature tyrants so lacking in character as to trap me in my vehicle while shouting chants of "F*** YOU FASCIST! F*** YOU FASCIST!" I had no way of knowing if any of them were physically dangerous — the present situation implied that violence wasn't necessarily off the table. After 22 long, exhausting minutes, several local police officers muscled a divide in the wall of protesters big enough for me to slip through. Whew.
Ironically, I don't even like Matt Walsh that much. I don't subscribe to his podcast or follow him on social media. He and I share similar values, sure, but our ideas and convictions don't overlap like these blue-haired weirdos apparently assume they do. I came to Iowa City to see his lecture because he was a notable speaker, I had time in my schedule, and I wanted to see the Q and A portion and see what others in my community wanted to discuss.
The lecture was fine, but it didn't dazzle me by any means. Nothing about the event seemed particularly remarkable. Had I left without getting harassed by protesters, I would have forgotten everything he had discussed by now.
Instead, I was given an evening to remember and a thought to consider: Matt Walsh is correct. The reactions of the emotionally fragile adolescents with buzz cuts dyed pink to make their heads look like Easter eggs proved it.
What is Matt Walsh correct about? We'll discuss that next week. In the meantime, I hope my next visit to Iowa City doesn't involve me looking over my shoulder. Of course, half my wardrobe says "Iowa State Cyclones" on it, so who am I kidding?
Comments: 319-398-8266; althea.cole@thegazette.com
Opinion content represents the viewpoint of the author or The Gazette editorial board. You can join the conversation by submitting a letter to the editor or guest column or by suggesting a topic for an editorial to editorial@thegazette.com