Home / Opinion / Staff Columnists
Let your voice be heard this election amid conservative social upheaval
Do not give up. The power of the American people is extraordinary, especially when they use their voice to collectively demand change.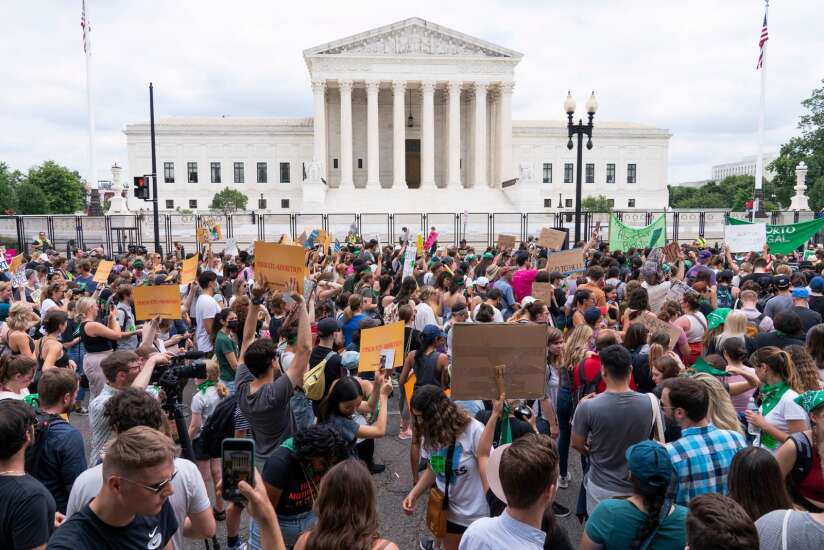 On the debate for whether or not the Supreme Court should err on the side of judicial activism or deference, I believe the court should favor judicial activism. I say this because without a modern interpretation of the Constitution according to present day morals and standards, the Court will inevitably stray further away from the liberal philosophy for which the United States is founded upon. Under the philosophy of liberalism, there is the belief that individual rights, civil liberties, democracy, and free enterprise should be promoted.
On issues about which there is substantial societal disagreement, the Court should not defer to legislatures because at some point, there needs to be a base standard for whether or not certain controversial statutes are in violation of basic fundamental rights that are entitled to every citizen in the United States. Today, the Supreme Court is acutely conservative. It is my belief that a Court should always be balanced in order to best represent the spectrum of values and beliefs of citizens in the United States. With an unbalanced court, whether it leans liberal or conservative, there is a legitimate worry for unfair laws and precedents to be made. The Supreme Court as an entity is charged to be the final arbiter of the law and ensure equal justice under law.
Justice Robert Howard Jackson argues for judicial activism in West Virginia Board of Education v. Barnette (1942), stating, "The very purpose of a Bill of Rights was to withdraw certain subjects from the vicissitudes of political controversy, to place them beyond the reach of majorities and officials, and to establish them as legal principles to be applied by the courts. One's right to life, liberty, and property, to free speech, a free press, freedom of worship and assembly, and other fundamental rights may not be submitted to vote," according to Justice Jackson's Opinion of the Court.
With the view of Justice Jackson, there is an acknowledgment for the fundamental rights each citizen is entitled to, and politicians should not decide whether or not people deserve them. When it comes to the fundamental rights of people, judicial activism is necessary to ensure all people have equal access and ownership to their rights. When this is left up to legislatures, human rights are left up for debate because they are quote-on-quote "controversial," even though there should be nothing controversial about racism, sexism and homophobia. If the court always reverted to judicial deference, we never would have had the landmark cases, such as Brown v. Board of Education (1954), Tinker v. Des Moines (1969), Roe v. Wade (1973), Obergefell v. Hodges (2015). These were all landmark cases because they marked moments when the court considered a contemporary interpretation of the Constitution. There has to be some progression in order for society to advance.
Today, the court is working to give sweeping power on serious, controversial social issues to state legislatures, rather than carry on the legacy of the Supreme Court as a defender of the people most at risk — whose voices are often pushed to the backroom or silenced altogether. The lost legacy of the "Warren Court," led by Chief Justice Earl Warren between 1953 and 1969, is fading. Those landmark cases — on issues ranging from school desegregation and redistricting to the right to counsel and police interrogations — supported social change. Now, a majority of the SCOTUS justices have declared themselves keen on fighting progressive change in almost every facet of today's culture war.
From abortion to gun control to religious liberty and now affirmative action, the American people are witnessing a flagrant disregard for the Court's precedents, rolling back landmark decisions and severing the American people's trust in the court, according to a 2022 Pew Research Report. In fact, "Americans' ratings of the Supreme Court are now as negative as — and more politically polarized than — at any point in more than three decades of polling on the nation's highest court," Pew reports. "Positive opinions of the Supreme Court have steadily declined among the U.S. public since August 2020, when 70% of Americans held favorable views of the court."
As we the people look to the future, it's imperative that people stay relentless in their advocacy and activism. Use your First Amendment right to speak up about the things that matter. Throwing in the towel is not an option when the very sanctity of our rights as human beings and United States citizens are being stripped away for the comfort of the elite.
Nichole Shaw is a Gazette editorial fellow. nichole.shaw@thegazette.com
Opinion content represents the viewpoint of the author or The Gazette editorial board. You can join the conversation by submitting a letter to the editor or guest column or by suggesting a topic for an editorial to editorial@thegazette.com