Home / Opinion / Staff Columnists
Kim Reynolds war on women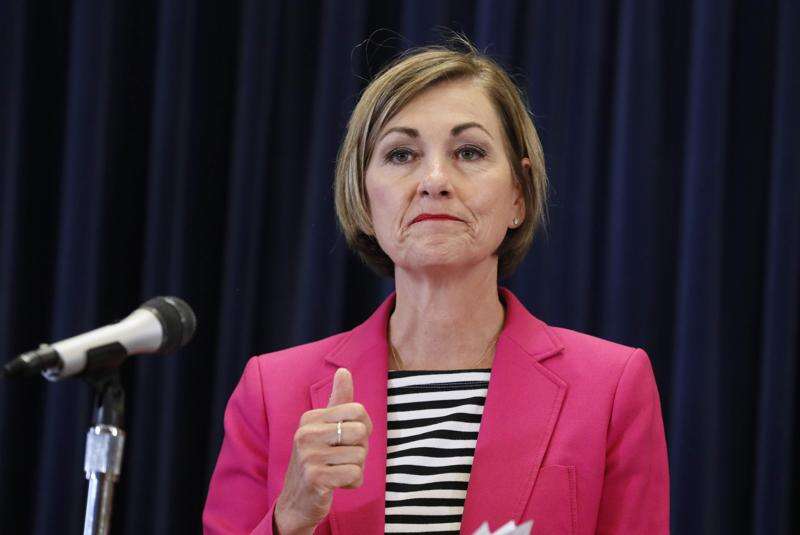 Behind the tailored suits and impeccable shellacked smiles, Iowa's Gov. Kim Reynold's is waging a war on women.
On Monday, Reynolds signed a law that would establish a 24-hour waiting period between a woman's initial appointment and her abortion. The law, which was added as an amendment to an unrelated bill was passed on a party-line vote in the middle of the night.
Self-professed 'anti-abortion" GOP lawmakers at the capitol, who continue to refuse to wear masks to protect the lives of others from a virus that has killed over 700 Iowans, are more than happy to restrict a woman's constitutionally protected right to health care access. If irony weren't already sufficiently dead by now, Iowa's GOP-led legislature would have shot it, mounted it's head on a wall, and declared it a monument to freedom and personal liberty.
If you feel like we've been here before, we have. It's not a bad dream, you're just in Kim Reynolds Iowa. In 2018, GOP lawmakers in Iowa passed a 72-hour waiting period that was struck down by the courts. The only difference between that law and this law, is this law is more restrictive. In 2019, the legislature passed into law a fetal heartbeat bill, which was also declared unconstitutional.
On Monday, at a court hearing to stop the bill from going into effect, a lawyer for Planned Parenthood, who is suing the state, noted that this is like 'Groundhog Day."
No matter how many times the courts tell Iowa Republicans that their laws are unconstitutional, they try again, but with an even worse law. It is Groundhog Day, but only if you make the plot 10 times more idiotic and make the stakes of the cycle a woman's life. The law was signed on the same day the Supreme Court voted to uphold a woman's right to an abortion, by striking down a Louisiana law that would have mandated that doctors for abortion clinics have admitting privileges at a hospital.
In 2016, the court ruled that a similar law in Texas placed an undue burden on women's access to constitutionally protected health care. Chief Justice John Roberts, voted to strike down the Louisiana law using the principle of stare decisis, which upholds precedent set by the court. Meaning, once a law is decided, unless there is a special circumstance, the precedent should be upheld.
In sum: Even a conservative justice is sick of this.
Nevertheless, Iowa lawmakers undeterred by logic, the law or the health and welfare of their citizens persisted. On June 30, Sixth District Judcial Judge Mitchell Turner issued a temporary ban on the law from going into effect, stating, 'Abortion is, under any analysis, a polarizing and highly controversial topic, yet the amendment was passed with limited to no debate, and without Iowans being given a chance to respond to the amendment," he said.
This legislative session, GOP-dominated legislature's efforts to protect the freedoms of Iowans meant legalizing canned cocktails and calling it a day. Instead, lawmakers spent their legislative time, making it harder for Iowans to vote with absentee ballots, protecting companies from being sued over covid-risks and not practicing social distancing.
Iowa is the only state in the nation where felons are not allowed to vote, this is despite repeated promises from the governor that she's working on it. Perhaps if advocacy groups replaced the word 'felon" with 'fetus," we might have results by now.
lyz.lenz@thegazette.com; (319) 450-0547