Home / Opinion / Staff Columnists
Iowans must come together to combat hate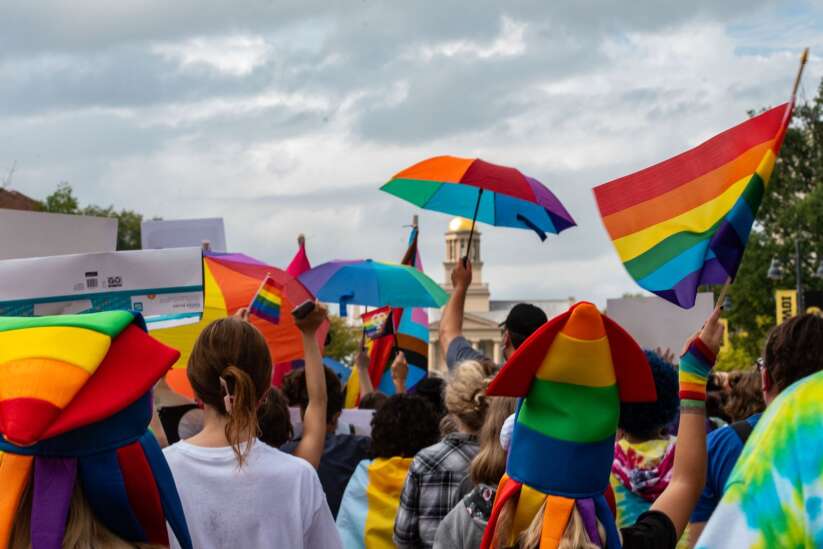 Hate speech is on the rise in the United States, as is antisemitism and homophobia with the downpour of anti-LGBTQ legislation introduced this year. In fact, Iowa introduced 19 anti-transgender bills alone to the 2022 Legislature — a number matched only by Tennessee.
At large, the number of anti-LGBTQ bills nationwide jumped from 35 in 2019 to more than 250 this year, according to One Iowa, an LGBTQ advocacy organization. As for antisemitism, 2021 was the highest year on record for documented reports of harassment, vandalism and violence directed against Jews — and 2022 is expected to surpass that record — according to the Anti-Defamation League. Nationwide, there were 509 anti-Semitic incidents recorded—and that's not including the uptick in hate speech the world has seen in response to Musk's lack of content moderation policies for Twitter and Kanye West's recent comments about how, "Every human being has value that they brought to the table, especially Hitler," in his interview with Infowars Network, alongside Holocaust denier Nick Fuentes.
The debate surrounding hate speech in the United States is one that is consumed by the question of where individual rights, as it concerns freedom of speech, put the public at risk. Historically speaking, the United States is one of the most liberal societies in the world when it comes to protecting an individual's fundamental right to speak with the highest standards, though Norway ranks number 1 in that respect.
The most important case precedent regarding hate speech in the United States is the National Socialist Party of America v. Village of Skokie (1977), in which the Supreme Court of the United States ruled in favor of a white nationalist group because the city of Skokie made a content-based decision in banning a white nationalist group from marching down Main Street and uttering racist or harmful speech in a public setting. This goes to show just how far the court will go to protect the right to free speech, because speech codes would disproportionately disadvantage minorities and put them at risk by those in positions of authority and power (more often these people being hetero-normative white men) prohibiting certain kinds of speech.
It's no secret that we live in a prejudiced society. According to a 2019 report by the Pew Research Center, "Hispanics (45 percent) and black people (38 percent) are significantly more likely than whites (30 percent) to say they feel unfairly judged by others because of the language they use to express themselves." Now, the United States is seeing that white men are taking advantage of this principle the most as of late, when they argue that utterances of what we could consider hate speech are violating their First Amendment right to free speech, via their extremist blogs and platforms.
Given case precedents and court principles amid the current social climate of the nation, the government probably should regulate certain kinds of hateful expression if the court can determine that the person using the hate speech intentionally targeted a minority group to negatively impact their ability to go about their daily life or cause harm to their well being.
The current principle and precedent for punishable hate speech comes from the Civil Rights Act, Title VI Guidelines established in 1994, which states hate speech must be severe, pervasive, or persistent and is therefore, no longer protected by the First Amendment. However, even one instance of uttered hate speech against an individual can have detrimental, long-lasting effects on a person's stability and ability to navigate life normally. According to a study by Laura Leets — who studied and examined instances in which Jewish or LGBTQ individuals were the subjects of targeted hate speech against their personal identity — it was found that emotional consequences were the most frequently reported short-term effect, and the long-term consequences showed that attitudinal change for hate utterances was a common trauma response. Therefore, a legitimate study brings forth evidence that suggests hate speech, even when not pervasive or persistent, still has intense short-term and long-term negative effects on individuals for which the speech was directed at.
In Iowa particularly, a state once hailed as a leader in LGBTQ rights and general equality, there needs change. The state is pushing away droves of people in their effort to combat liberals so-called "sinister agenda." Instead of celebrating different walks of life, Iowa is becoming more white, more hetero-normative, more oppressive. But Iowa isn't too far gone to still foster change and earn back its title as a trailblazer in civil rights. There is still hope to turn things around. If not, Iowa may be lost to a sea of extremism that prohibits any minority from ever feeling truly welcome in its restrictive boundaries.
Nichole Shaw is a Gazette editorial fellow. Comments: nichole.shaw@thegazette.com
Opinion content represents the viewpoint of the author or The Gazette editorial board. You can join the conversation by submitting a letter to the editor or guest column or by suggesting a topic for an editorial to editorial@thegazette.com