Home / Opinion / Staff Columnists
Iowa shuts down protesters faster than the coronavirus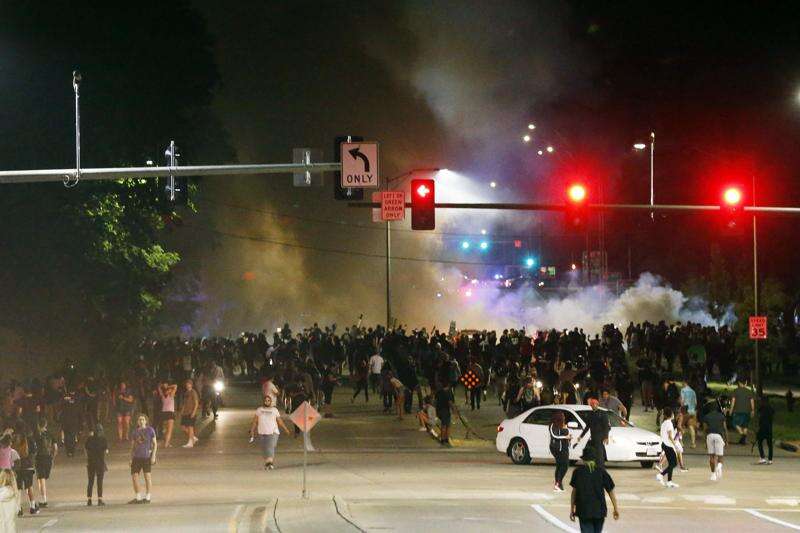 In Iowa, state officials have been swifter to enforce curfews and lockdowns in response to peaceful protests than they were to stop a deadly virus that has killed nearly 600 people in this state.
On May 25, George Floyd died at the hands of Minneapolis police. Derek Chauvin, a white police officer, knelt on Floyd's neck for 8 minutes and 46 seconds, while Floyd begged to breathe. Floyd's death was one of too many in a country where racism is encoded into our systems of governance. Protests in Minneapolis against the police, catalyzed anti-racist protests across the nation and the world. Protesters are not only demanding that America see how our country is killing Black people through racism, but are demanding police reform for accountability and oversight.
In response to these largely peaceful protests, police across the state have fired tear gas and pepper spray into crowds. On June 3, in Iowa City, peaceful protesters were tear gassed when they blocked an intersection. On June 2, protesters in Des Moines were tear gassed as they approached the capitol steps. Cities and counties have issued curfews and businesses are boarding up out of fear of looters. In March, these same cities and counties were told by the governor they didn't have the authority to issue shelter-at-home orders due to COVID-19. But they are now being given full force of the law to arrest and restrain peaceful protests.
It's a stark contrast to the COVID-19 crisis, when the state's ban on large gatherings wasn't enforced at all. Guidance from Occupational Safety and Health Administration and the Centers for Disease Control and Prevention was deemed <URL destination="https://www.desmoinesregister.com/story/news/politics/2020/05/21/osha-cdc-meatpacking-safety-recommendations-largely-unenforceable/5239950002/">'advisory" but not 'mandatory" by the state.
</URL>Gov. Reynolds repeatedly justified this approach as balancing 'lives and livelihoods" and trusting Iowans 'to do the right thing." Even when Iowans weren't doing the right thing, even when there was a horse auction that drew a crowd of over 300 people or a health store in Des Moines held and event, which was fine because they said they were taking precautions with 'essential oils." Even then, the Governor still retained her trust in Iowans.
But now that Black Iowans are in the streets demanding their right not to be killed, the response is swift and severe. Gone is all that trust, now we have to be tear gassed.
Iowa is one of the worst state's in the nation for racial inequality. A report by the University of Iowa found that in almost every area of life in Iowa, include housing segregation, imprisonment rates, education and unemployment, Black Iowans faired far worse than white Iowans. In 2019, The Gazette reported, 'African Americans make up about 4% of Iowa's population, according to the State Data Center, but more than a quarter of the state's prison population - continuing to leave Iowa with one of the worst racial disparity rates in the nation."
This racial inequality is also mirrored in the rates deaths and infections by Covid-19. According to The Covid Tracking Project, Black Americans are more than two times likely to die from the virus. In Iowa alone, where Black people make up 4 percent of the population, they account for over 13 percent of COVID-19 cases. Nationwide, Latinos and Hispanics make up a disproportionate rate of Covid infections. This is because Hispanics, Latinos and Black Americans are more likely to work front-line jobs, deemed essential, but often come without health care benefits, hazard pay and sick leave. In Iowa, outbreaks at food processing plants have primarily affected immigrants, people who were formerly incarcerated and people of color.
The disparity in COVID-19 infection rates and deaths, like the inequality in policing is, systemtic.
While the response to both situations has been different, what they have in common is that in both situations our government has shown a willingness to risk the lives of people of color - whether on the streets protesting or in the food processing plants coughing. In either instance, people of color in Iowa cannot breathe.
lyz.lenz@thegazette.com; (319) 450-0547