Home / Opinion / Staff Columnists
Iowa Gov. Reynolds stars in the series finale of COVID-19 briefings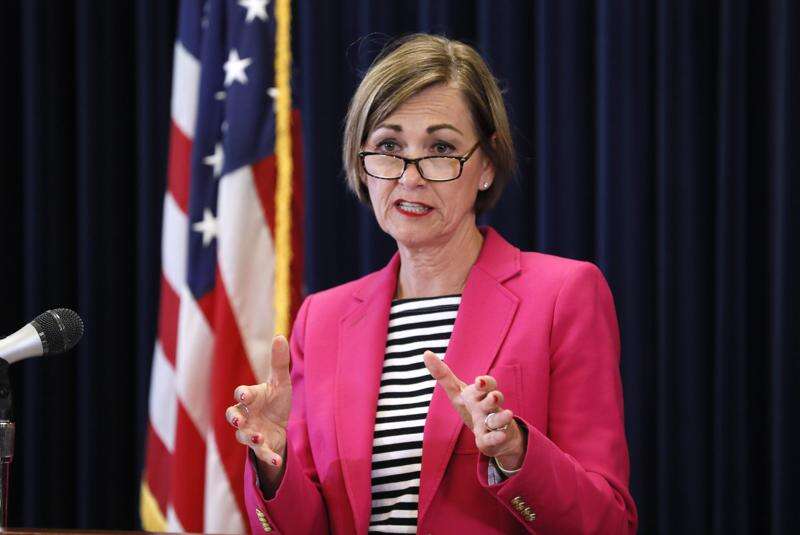 Gov. Kim Reynolds strode away from the lectern Thursday morning and that was it.
Our must-see pandemic binge-watch, Reynolds' daily, then sort of twice-weekly, COVID-19 media briefings, abruptly ended.
'And finally, today will be my last televised press conference," Reynolds said.
Our governor rolled the credits on the pandemic. She thanked her sign language interpreter, her Spanish language interpreters and Iowa PBS, which broadcast the briefings and provided online streaming.
Iowans are still contracting the virus and dying. Other states have seen troubling case spikes. Some counties in Iowa also are seeing cases jump. But the briefings are fading to black.
We haven't been this uncertain about what comes next since Tony Soprano looked up toward the restaurant entrance.
Reynolds fought back tears as she thanked Iowans who wrote to her in support of her efforts. But there was no 'In Memoriam" for the 680 Iowans who have died of the virus.
The ending is a milestone for those of us who once scheduled our morning routines around the governor's 11 a.m. episodes. Where will we get our data and metrics now?
We've watched as Iowa went from social distancing to happy hour, from saving lives to saving livelihoods and from stopping the spread to living it up without dread.
No worries, your local ICU still has a bed. And plenty of ventilators.
Remember when we were going to flatten the curve, then 'crush" the curve? Now we're unsure whether it was ever even about the curve.
'I think it's important to remember that we never guaranteed that anybody would not get COVID-19. But our goal was really to identify those most vulnerable and make sure we were doing everything to protect them. And that still applies," Reynolds said Thursday.
Tell it to meatpacking workers left so vulnerable they got sick by the thousands.
And the vulnerable, by the way, should probably stay home while the rest of us get haircuts and hit the casinos.
We went from six regional virus scores to partially reopening 77 counties on May 1 to partially opening the other 22 counties and now 99 counties with few remaining restrictions. We've also got three phases - stabilize, recovery and grow.
'We're well into the recovery phase," Reynolds said Thursday.
And there were dramatic plot twists along the way.
Wait, did she just say it was Ashton Kutcher who recommended the shady Utah tech bros providing our Test Iowa testing? A no-bid $26 million contract?
Wait, did they just say they won't tell us about new meatpacking plant outbreaks unless reporters ask? I suppose next they'll end the briefings.
Wait, this is her last briefing?
Like even the best shows, things had gotten stale. Briefings became sporadic. Often we were treated to long presentations by invited guests praising the governor's response and eating up enough time so the governor didn't have to take so many questions from pesky reporters around Iowa.
The final episode was a good example. A fair chunk of the proceedings was taken up by Ben McLean, CEO of Ruan, who will lead the governor's new Economic Recovery Advisory Board.
The governor also took time to detail positive COVID-19 numbers, including a continuing decline in hospitalizations and in the rate of positive tests. And we're doing more testing.
Also, we received one more dose of the great coronavirus caveat - 70 percent of Iowans who have died of COVID-19 had underlying health conditions. Draw your own conclusions.
But remember, we're all in this together.
The positive hospitalization numbers and other trends are good news, to be sure. But with 392 new cases announced on Friday, this just doesn't feel over. Some other reopened states, such as Florida and Oklahoma, are seeing caseloads rise sharply.
The governor was asked about an increase in cases in Story County and whether it raises concerns about students returning to Iowa State in the fall. She turned it over to State Medical Director and Epidemiologist Caitlin Pedati for one more soothing word salad.
'Again, following patterns at a local level is an important part of what we're going to continue to do for this virus. And so understanding the way that we live, work and interact across Iowa as a state, as well as at the county and local level, and what resources and organizations or groups we have in each individual community is an important part to help us, local public health, clinical partners and really our communities overall, understand what we need to do to interact to protect people and keep people healthy," Pedati said.
What's clearer is Team Reynolds isn't worried, nor is it planning for a worst case relapse. We're moving ahead with the recovery phase, spikes and waves be damned. We've got a board full of business leaders charting the course with not one disease expert in the bunch. Precautions are being relaxed but pandemic regulatory relief for businesses will continue through year's end. Priorities.
We're still following patterns and interacting. Stay home if you're sick or vulnerable. Wear a mask, but only if you want to. Check the website if you have questions.
But the credits are rolling. Please change the channel.
(319) 398-8262; todd.dorman@thegazette.com
Opinion content represents the viewpoint of the author or The Gazette editorial board. You can join the conversation by submitting a letter to the editor or guest column or by suggesting a topic for an editorial to editorial@thegazette.com