Home / Opinion / Staff Columnists
Iowa bill requiring state Supreme Court supermajority is a bad idea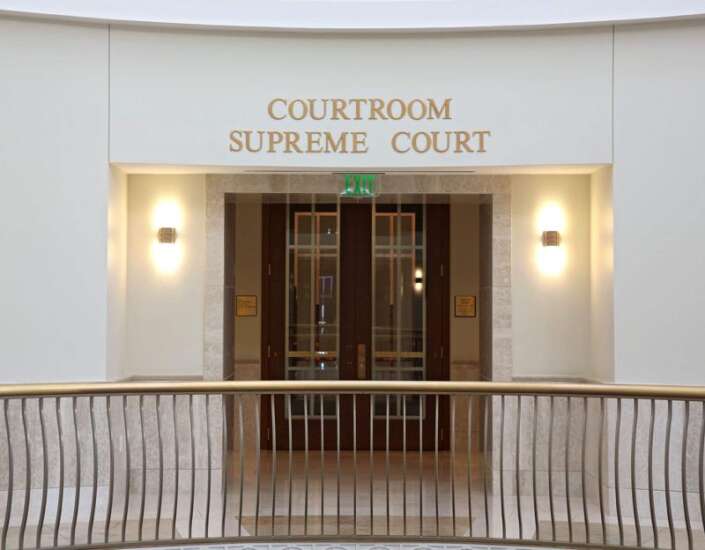 Even when you control the Legislature and the governor's office, there's always a chance Iowa's pesky Supreme Court might spoil the party. It's usually something about the constitution, and having to follow it.
Well, some Republicans in the Iowa Senate would like to check that balance. A bill under consideration, Senate File 2153, would require the concurrence of at least five of Iowa's seven high court justices to declare a law unconstitutional. So 4-3 no longer would be enough.
Its main backer, Sen. Julian Garrett, R-Indianola, a retired attorney and farmer, modeled his plan after Nebraska, where the constitution mandates a five-vote majority to overturn a law. The only other state with a supermajority requirement is North Dakota, where four of five must agree.
'It's just too much power to give to four judges to make fundamental changes in our law," said Garrett, who has 20 co-sponsors. The bill cleared a Senate judiciary subcommittee Wednesday. Garrett argues the change can be made through a short, simple statute because Iowa's constitution says the Supreme Court operates 'under such restrictions as the General Assembly may, by law, prescribe."
Among groups supporting the change is The Family Leader, which led the charge to oust justices in the wake of the Supreme Court's unanimous 2009 ruling striking down the state's ban on same-sex marriage.
Garrett insists he's not targeting the current court, which just happens to be routinely split 4-3, often pitting three justices appointed by former Gov. Terry Branstad 2.0 against three appointed by Democratic governors. The swing vote usually comes from Chief Justice Mark Cady, appointed by Branstad 1.0.
Garrett points to some recent 4-3 rulings striking at mandatory sentences for juvenile offenders and tossing a drunken boating statute as evidence of the need for change. 'More important is what might come up in the future," he said.
In the present, we have a Legislature where a handful of leaders and key lawmakers craft major legislation behind closed doors and ram it through in a matter of days. A governor of the same party is unlikely to curb their excesses. This seems like a lousy time to blunt the one strong check remaining on the misguided use of legislative power.
Garrett's worried about the might of four justices, but his proposal would give considerable power to a three-justice minority. Just look at Nebraska and North Dakota.
In Nebraska, four justices determined a 2012 law giving the governor authority to select the Keystone Pipeline route violated the constitutional separation of powers. But three justices refused to rule on the constitutional question, forcing the court to take a pass on an issue of state and national importance.
In North Dakota, three justices recognized the clear unconstitutional nature of stringent abortion restrictions, but two justices ruled otherwise. North Dakotans had to take the issue to federal court.
In Iowa, no matter how messed up the Statehouse gets, at least our highest court can reach a final decision on critical constitutional questions. If Garrett and his allies get their way, those disputes could hit a dead end thanks to three punting justices.
Plainly, the bill would increase the likelihood of an unconstitutional legislative action being allowed to stand unchecked. And the fact it's even being considered shows the need for judicial supervision of legislative partying.
l Comments: (319) 398-8262; todd.dorman@thegazette.com