Home / Opinion / Staff Columnists
If not a train station, housing is a better use for public land than a lawn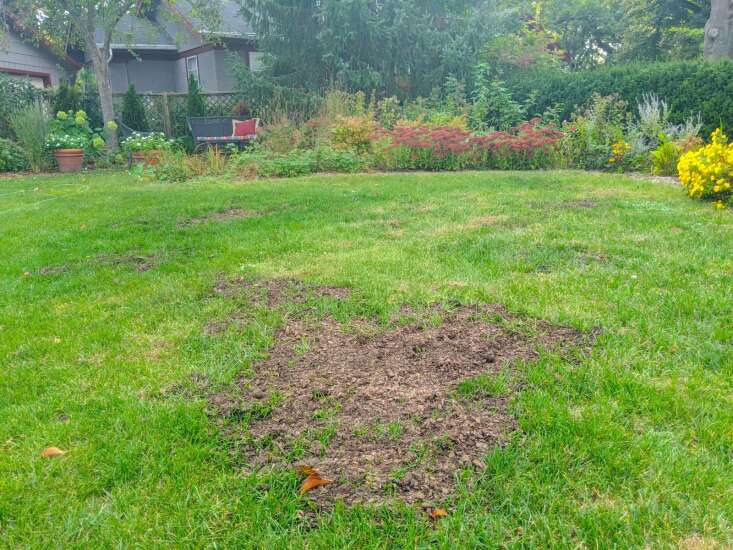 When commenting on the recent purchase of land for a potential passenger rail station, Iowa City Manager Geoff Fruin was also cognizant of the very real possibility of plans for a route to Chicago falling apart once again, as I had written about earlier this month. He was quoted in The Daily Iowan saying as much:
"It also provides the city in the future, regardless of the Amtrak route, the ability to extend Oak Grove Park kind of in a linear fashion along the rail line should that be a priority in the future."
If the City is to invest significantly in Oak Grove Park, it should use that opportunity to commemorate the history of the area. Proximity to the railroad meant that the area was one of the first places where Hispanic people and their families (at this time, Mexican workers), working for the Chicago, Rock Island and Pacific Railroad, settled in Iowa City during the 1910s and 20s. Living in Spartan converted boxcars, the existence of this "barrio" was always precarious, and was eventually dismantled as the railroad destroyed the boxcars on account of aesthetic complaints by local residents. It has been a goal of the Iowa City Historic Preservation Commission since at least the summer of 2020 to further study and commemorate this lost community by Oak Grove Park, and any substantive work on the park by the City should involve these goals of the commission.
However, it is also my belief that an expansion of Oak Grove Park would be a poor use of the land. The park in its current state is lightly used, and an expansion of it would mean the loss of housing which currently occupies the recently purchased, now-public land. If the Amtrak route falls through once again or a different location is used for the station, and the City seeks to redevelop the land, a better use of the space would be for the City to build on that land — housing.
The area still is suitable land for habitation in a relatively central location in the city, and public ownership of the land would give the municipal government full oversight over the conditions of development — the style and design of the building, how much rents should be set at, affordability, and more. Past attempts by the city to regulate private development decisions on private land — through drawn out negotiations with developers, design reviews, rezonings, allotting minimum percentages of affordable units, height bonuses, and more — have frequently stymied the construction of much-needed housing in the city. Ostensibly, public development by the city, on publicly-owned land, would bypass all of these past hurdles, as the city would be able to build housing in accordance with its own social and design goals, and thus allow the construction of a much needed supply of housing to take place more quickly than before.
At scale, public development of rental housing can even be fiscally self-sustaining, with rental income covering the cost of construction. As there is no "need" for a public developer to generate profits on top, housing which is constructed on a public basis can then be rented on a break-even basis, below market rates. Furthermore, these more affordable rents in public units can compel private landlords to stabilize their own rents, when enough affordable public units are in competition with the private market — after all, why would someone rent a subpar room in a 40 year-old private split level when more reliable accommodations could be sought in social housing?
Of course, much of this cannot happen with only a small parcel of public land. Indeed, in Vienna, one of the most commonly-cited examples of public housing done right, "60 percent of residents live in co-ops, government-owned or subsidized housing," and 80 percent of Austria's population is eligible to live in public accommodations — conditions which are hardly further from reality in the U.S. However, a more sympathetic view toward public development, and stronger state capacity in the realm of housing, could be started at a place where the City has already completed arguably the most difficult step — purchasing the land in the first place.
A park without intention is just a patch of grass, which is hardly natural to the area, and carries its own environmental concerns with the fertilizers, pesticides, lawn mowing, and leaf blowing required to keep that grass clear and pristine. Currently, there are three homes on the land that was recently purchased by the City, which are homes in a compact, central location and not sprawl in the suburbs. In an context where (1) population growth in Iowa City has been outpaced by that in the suburbs, (2) urban sprawl has been conclusively shown to be detrimental for health and carbon emissions, (3) and an integral method for reducing sprawl is keeping people in compact urban centers, Iowa City should be looking for ways to increase its population, rather than tear down housing in an area suitable for compact, walkable development. Placing that development in public, rather than private hands, could help assist with this, and in a more equitable fashion compared to the private modality which has predominated before.
Austin Wu is a Gazette Editorial Fellow. editorial@thegazette.com
Opinion content represents the viewpoint of the author or The Gazette editorial board. You can join the conversation by submitting a letter to the editor or guest column or by suggesting a topic for an editorial to editorial@thegazette.com