Home / Opinion / Staff Columnists
I hate ranked choice voting
Ranked choice voting, which is currently being considered by a working group from the Cedar Rapids Charter Review Commission, is not an uncomplicated process. For that reason, I detest it.
Althea Cole
May. 15, 2022 6:30 am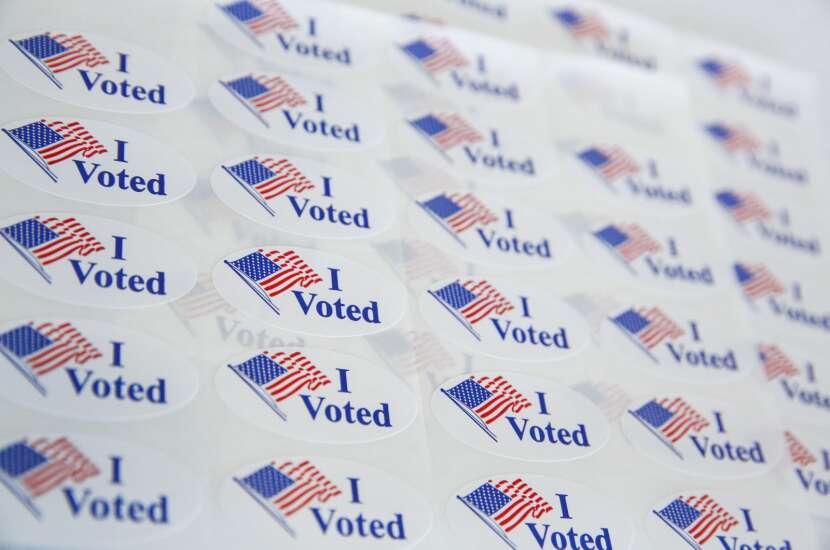 Disclaimer: The opinions expressed in this column are those of its author and do not represent the views or opinions of the Linn County Auditor's Office.
In June 2020, an elderly voter came to my polling place, intent on voting against Donald Trump. It was a primary election and presidential races do not appear on primary ballots in Iowa. Confused, the elderly voter started sobbing.
The electorate is comprised of voters ranging greatly in age, ability and knowledge of the process. The best way to keep that process accessible to voters who may struggle cognitively is to keep the ballot uncomplicated.
Ranked choice voting, which is currently being considered by a working group from the Cedar Rapids Charter Review Commission, is not an uncomplicated process. For that reason, I detest it.
Ranked choice voting, or RCV, as it's abbreviated, is the process of electing candidates by ranking them in order of a voter's preference. If no candidate receives a majority (50%+1) of first-preference votes, the candidate with the lowest number of votes is eliminated. Voters who ranked that candidate as their first choice instantly have their second choice counted instead. The process repeats until a candidate receives a clear majority and is declared the winner.
If you had to reread that a few times or consult another resource to understand it, you've made my point. Now imagine reading about ranked choice voting in the instructions of the ballot you're about to cast to make your picks for municipal leadership.
Currently, in the event that a city candidate does not receive a majority of the vote on Election Day, Cedar Rapids requires a runoff election to be held four weeks later. This is unlike most other elections such as county, state and federal, which are won with a plurality of votes. Avoiding that runoff is the basis of RCV's appeal among local proponents after mayoral races in 2017 and 2021 each required a runoff, held after Thanksgiving, to declare a winner.
Costs associated with a runoff election weigh heavily on both candidates and taxpayers. Candidates who advance to a runoff must raise enough cash to sustain an additional 28 days of campaigning. Taxpayers foot the bill for polling locations, paying $100,506 in costs associated with the 2021 runoff. Future runoff elections could theoretically cost more, as the 2021 runoff used a reduced number of polling places due to pandemic-related staffing issues.
Saving that money can come at a cost to voters who risk losing confidence in a confusing process. Misunderstanding of the RCV method could lead to higher rates of ballot spoilage due to incorrect marking. Voters who rank only some candidates and leave the rest blank won't have a say in subsequent rounds of vote tabulations if their ranked candidates are eliminated before a winner is declared. Voters who find certain candidates particularly distasteful (apparently that's happened before) and rank them lower still risk accidentally voting to elect one of those candidates if counting continues to those later rounds.
"Voter education is the most difficult part of that," says Matt Warfield, Deputy Commissioner of Elections in Linn County.
Election officials such as myself also will need to be properly trained if we are to assist those voters when they come to us with questions. I can only speak for myself and not the entire pool of precinct election officials who serve Linn County, but I can't help but wonder: if a self-described smart girl like me needs hours of research to understand it, how might voters who don't fancy themselves a policy wonk adapt?
Cedar Rapids voters shouldn't prepare for such a steep learning curve just yet. As of now, ranked choice voting remains a process that can't even be legally implemented. State law does not prescribe a process for RCV in any type of election. Therefore, cities including Cedar Rapids are preempted from adopting it unless the Iowa Legislature passes legislation to allow it, which is all but certain to not happen in the final days of the already-extended current session.
Were lawmakers to take up RCV in 2023 and pass it, the city council and the county elections office would have only months to implement the process before the elections that fall. The change would not apply to school board races, which would appear on the same ballot.
In no way would saying no to ranked choice voting mean that Cedar Rapids must stick with the current system of requiring a majority to declare a winning candidate. The current system was chosen by the city of Cedar Rapids, and the city has the same right to repeal that decision.
The Des Moines City Council voted unanimously in 2020 to do away with their own runoff elections and return to a winner-take-all system after the 2019 mayor's runoff yielded the same results as the initial round, with the winner's margin of victory increasing by only 97 votes out of over 20,000. Had Cedar Rapids used the same winner-take-all system in 2021, the outcome, the election of Mayor Tiffany O'Donnell, would also have been the same.
The working group from the Charter Review Commission makes their recommendations with good intentions. But more deliberation is necessary before the commission actually adds the language to the city charter to move to ranked choice voting if and when the state legislature ever allows it. Voters deserve a clean, simple ballot with clean, simple instructions. Ranked choice voting will never be a clean or simple process, and for that reason alone, I can't say it enough: I hate ranked choice voting.
Comments: 319-398-8266; althea.cole@thegazette.com
Opinion content represents the viewpoint of the author or The Gazette editorial board. You can join the conversation by submitting a letter to the editor or guest column or by suggesting a topic for an editorial to editorial@thegazette.com