Home / Opinion / Staff Columnists
How not to respond to an attack against democracy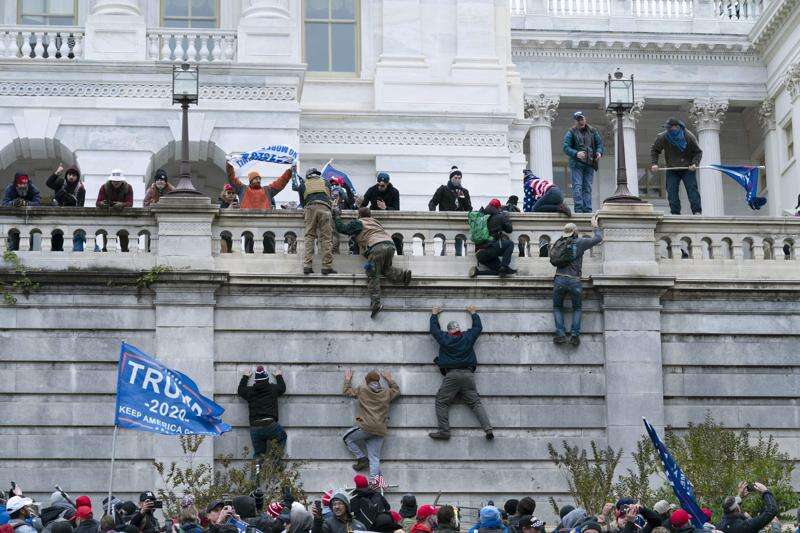 After Trump supporters breached the U.S. Capitol in a bid to undermine the 2020 election results, a few observers likened Jan. 6 to Sept. 11. Whether or not that's a reasonable comparison depends on what we do next.
Nearly 3,000 people died in the 2001 terrorist attacks. Our response to those events has cost more than 2,000 additional American lives, tens of thousands of Afghan lives, $800 billion in overseas spending, billions more on domestic largesse, and countless infringements on human rights, including indefinite detentions and executive kill lists.
Unequivocally, people who violated federal property and inflicted harm on government personnel on Jan. 6 should be held accountable under the law.
What we must not do, though, is use those crimes as an impetus for a huge body of new government powers and enforcement mechanisms, like we did after the Sept. 11 terrorist attacks. That response was deadly, expensive, counterproductive and often in violation of the Constitution.
Treason, terrorism and murder are extremely serous allegations, but Americans played fast and loose with their definitions in the hours and days following the violence in the Capitol. Before anyone had been charged, everyone in proximity was deemed guilty of crimes against democracy.
It was not radicals with anonymous Twitter accounts who called for a swiftly violent and due-process-free response against Capitol invaders. One of my own Iowa City Council members said police should shoot trespassers. My local county recorder said they should be put on the Bush-era no-fly list. Perhaps we're supposed to take them seriously, but not literally.
We know that policies crafted in response to violent incidents often go awry.
In her recent Condition of the State address, Iowa Gov. Kim Reynolds announced a plan to increase penalties for rioting and assaults on police officers. In making her case, she cited the attack on the Capitol, violent left-wing demonstrations in other states and two Davenport officers wounded by gunfire last year.
Reynolds already was planning to push the 'Back the Blue Act," but she will capitalize on the rally-'round-the-flag effect that emerged through the fog on the Capitol steps. If passed, anti-riot measures seem most likely to be targeted at vandals attending Black Lives Matter protests, not at right-wing would-be insurrectionists.
At the federal level, there has been a surge of tough-on-crime talk among policymakers and law enforcers.
Members of Congress from both parties have suggested imposing travel restrictions on the accused, invoking the no-fly list implemented after Sept. 11. Through three presidential administrations, the practice has been overwhelmed by overuse and faulty information.
'Doubling down on use of the no-fly list will entrench an error-prone and unconstitutional system, and communities of color will continue to bear the brunt of it," Hina Shamsi, director of the American Civil Liberties Union's National Security Project, told The Intercept.
At least one congressman is calling for people involved in the riot to be charged with felony murder. The felony murder rule allows prosecutors to bring murder charges when someone dies during the course of some other crime, even if the perpetrator did not personally cause anyone's death.
So, someone who committed an unrelated felony in the Capitol could be held responsible for the death of a police officer, even though they had no direct role in the killing.
And there appears to be growing support for a new anti-terrorism law to focus on domestic actors. They want to take the same strategies the government has used against suspected foreign terrorists over the past two decades, and turn them against millions of American citizens.
Far from expanding those powers, we should seek to rein them in. Surveillance and frivolous enforcement against Muslim communities has been one of the gravest civil rights violations in our nation's history.
Similar to the onset of the War on Terror, the debate does not fall neatly along party lines. Some of the farthest left members of Congress are honest civil libertarians who recognize the pitfalls of extreme security measures.
'We must not give in to fear or allow ourselves to be terrorized by those who seek to harm us. The answer is not a broader security structure or a deeper police state," said Minnesota U.S. Rep. Ilhan Omar, as reported by the Daily Beast's Spencer Ackerman.
And New York U.S. Rep. Alexandria Ocasio-Cortez wrote on Twitter, 'Our problems on Wednesday weren't that there weren't enough laws, resources, or intelligence. We had them, & they were not used."
It's not a slippery slope fallacy to warn about mission creep in national security. It's a clear-eyed reflection on our recent history.
Law enforcement and surveillance powers are almost never confined to their original purposes. Security measures eventually will be used against non-violent people, including drug users, undocumented immigrants, sex workers and peaceful protesters.
Sept. 11 was a terrible tragedy, but what ensued did not serve justice, it perpetuated injustice. We don't have to do that again with Jan. 6.
adam.sullivan@thegazette.com; (319) 339-3156