Home / Opinion / Staff Columnists
DeJear sees a fundamental election with freedom at stake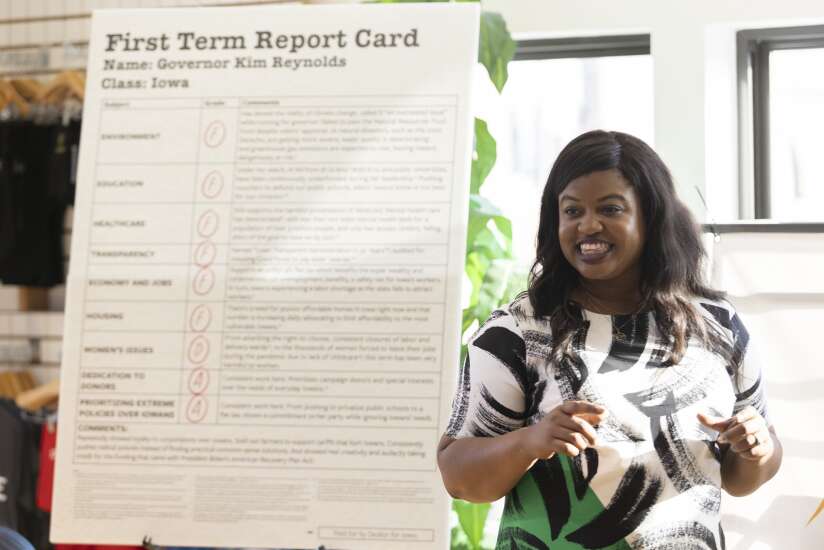 In January, Republican Gov. Kim Reynolds announced she would use federal pandemic relief funds to give public school teachers who taught during the pandemic and will remain at their post $1,000 bonuses. It was pretty weak sauce considering how the 2022 legislative session unfolded, with charges that educators have a "sinister agenda" and are harming kids, pushing "obscene" books on students and making schools somehow unsafe by supporting transgender students.
At the recent Republican state convention, Reynolds described public schools as places where there are "Drag shows for young kids, pornographic books in school libraries and elementary school lessons on pronouns." The governor has used this fearmongering to push her plan to use $55 million in public education funds to pay for private school scholarships.
Teachers are leaving the profession in droves all across Iowa. So it turns out being respected, supported and not constantly attacked is worth more to them than $1,000.
But it has worked out well for Reynolds' Democratic opponent, Deidre DeJear.
"I've had teachers who have contributed the $1,000 retention bonus that Reynolds gave to some educators, they gave it to our campaign," DeJear told me this past week. "Teachers proudly gave me their bonus.
"These educators are not getting in this because they want to be rich, whether we're talking about a teacher, a para educator, a bus driver, a counselor, a nurse, whomever, but they are in this system because they want to ensure that our students have access to quality public education," DeJear said.
DeJear said she's been talking about the need to improve Iowa's public schools since her campaign began. But the governor's attacks have changed the game.
"It's gotten people a little bit fired up because she's showing people who she is, and what her tactics are," DeJear said. "And meanwhile, in our rural communities, we see schools closing. We see students leaving the state after they graduate from high school vowing never to come back. And those are indicators of a not so bright future for those communities throughout our state.
"When we look at our urban communities, we see underperformance because of lack of investment. And so people see the challenges with our system all around them. And now they're showing up and speaking up," she said.
"This situation is a travesty that we're watching happen right before our eyes." DeJear said.
But how do you counter the governor's fear campaign?
"It's theater. We know that the degradation of our education system has nothing to do with bathrooms, or books and libraries," DeJear said. "And we know it has everything to do with the lack of investment from this current leadership into our public education system. We know it's because she has a lack of fortitude to see what our system can look like for years and years to come and prepare our students for generations to come."
Not surprisingly, DeJear wants to provide more state funding for public schools, pointing to inadequate funding increases approved by the Republican Legislature and Reynolds that don't keep up with inflation. She also wants to expand access to early childhood education. DeJear contends too many kids are showing up unprepared for kindergarten.
She wants to forgive student loans for new teachers who commit to teaching in Iowa, a tactic that's been tried but is currently only available in pockets of the state where schools have the resources to provide the incentive. DeJear also wants to find ways to keep Iowa college students from leaving and provide more job training for high school graduates choosing paths that don't involve college.
DeJear sees Reynolds' hostility toward public schools and her lack of a plan to improve them as part of a larger, troubling trend. DeJear points out that the public schools have a workforce dominated by women. The same goes for health care and child care where many women often work for low pay. The governor has offered these women either harmful policies or indifference.
Now, the governor is trying to dramatically restrict abortion access after the Iowa Supreme Court ruled Iowans have no fundamental right to an abortion and the U.S. Supreme Court overturned Roe v. Wade.
"Our women look at the challenges that we have to our child care system, coupled with the fact that she just wants to shrink unemployment weeks versus get us child care providers to fill the gaps. I mean, where are her priorities? And we see that her priorities are not even pro-choice or pro-life.
"Wherever you are on the spectrum of pro-choice and pro-life, I think we can all agree that life is, at least, from cradle to grave. And when we look at the body of work with this current leadership, from cradle to grave, we don't see a pro-life agenda there. We don't. And so this issue, while some may be single issue voters, it's not a single issue anymore. This is about freedom," DeJear said.
Republicans also are campaigning on freedom. But it's really freedom only for constituencies they care about, gun owners, people railing against transgender rights, book-banners, water polluters and wealthy Iowans who benefit most from tax cuts, fly the governor around and write her checks. As for the rest of us, we have the right to remain silent.
DeJear has a broader view.
"I think that this election cycle couldn't be more fundamental than any one that I've ever participated in or voted in," DeJear said. "We're really talking about the fundamentals, and freedom bridges all of those things together. And it's very clear that freedom is not truly a priority for this current leadership. And it has to be if you're going to lead any group of people in this nation. Your priority must be about freedom that is owed to each and every person that you seek to lead. And that can never be compromised."
(319) 398-8262; todd.dorman@thegazette.com