Home / Opinion / Staff Columnists
An Iowa lawmaker's bill gives you the right to forget about the First Amendment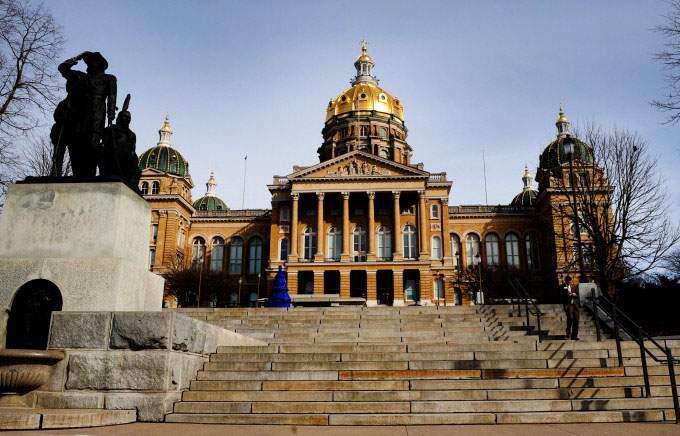 There is more knowledge about freedom of speech in a six pack of Busch Light than in the Iowa GOP.
You might have missed it and who would blame you? What with a complete lack of clean water and lawmakers trying to put a tracking device in your uterus and legislate queer people out of existence. It would be easy to miss a bill so pointless that in a year of pointless and toxic legislation, it might be the worst one yet.
But this week, Republican Sen. Zach Nunn from Altoona, the respectable suburb of Des Moines where apparently they actually have the internet, wants to pass a law so you can delete your snapchats. Of course, Snapchat automatically deletes it's content — that's the point of Snapchat — but now with Nunn's law, they will continue to delete their content. With bills like this, the GOP is making it's own case against itself.
Nunn's 'right to be forgotten act' gives Iowans permission to ask Google and news outlets and social media services to take down information about them. Senate File 2236 is designed to protect Iowans who post information online 'and half a decade later decide to go back and clean up their social media space before they apply for a job or move into a new opportunity in life,' Nunn told The Gazette's Rod Boshart.
Forget that you can actually delete your bad tweets whenever you want, no laws required. Forget that even Google and The Gazette offer people a way to remove content written about them. If you forget how the actual internet works, Nunn's bill makes perfect sense.
Still, even Nunn admits, you have to be the one responsible for deleting the content and getting it removed from the internet. So, effectively the bill wouldn't change anything, but who cares? He gets to invoke the name of the patron saint of poor misunderstood white men everywhere, Cason King.
If you remember: Carson King was the Iowan who held up a sign asking for beer money at a football game. The image went viral and King raised money and donated it to the Children's Hospital. A profile of him by the Des Moines Register found racist tweets of King's, and he admitted to those tweets, apologized and we went on our way.
Just kidding. No one in this state has gotten over the abject horror of watching a nice white boy be held accountable for his previous acts of racism. Forget that King could have deleted his tweets at any time and he did when they came to light. Forget that he admitted to the tweets and apologized before a word was even published. Forget that King is doing fine and didn't suffer at all from the incident, besides the horror of realizing that racism is so systemic and ingrained in our country we often overlook it in ourselves and others. Forgetting the actual facts is what the GOP does best.
And that's what this bill aims to do — erase from the internet the actual facts.
Nunn's bill sets up a broad standard for having information removed from the internet. That standard is if the content is of 'minimal value.' A term so vague and nebulous it renders it completely worthless, which is fitting for the bill that houses it. Who gets to decide what is of 'minimal value'? For example, a politician might think it's of no matter that he's been accused of sexual harassment or talked about grabbing women by the genitals. But for the women getting ready to vote, that information is of maximum value.
Other states have proposed similar legislation and each of the bills is loosely modeled on the European Union's 'Right to Forget' laws. But each bill has died like a highway deer struck by the truck of the First Amendment. Because, unlike the EU, we have a First Amendment.
Despite the fact the conservatives love to invoke the holy scripture Constitution when it comes to guns, they seem to forget it when it comes to the press. And with this bill, the party of personal responsibility is intent on making sure there is no consequences for their actions. But, businessmen who appear in blackface don't have a right to be forgotten. Politicians and public figures who perpetuate racist or harmful ideas, do not have a constitutionally protected right to escape without consequences.
The only good argument for a version of this bill is the argument Nunn is not making. Newspapers often carry stories about charges that are dropped or dismissed and these stories can follow people around their whole lives, preventing them from getting jobs. But this isn't the reason for this bill (nor would this bill be an effective means to achieve those ends). This bill is about punishing news outlets for printing information the GOP doesn't like.
Nunn explained, 'right now as we saw there's either no protection for you out there — anything that's online, you have no recourse to take down or revise or correct if it's false information.' But that is, itself, fake news. Iowa has defamation and libel laws. Iowa also has laws prohibiting 'revenge porn.' There are many other avenues for people to assert the truth in a truthless world. That's not what this bill is about. This bill is about punishing news outlets for publishing information people don't like.
Legal scholar and UCLA professor Eugene Volokh, wrote in the Washington Post about a 2017 New York state 'right to be forgotten' law, arguing, 'But the deeper problem with the bill is simply that it aims to censor what people say, under a broad, vague test based on what the government thinks the public should or shouldn't be discussing. It is clearly unconstitutional under current First Amendment law, and I hope First Amendment law will stay that way (no matter what rules other countries might have adopted).'
It's possible that Nunn's bill will face a fate similar to its counterparts across the United States, a slow quiet death. And we all will have the right to forget how little lawmakers care about the constitution, no legislation required.
lyz.lenz@thegazette.com; (319) 368-8513