Home / Opinion / Staff Columnists
100 years after the 19th Amendment women still have yet to achieve equality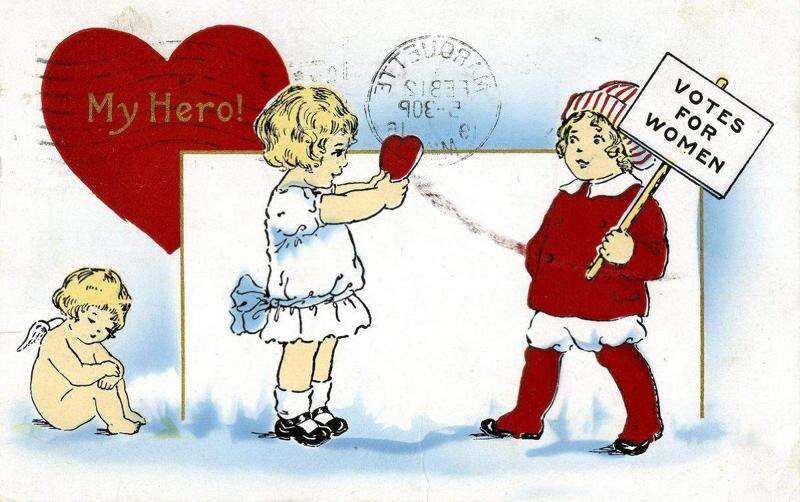 When Jean Hall Lloyd-Jones was a state representative, she led women on tours of the Capitol. She wanted women to see themselves in public office - to know that they could do this. Lloyd-Jones served four terms in the Iowa House from 1979 to 1995, during a key time for women's rights. She ran for office after serving a term as state president of the League of Women Voters.
Sitting in her apartment in her Iowa City retirement home, Lloyd-Jones laughs as she tells me the story. 'A friend of mine who was a state senator from here said, 'What are you going to do now?' And I said, 'I don't know. I'm going to go home and alphabetize my spices.' And she was like well, 'Why don't you run for the Legislature?' And despite the fact that I have lobbied at the Legislature, I traveled all over the state, I said, 'Oh no, I'm not qualified to do that.' Which is what 99 percent of women used to say. I don't think they say that anymore."
Lloyd-Jones took a job clerking at the Capitol and quickly saw that serving in office was something she could do.
'Men never ask if they are qualified for a job," she says, 'they assume they will learn it as they go. But women always have to be prepared."
This is how she came up with the idea to lead women on tours of the Capitol. The title of the tours was 'See Yourself Here." The world was changing, and she wanted to show other women they could be part of that change.
So much has changed since Lloyd-Jones was in office, and yet, so much hasn't. Sitting in her apartment at a retirement home, Lloyd-Jones told me the story she can't stop thinking about, the story of the chair. She'd take groups of women on tours and eventually they'd go to Mike Gronstal's office. At the time, Gronstal was the Iowa Senate majority leader. In his office was a conference table and Lloyd-Jones would lead a group of women inside.
As the women filed in, Gronstal would gesture to the head of the table, offering them the chair. Women would sit on the sides of the table, at the foot, women would sit in the chairs that lined the walls, sit on the floor, anywhere except the head of the table.
Gronstal began his remarks by saying, 'I have been in this office for 11 years and in all that time, no woman has ever voluntarily sat at the head of the table."
'Women," says Lloyd-Jones, 'still don't sit in that chair."
2020 is the 100th anniversary of the 19th Amendment, which granted women the right to vote. Iowa was the 10th state to ratify the amendment in 1919, and even before that, as early as the late 1880s, suffragists in the state were pushing for the right to vote. In the late 1870s, Iowa suffrage groups began sending petitions to the Iowa General Assembly promoting an enfranchisement amendment. Each effort met with defeat until the ratification of the constitutional amendment.
Many leaders of the women's rights movement came from Iowa. For example, Amelia Jenks Bloomer, whose name became synonymous with pants for women after her early advocacy of the fashion trend. Bloomer, who was from New York, moved to Iowa in 1852 and was the first owner and publisher of the first newspaper for women.
Carrie Chapman Catt, who founded the League of Women Voters and was a key voice in securing women the right to vote, spent much of her early childhood in Iowa and was the only woman in her graduating class at Iowa State Agricultural College (now Iowa State University).
And yet, 100 years later, Iowa has struggled to find parity in representation in politics. From city council, to mayors, to the Statehouse, our elected officials still remain mostly white and mostly male.
Why won't women sit at the head of the table?
It's a problem that frustrates Lloyd-Jones, who works still with the League of Women Voters to mentor and encourage young women to enter politics.
I point out that while women in 2020 face fewer barriers, the ones that remain are still overwhelming. There is a cost to a woman who sits at the head of the table. We are talking just few days before the Iowa caucuses, where much of the national media has been consumed with talking about whether a woman can win.
We talk about how men still, even now, do fewer household chores than women, still fail to carry an equal burden for child care. We talk about the lack of affordable child care, the lack of mandated paid maternity care. For women it's not a clear pathway to that chair, and the cost for seeking it can be great.
We talk about the ferocious and hateful attacks that the young female representatives in Congress receive. Rashida Tlaib, Alexandria Ocasio-Cortez, Ayanna Pressley, and our Abby Finkenauer, who is already facing vicious attacks from the Iowa GOP.
We teach women and young girls they can be anything. But we don't teach them the realities of power. The high cost for reaching high. I tell her a story about a friend of mine who just that day was fired from her job for having an opinion some man disagreed with. So he called her boss, who fired her. Even 100 years after the 19th Amendment was passed, we still live in a world where one man can call another man and a woman is silenced.
Lloyd-Jones sighs at the end of our conversation.
There are so many things we haven't even discussed, the continued attack on our reproductive rights, and queer rights, how in this state the attack is coming from women. The atrocious statewide statistics on maternal health and especially black women's health. How women still don't earn as much as men, and black women earn even less than white women. Each of these issues is intersectional. Each of these issues is ongoing.
I laugh and tell her I'm tired. But Lloyd-Jones, who is 91, smiles and tells me she isn't. She's still here. She's still fighting.
For more information on the 19th Amendment centennial celebration and commemoration visit: https://19th-amendment-centennial.org/
lyzlenz@thegazette.com; 319-368-8513