Zach Johnson unable to build on hot start in third round of Masters
Garrett Johnston, correspondent
Apr. 13, 2019 9:48 pm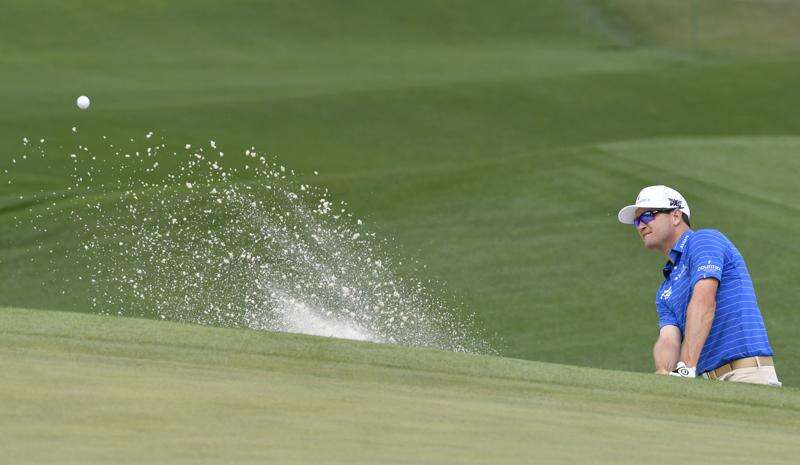 AUGUSTA, Ga. - After a tee shot gaffe Friday that united weekend golfers and hackers seemingly across the country, Zach Johnson followed that up with a slightly quieter 1-over par 73 Saturday in the third round of The Masters.
Johnson got off to consecutive hot starts both Friday and Saturday, making birdie on the par-5 second and short par-4 third holes both days.
Two-under through the opening three holes is a strong start regardless of whether the event the Masters or a regular tour stop. That's something Johnson can build on.
But he didn't.
In fact, Johnson took all that momentum to the par-3 fourth hole and showed as much emotion as he has all week in his reaction to the tee shot that went awry.
Johnson used all kinds of body english after he struck his iron shot, dipping down and springing up as if trying to steer his ball back from left of the green back to the right.
Johnson, who often talks to his golf ball, yelled 'get down ball" as it bounced short, to the left and into the front bunker.
But this isn't the 2007 champion's first rodeo here at Augusta National.
Johnson proceed to plop a perfect bunker shot to 2 feet and tapped in for an impressive up-and-down par.
A bogey at five hampered the strong start. This of course is the 495-yard uphill par 4 which was just lengthened 45 yards. Tiger Woods said earlier in the week that the changes to the hole look like they've always been there.
Where Johnson lost any outside chance of getting on the edge of contention came at the other par 3 on the front side: the downhill sixth.
Johnson's tee shot landed hole high on the left fringe and kicked left of the green.
Johnson then chipped through green to second cut on the right edge.
On his third shot, Johnson chipped back through the green to about where the tee shot landed in the fringe.
At that point, the Cedar Rapids native took his glasses off in disbelief.
He made double bogey, and that's how quickly a lot of hard work can go south at Augusta National.
Johnson sits tied for 61st at 4-over heading into the final round. He tees off from No. 10 at 8:09 a.m. CT Sunday.
Francesco Molinari leads at 13-under, two shots ahead of Woods and Tony Finau.