Xavier's Jasper has one goal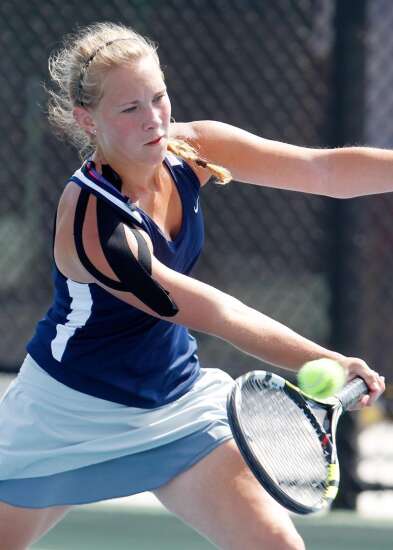 CEDAR RAPIDS - On the tennis court, Xavier senior Allison Jasper makes no secret of her goals for herself and the team she leads into battle every match.
'My goal for this season is to win individual state in singles and win team state," she said.
After narrowly losing to defending state champion Waterloo Columbus, 5-4, earlier this month, the Saints have put themselves in a position to accomplish those goals after going 3-1 over their next four matches, winning against Linn-Mar and Waterloo West. While the season still is young, the team appears to be headed on the right track.
When an athlete achieves the level of success Jasper has, it is easy to picture them as a one-dimensional being who lives and breathes the sport 24 hours a day, seven days a week. For Jasper, she always has been a student first and an athlete second. That is not to take away from the endless hours of hard work she has put into becoming the athlete she is, yet it would be tough to ignore the fun-loving girl who enjoys long bike rides with her dad, curling up with a good Harry Potter book and hopes to some day become a neurosurgeon.
Jasper's hard work does not end on the tennis court. She also is involved in Key Club, serves as the secretary for National Honor Society and the president of National Spanish Honor Society and coaches for St. Matthew's 'Girls on the Run" program.
All her hard work and positive personality has not gone unappreciated by her teammates. For junior Megan D'Mello, Jasper's determined demeanor and infectious smile have helped shape her as a person and a player.
'She sets a great example for the whole team by always working hard, staying determined, encouraging others and also smiling and being nice to everyone around her," D'Mello said. 'She inspires me to work hard so I can become a better player like she has throughout the years."
Jasper won her first five bouts this season and will be back in action on Saturday when Xavier travel to Cedar Rapids Kennedy and Cedar Rapids Washington.