Woodbury a vital piece for Hawkeyes' puzzle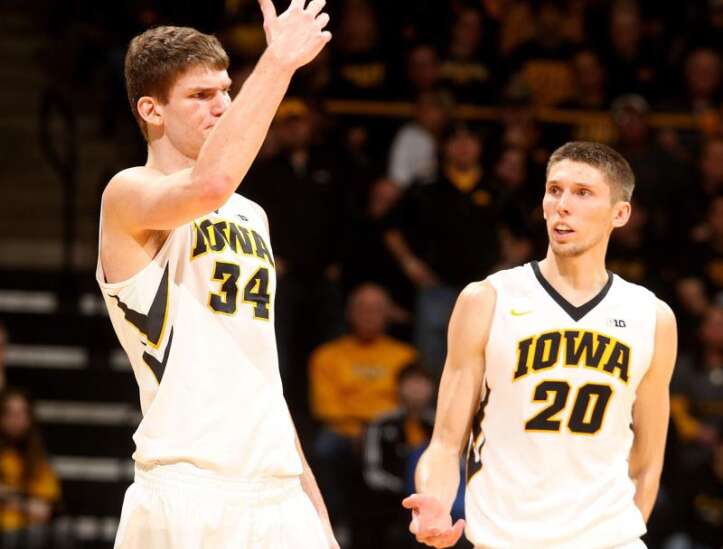 IOWA CITY - Adam Woodbury once was a top-50 recruit saddled with more expectations than any Iowa men's basketball player in at least a decade.
Standing 7-foot-1 with a cabinet full of scholarship offers, the Sioux City native had the rare blend of height, basketball intelligence and potential. In the end he spurned North Carolina to stay in-state, and Iowa fans dreamed of his superstar potential.
But Woodbury, now a junior, has posted average numbers with a modest game in his Iowa career. He's not an explosive, above-the-rim center with blocks and dunks. Woodbury uses his length to establish position and defends the rim. He passes and he screens. Occasionally, he scores.
Nothing sexy, but perhaps no player is more vital to Iowa's (15-8, 6-4 Big Ten) basketball success.
'Being 7 foot, it's easy for him to be criticized a lot," said Iowa point guard Mike Gesell, Woodbury's roommate and a longtime friend. 'As an average fan they see a 7-footer and be like, 'Oh, he should be dunking on everyone. He should be going up for 20 every night, especially when the guy guarding him is only 6-6.' But that's not the case. That's not his game. He does all of the little things that you need in a player. I think he's done a great job of really blocking that out and staying true to himself and just playing his game and not worrying about what others think."
Over the last three weeks, Woodbury has turned into college basketball's public enemy with three eye-poking incidents in two separate games. Woodbury poked the eyes of two different Wisconsin players on Jan. 20. He was called 'gutless" and 'cowardly" by ESPN broadcaster Dan Dakich. Iowa Coach Fran McCaffery vigorously defended Woodbury publicly in a high-profile spat with Dakich.
The incident dissipated until Sunday when it happened again. Late in the first half, Maryland guard Melo Trimble drove into the paint, and Woodbury's left hand poked Trimble's right eye. Trimble fell to the floor. No foul was called. After the play, officials reviewed the play, and Woodbury was issued a flagrant foul. The incident sparked another firestorm, and McCaffery staunchly has stood by his player.
'To think that Adam Woodbury would deliberately poke somebody in the eye ... let me tell you this: if I thought he poked somebody in the eye on purpose, you wouldn't have to ask me if somebody was going to suspend him. I would suspend him immediately, and he knows that," McCaffery said. 'There is no place for that. Who does that? Who encourages that? Nobody."
Woodbury, an academic all-Big Ten player last year, emphatically said the incidents were inadvertent and apologized to each player and coach afterward. But, still, he's done it three times in three weeks. Whether it's poor hand placement or bad luck, he knows it has to stop.
'I'm doing everything in my power not to have it happen again and change some things on the defensive end and hopefully it doesn't happen again," he said. 'It's been inadvertent so I don't have a lot of control over it.
'I just try to go straight up (with his arms) instead of out. I can't get up as high as some of those guys, so I've got to try to use what's effective for me and that's kind of digging at the ball when it's down low, where I can reach it and stuff. I've just got to make some changes to my game and hopefully it doesn't again. It's been all inadvertent and just pray that it doesn't happen again."
Woodbury grew up an Iowa fan and after signing his letter of intent, he received a letter of congratulations from football coach Kirk Ferentz. Woodbury instantly became a starter at Iowa. After both of his freshman and sophomore seasons, he was named the team's top defender at the postseason banquet.
Former Iowa player and current BTN basketball analyst Jess Settles described Woodbury as team-first, unselfish and the team's best communicator on defense.
The eye-poking incidents and unwanted attention has Woodbury grieving for his family not himself. He averages 7.4 points and 5.5 rebounds a game this year - career-high numbers - but inconsistency on offense has led to fan criticism. Woodbury famously put his index finger to his lips last year after dunking to 'shush" part of the crowd, many of which said he couldn't do it.
'I think he's one of those guys that because his skill set is below the rim and he's 7 foot, he has false expectations on him," Settles said. 'I think from a fan perspective you should change you expectations and say, 'Here's an Iowa kid who just wants to be a Hawkeye and wants to win and wants to be part of a team and is happier for his teammates than for his own success.' That's somebody that you can respect."
Woodbury potentially could end his Iowa career as the only player to start in every game. But statistics aren't what drives him, both he and his coaches say. It's about the team's success and doing it the right way.
'From a program standpoint, he's a coach's dream because he just shows up and gets the job done with no fanfare at all," McCaffery said.
l Comments: (319) 339-3169; scott.dochterman@thegazette.com