Van Meter CFO takes down Brands, Ironside (Video)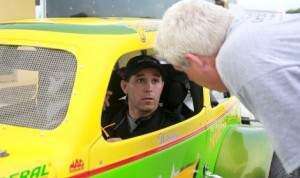 CEDAR RAPIDS - Mick Slinger did what few competitors could, take down Mark Ironside and Tom Brands.
Now, it was on an asphalt racing track instead of a wrestling mat, but it still counts.
Slinger zipped to victory lane after a 15-lap celebrity Legends car race against the two during Friday's Van Meter Night at Hawkeye Downs Speedway, raising funds for Aiming For A Cure. It was the third annual celebrity race during the annual fundraising effort sponsored by Van Meter at the track.
Watch the entire race: #99 Brands, #77 Ironside, #32 Slinger
The competitive nature of Brands, the University of Iowa wrestling coach who won three NCAA titles for the Hawkeyes, and Ironside, a two-time NCAA champion and four-time All-American at Iowa and two-time state champion for Cedar Rapids Jefferson, were displayed. It is hard to turn off that switch, even for charity.
"Third out of three, that's not good," Brands said immediately after the race. "That's not something I want.
"It isn't about the win for me, but in a way that's what you're thinking about, even though the cause is great."
Ironside didn't care settling for second and Brands wasn't accustomed to third. They important thing was the foundation at the center of the event came out on top.
"I'm mad at myself for the way that I raced and the way it came out," said Ironside, who was disappointed he didn't race like he practiced. "Slinger ran a great race. It was a lot of fun. It's really a fun event. It's great for Aiming For A Cure and that's what it's about.
"Either way, if I won a race or not, hopefully Aiming For A Cure is winning."
Listen to Ironside after the race
Neither have race experience other than being fans of the sport. Brands squeezed in two days of practice and Ironside made it to the track a little more in the weeks leading up to the event. Ironside started in front with Brands in the outside of him in the first row.
Ironside held a lead for a little more than a lap. Then both had their trouble on the track.
Entering the first turn of lap 1, Ironside started to wiggle and swerved up to the high side of the track. He got it controlled, but Slinger started pulling away.
"I got loose right away in turn 1 and Slinger slung passed me," Ironside said. "I overdrove after that trying to catch up with him and it cost me."
Brands experience appeared a little hairier. Brands was running side-by-side with Ironside as they finished their fifth lap. As they came to the front stretch, Brands spun 360-degrees. He saved it like a pro, but he wasn't really fazed by it.
"I've spun before. I've spun four times the last two days," Brands said. "You're spinning. What I was trying to say is you're doing too much."
Once behind, it was hard not to press too much with the car. Both had trouble trying to catch up to the car in front of them.
"Here's the thing, you're running hard because people are getting away from you," Brands said. "So, instead of driving to your own ability, you're trying to catch what's getting away from you. You feel them coming and you just try to do too much."
Both enjoyed the experience. Time commitments will hamper Brands ability to race again, but he had a suggestion for another driver.
"I think Ironside would be good," Brands said. "I think Ironside should look at a part-time schedule next year."
Iowa two-time NCAA champ and three-time finalist Matt McDonough served as the guest flag person. He was impressed by both his coach and Ironside.
"I know they're crazy about power, whether it's on a wrestling mat or in a car or anywhere," said McDonough, a three-time state champion for Linn-Mar. "I think they both looked good. It certainly doesn't look like something that's easy to do and they went full-throttle."
Watch McDonough discuss the race
Slinger, the Chief Financial Officer at Van Meter, provided Brands and Ironside a dose of their own medicine. He mentioned a common wrestling saying motivated him.
"The phrase is you have to get after it," Slinger said. "I went after it."
Slinger started third and grabbed the lead on the back straight away of Lap 2. He never looked back, lapping Brands with about six laps remaining. He built a half-lap lead that ended up being his margin of victory.
Not only did the effort help a good cause, it also gave Slinger perspective on the toll racing has on the driver.
"You get tired getting those things around," Slinger said. "I have a lot of appreciation for what you all do."
Rain forced an early end to the weekly points races. Only three of the six regularly scheduled features were held with the rest being made up later in the season.
The Legends cars completed 20 of its 30-lap feature when the show was called. It was enough for official results, and points leader Kevin Korsmo, whose car Brands drove in the celebrity race, earned his third feature win of the year.
Brad Chandler won his second feature in three weeks, claiming the hobby stock division.
Dave McCalla continued his dominance in his return to the sportsmen class at Hawkeye Downs this summer. McCalla won his fifth feature this season.
HAWKEYE DOWNS SPEEDWAY
Legends Celebrity Race
Feature - 1. Mick Slinger, 2. Mark Ironside, 3. Tom Brands
Hobby Stocks
Heat winners - 1st: Roland Bohnsack; 2nd: Brad Chandler
Feature - 1. Chandler, 2. Matt Petrzelka, 3. Bohnsack, 4. Blake Carson, 5. Matt Lacoursiere
Sportsmen
Heat winner - Greg Hentrich
Feature - 1. Dave McCalla, 2. Brian Gibson, 3. Hentrich, 4. Ben Glascock, 5. Bob Ahrendsen
Legends
Heat winners - 1st: Kevin Korsmo; 2nd: Dennis Diercks
Feature - 1. Korsmo, 2. Ben Schaitel, 3. Warren Ropp, 4. Diercks, 5. Bryce Bailey
Modifieds
Heat winners - 1st: Jake Griffin; 2nd: Brian Gibson
Late Models
Heat winners - 1st: Jay Jaspers; 2nd: Brian Allen
Hornets
Heat winners - 1st: Todd Ness; 2nd: Kurt Bohnsack