Usman, Covington set to meet at UFC 268, wrestled at Iowa colleges
The 2 fighters each wrestled for small Iowa colleges: Usman at William Penn and Covington at Iowa Central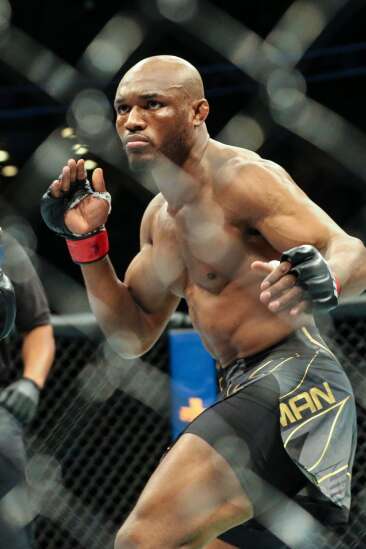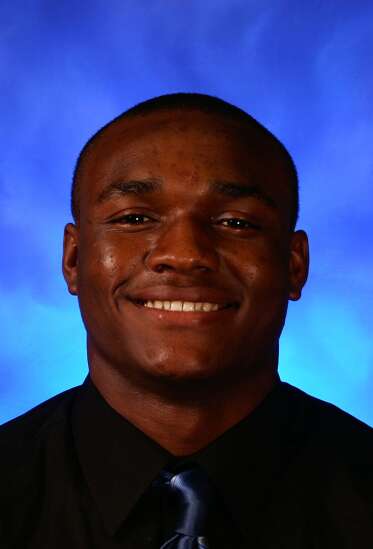 The journey for two of UFC's top welterweight fighters passed through small-town Iowa in the mid-2000s.
The two — champion Kamaru Usman and contender Colby Covington — will face off in New York City on Saturday.
Both spent part of their formative years and wrestling careers at Iowa colleges.
Usman, 19-1 as a mixed-martial arts champion, spent a year at William Penn University in Oskaloosa during the 2006-2007 season before transferring to the University of Nebraska at Kearney.
Covington, 16-2 as a MMA fighter, spent two years at Iowa Central Community College, 2006-2008, in Fort Dodge before transferring to the University of Iowa and then to Oregon State University.
The two fought once before, in December 2019, with Usman defending his belt and finishing Covington by technical knockout in the fifth and final round. Now they are set to meet again on one of the world's biggest stages for combat sports — Madison Square Garden.
"He's just hard to beat"
Usman was born in Nigeria and immigrated to Texas at 8 years old. He ended up in Oskaloosa when former William Penn wrestling coach Gary Garvis recruited him at the senior national tournament in 2006.
"He wasn't getting recruited much by anybody out of high school," Garvis said. "He had good matches with kids who were All-Americans. I was always looking for kids like that. It was tough to get Iowa kids. Marty fit the bill."
Usman got the nickname "Marty" in Texas from his high school wrestling coach who struggled to pronounce Kamarudeen and it stuck with him through his college career. It's a name Usman has publicly voiced displeasure with in the past and opponents, including Covington and Cedar Rapids-born Ben Askren, have tried to use it to antagonize the champion.
Garvis, who is now a real estate consultant in Pleasant Hill near Des Moines, said after speaking with the Usman family on the phone while recruiting him, he noted an extremely focused, serious athlete.
"He was pretty intense," Garvis said. "He was very concentrated. He was missing some skills at the time, but he wrestled like he fights now. Not overly aggressive, but he has those spurts.
"He was never usually beating anybody up unless they were truly inferior. But he's just so hard to beat. Hard to take down and he has a good reach."
At William Penn, Usman was a hard worker in the wrestling room but "didn't have a plan" when he wrestled at first, Garvis said. Usman just wrestled.
"He didn't understand setting up for a takedown. He just wrestled and whatever happened, happened," Garvis said. "Over the course of the year, he started a lot more movement. But he's just so hard to score on. It's hard to explain. He just wrestles."
At the beginning of the season, Usman wrestled Nate Stirgus, a senior on the team who was No. 1 at 165 pounds. Usman lost the wrestle-off. Stirgus, a junior college All-American, was a "pretty talented kid," Garvis said, on a team that also had Abel Trujillo, who went on to his own UFC career.
During that freshman season, Usman went to the NAIA Midwest Regional tournament at 165, but the biggest challenge came when he wrestled his teammate again — and won to become a national qualifier.
Garvis said that's the moment he saw Usman's confidence grow.
"The first match between them wasn't even close. But that second one, that's when I thought, 'OK, this kid is something,'" Garvis said. "That was a big deal for him emotionally I think."
Usman was now set to wrestle at the 2007 NAIA National Championships in Sioux City, but he never took the mat. The tournament was scheduled for March and a snowstorm had swept across the state.
Garvis and some members of the team got to Sioux City earlier than others, including Usman. As the bus carrying Usman and other members got near Boone, the bus driver said he couldn't drive through the conditions anymore.
Garvis sent his wife in his four-wheel drive Dodge Dakota to pick up some of the wrestlers left behind: as many seniors that could fit into the cab of the small truck. Usman, being a freshman, was left behind.
"All the kids were upset," Garvis said. "It was frustrating for everyone. Pretty much the whole damn team would've placed if they made it."
Usman, 15-3 that season, then ended up transferring to Kearney.
"I don't think that was a factor in why he left," Garvis said. "I think Marty just wanted to feel needed and find more scholarship money … But I knew he would be a D-II champ, no doubt about it."
Garvis said he hasn't spoken with Usman since he's become a major MMA success. Since his time in Iowa, Usman did become an NCAA Division II champion, a winner of the television show The Ultimate Fighter and now the UFC welterweight champion of the world.
Garvis said he does still watch Usman's fights today.
"My son who also wrestled for me in college said, 'Oh Marty can't beat so and so,' and I just say, 'Marty is hard to beat," Garvis said. "That's just the answer for him. He's hard to beat."
'Chip on his shoulder'
The man who will stand across from Usman is one of the UFC's most polarizing figures.
Covington, a former interim welterweight champion known for his mouth as well as his athleticism and sporting the red Make America Great Again cap, is the only UFC fighter to visit the White House, which he did during the Trump administration.
But there's something to be said about the Covington on TV and the Covington those in Fort Dodge know.
"He was a good teammate here and he's a good guy behind the scenes," Iowa Central wrestling coach Luke Moffitt said. "He was a fierce competitor and if things weren't going his way in the (wrestling) room, you would hear him. He's vocal. Sometimes you would have to calm him down a bit."
Covington, born in California, moved to Oregon when he was around 8 years old, winning a state wrestling championship as a senior in high school. He initially committed to Arizona State, but with his test scores not high enough, he ended up in Fort Dodge and became roommates with future UFC light-heavyweight champion Jon Jones.
"Colby was highly motivated coming in and he had a chip on his shoulder," Moffitt said. "He also had that 'X' factor coming in. From day one, he was here to win a national title and transfer to D-I. He was also upfront about wanting to fight. That was always the plan. He was training on the side, working his Jujitsu and striking."
Moffitt said Covington came into the Iowa Central wrestling room and stood out right away.
"He wasn't flashy. He was straightforward, in your face," he said. "There wasn't really a whole lot that he lacked. I mean, freshman year, he wasn't coming out of our wrestling room getting his arm raised, but that next year, he wasn't losing … I specifically remember training him that first year and Colby wasn't scoring takedowns on me at that point, but it got to the point where he was passing me by."
Within the Iowa Central wrestling room, Covington was aiming to be the best — not only in Fort Dodge, but eventually in Division I.
"At the time, I'm thinking 'You still have a long way to go,' but it didn't matter to him," Moffitt said. "If we could've given him an opportunity to wrestle the No. 1 D-I guy in the country, he would've done it. Colby was just a freshman, but in his mind, he was the big fish."
Wrestling alongside Jones, Joe Soto and a team that produced multiple All-Americans, Moffitt said the guys that year "simply beat the crap out of each other every day."
And it paid off. Covington went 34-0 his freshman year, winning the 165-pound national junior college title.
After his time in Fort Dodge, Covington transferred to Iowa for a short time. Injuries and a DUI arrest in Iowa City took him home to Oregon State, where former Iowa wrestling coach Jim Zalesky had just started coaching.
Zalesky, now in his first season as the head coach at the University of Jamestown in North Dakota, said he had actually recruited Covington out of high school, but due to his low test scores, Zalesky steered him toward Moffitt, another former Hawkeye.
"My first impression was this kid was one I wanted on my team," Zalesky said. "I liked the way he talked. He had confidence about him. He just needed direction in his life. Iowa wasn't the spot for him."
Zalesky echoed Moffitt in noticing the chip on Covington's shoulder, which may have only grown more in Iowa City.
"It motivates him," Zalesky said. "He keeps that chip on purpose. That's what great athletes do and he was one of the best I've ever coached … one of those guys with an attitude though. But you have to have that to compete at the highest level."
At OSU, Covington was a two-time Pac-10 Conference champion and qualified for the NCAA tournament twice, placing fifth as a senior and never reaching his goal of becoming a D-I champion.
"Sometimes you look back on your life and it's not the things that went well that made you," Zalesky said. "He didn't accomplish all his goals at the NCAA level, so I do think that's his drive in the UFC."
Moffitt and Zalesky said they keep in touch with Covington. He's visited Fort Dodge over the years and FaceTimes Iowa Central wrestlers. Zalesky said he "screws with" Covington since he got a new number, texting him from time to time.
"I'm always giving him a hard time for stuff he says," Zalesky said. "He texts back 'Who is this?' and I say 'You know who this is.'"
Both coaches said they think it's funny to see Covington in the spotlight, putting on his boastful performance. But both coaches see Covington on TV as the character and not the Covington they know.
"I chuckle," Zalesky said. "I know the real guy not on camera, but I would expect him to take that character on. He wouldn't be able to play the nice guy."
"Knowing Colby, some of it is theatrics," Moffitt said. "I get what he's doing. You have to run your mouth to get attention, but he's also backing it up too."
Comments: (319) 398-8255; gage.miskimen@thegazette.com