Unlike Hawkeyes, Kirk Ferentz has lost to Rutgers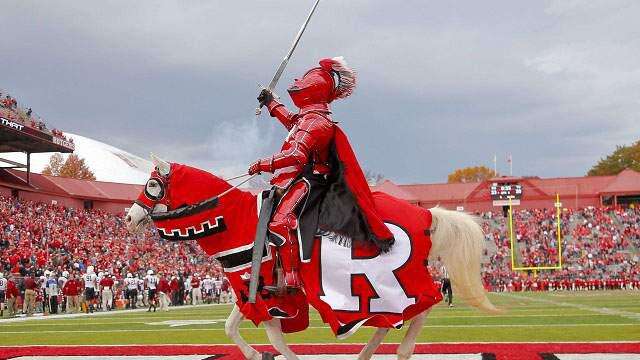 As the University of Iowa's football coach, Kirk Ferentz's contract stipulates he gets up to 35 hours per year on a private jet the UI has to have ready within eight hours of Ferentz's request.
Twenty-five years ago, Ferentz rode in a bus to Rutgers University's stadium in Piscataway, N.J., from Orono, Maine. That's 485 miles.
'That was a long bus ride,' Ferentz said Tuesday. 'We stopped in Hartford on Thursday night and then shot in the next day. I remember that, and then I remember non-stop on the way back.'
It was the second of Ferentz's three years as Maine's head coach after a nine-year stint as Iowa's offensive line coach and immediately before six years as the offensive line coach of the Cleveland Browns/Baltimore Colts.
Ferentz's 1990 and 1991 teams went 3-8. The '92 edition was 6-5.
When the Black Bears went to Rutgers in a meeting of NCAA I-AA and I-A programs (now FCS and FBS), they were fresh off a 19-15 win over Richmond. Rutgers felt even fresher, having consecutive wins over the Big Ten's Northwestern (22-18) and Michigan State (14-12).
Maine proved less of a problem for the Scarlet Knights. The score was 40-17. The crowd was 27,221.
Rutgers scored two touchdowns in a 17-second span of the first quarter, on a 65-yard touchdown pass and 27-yard interception return.
'We played tough for about four minutes, and that was about it,' Ferentz said a quarter-century later. 'It wasn't a good day at all.'
The win improved Rutgers to 5-1 and dropped Maine to 1-5. But the Scarlet Knights' hopes of going from there to a bowl game were crushed piece by piece the following month as they lost four consecutive games, starting with a 37-17 defeat at Penn State.
However, Ferentz has been on a football team that beat Rutgers in New Jersey. When he was a sophomore linebacker at Connecticut, the Huskies edged the Scarlet Knights, 9-7.
Alas, Rutgers beat UConn 35-8 and 38-0 the next two years.
Saturday, Ferentz's Iowa team plays at Rutgers. The two football programs have never met.
You see the way Hawkeyes football is covered in Iowa. It can be a bit much at times. But the opposite was true of Maine football in the Pine Tree State, and probably still is given the Black Bears are 0-2 this season and were a 45-3 loser to Toledo in their last game.
The Bangor Daily News had these two stories atop its sports page on its first edition after the Maine-Rutgers game:
'Twins win AL title over Jays'
'Magee wins Vegas playoff'
The first story was about baseball, the second about pro golf. And no, Andrew Magee isn't from Maine. He is a Texan.
In the middle of the page was an Associated Press story was this headline: 'Big plays key Rutgers by Maine.'
Beneath it was a story with this headline: 'Record 942 moose killed.'
'There's no scarcity of moose,' said Maine Department of Inland Fisheries and Wildlife spokesman Paul Fournier.
Apparently not.