Titans trounce Lehigh Valley, 32-13, in first game for Cedar Rapids IFL franchise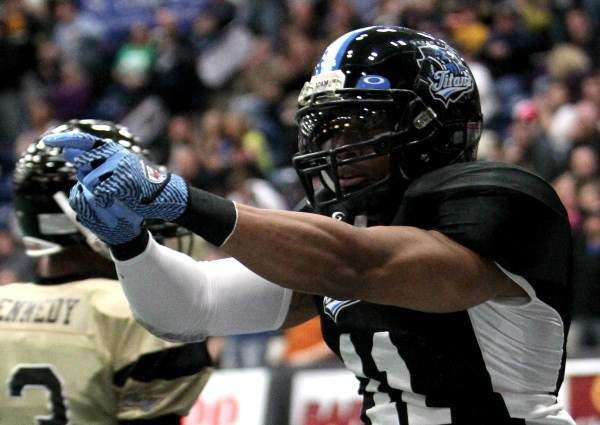 By Mike Condon, Correspondent
CEDAR RAPIDS – There were more than 4,000 happy football fans at the Cedar Rapids Ice Arena Saturday night.
And the most impressed man in the building may have been Indoor Football League Commissioner Tommy Benizio. The commissioner and the overflow crowd were treated to a 32-13 win by the Cedar Rapids Titans over the Lehigh Valley Steelhawks .
The Titans made their official IFL debut a memorable one. The key play came at the end of the first half when the Cedar Rapids line blocked a field goal try by Lehigh Valley's Chris Hazley. After a mad scramble, Titan Tommie Williams picked up the loose ball, broke a tackle and took it in for a touchdown to end the half.
The TD sent the crowd into a frenzy and left Benizio impressed.
"Hey, it phenomenal to see a community embrace a team like this," he said. "I think it is a real feather in the cap of the team to have also embraced Cedar Rapids."
Benizio originally was an owner of a team in Odessa, Texas. The league, now in its fourth season, has grown from six to 16 teams.
He had never been to Cedar Rapids and admitted he was a bit skeptical when the idea of placing a team in Cedar Rapids was presented to him.
"Not being a Midwestern guy, it wasn't a town I was familiar with," said Benizio, who now resides in Richmond, Va. "After doing some research, I was surprised with the population and how much of a passion there was for football in this area."
The passion was also shown by the players. Cedar Rapids' defense held Lehigh Valley scoreless in the second half, something almost unheard of in the indoor game. On offense, the scoring had a local flavor. Former Cedar Rapids Washington standout Travis Rhone scored the first TD in team history on a 1-yard run less than three minutes into the game. Two former UNI receivers, Everett Roberts and Johnny Gray also found the end zone.
"This was great doing this in front of all these fans," said Gray, who scored on what was called a 5-yard run after a lateral from quarterback Willie Copeland. "That play was all about scouting. We saw on film they played off the line, so we called the play."
Titans' Coach Kyle Moore-Brown said the defensive effort was outstanding.
"Hats off to them," he said. "We made some adjustments at halftime and they came out and did the job in the second half."
The Titans play their first road game next weekend at Green Bay. But Saturday night it was all about enjoying the debut victory and impressing the commissioner.
"A sellout is always terrific," Benizio said. "A lot of teams in our league draw very well and if they continue to draw 4,200 fans per game that will put them in the top half of the league in attendance."
[gallery columns="2"]