Rally keeps Kirkwood baseball's postseason alive
Eagles use 6-run rally to beat Northeast (Neb.) in elimination game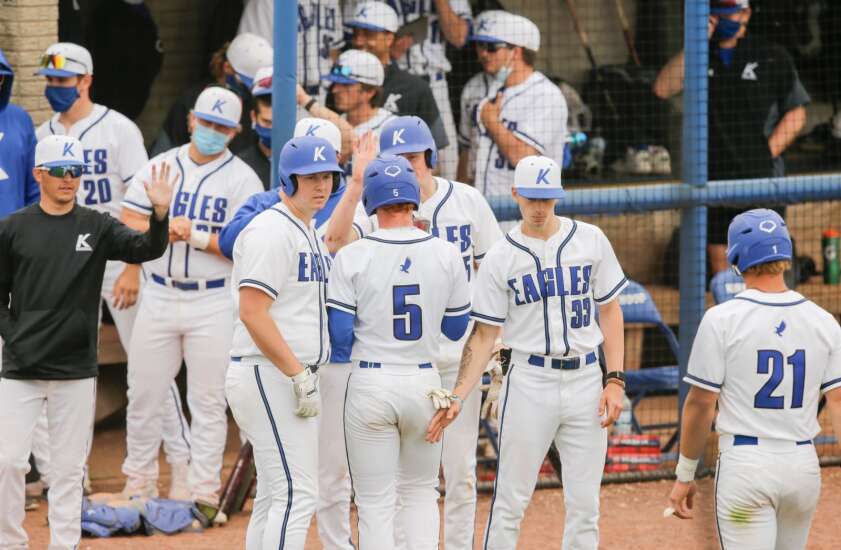 CEDAR RAPIDS — Kirkwood's postseason was on life support.
The Eagles remained alive and Joel Vaske and a mid-game rally helped revive their title hopes.
Vaske smacked four hits, including a two-run single in the six-run sixth, and helped Kirkwood pull away for a 10-2 victory in seven innings over Northeast (Neb.) Community College in an NJCAA Region XI baseball tournament elimination game at Mount Mercy's Robert W. Plaster Athletic Complex.
The Eagles (38-20) advance to the tournament final against Iowa Central (35-21) Sunday at noon.
"Unbelievable resilience," Kirkwood Coach Todd Rima said. "That's how we've been all year.
"This team has bounced back a lot of times. They've had a lot of chances to roll over and quit but they keep showing up and playing."
Vaske, a sophomore, gathered the team together before the Northeast game, insisting it wasn't the season finale.
"He was ready to go," Rima said. "He was locked in the entire night."
Northeast held a 2-0 lead through three innings and the Eagles started to claw back.
Josh Fitzgerald's single scored Cade Moss for a run in the bottom of the fourth.
Vaske tripled to lead off the fifth and Chase Moseley followed with an RBI single to tie the game.
Things shifted in Kirkwood's favor, sending 11 batters to the plate in the sixth. Justin Martinez reached when a shot to third was misplayed and Kyle Moeder's bunt single chased starter Christian Carew.
The Eagles drew three straight walks, bringing in two for a 4-2 lead. Vaske added his two-run hit to center. Moss followed with an RBI single and Vaske scored on a wild pitch.
"We knew we were one or two swings from breaking open," Vaske said. "All it took was a couple guys to come through."
Kirkwood finished with 13 hits, receiving three from Moss and two from Moseley, who had two RBIs.
Graysen Drezek pitched three innings of scoreless relief to earn the win. He didn't allow a hit with just two reaching base.
"He is exactly what we needed," Rima said about Drezek. He was great."
Iowa Central knocked Kirkwood into the consolation bracket with a 9-1 victory Saturday afternoon.
Tritons starter Devon Schewe stifled the Eagles, allowing one run on one hit and striking out seven. He retired the first seven batters he faced and faced 10 total through three innings.
"I thought Schewe was outstanding," Rima said. "He had all three pitches working and commanded both sides of the plate."
The Eagles will get another shot at the Tritons but will have to win two straight to advance to a district series. It's one-and-done if the Tritons win.
"We're looking forward to it," Vaske said. "They're a good team. You don't make it to the finals unless you are.
"We're a good ball club. We're confident."