Quick Slants: 5 takeaways from Hawkeyes Tuesday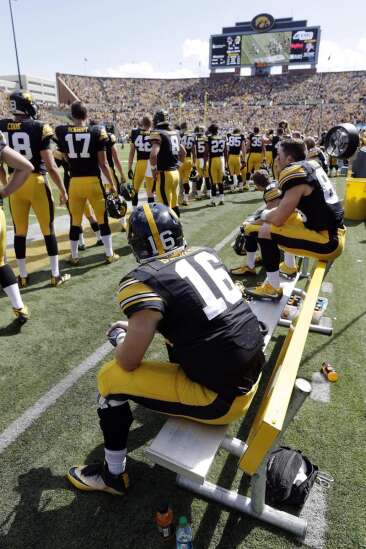 Here are five takeaways from Tuesday's Iowa football media availability. The Hawkeyes (2-1), open the Big Ten schedule Saturday at 11 a.m. at Rutgers (2-1).
1. 'Goo Goo' story and then time to fly
Different players have processed last week's shocker in their own ways.
That 24-hour rule Iowa head coach Kirk Ferentz talks about after games isn't some magical brainwashing wand. Three days after, some Hawkeyes (2-1) are still processing whatever happened in last weekend's upset at the hands of FCS kingpin North Dakota State.
Offensive tackle Ike Boettger talked about it like a seed stuck between his teeth.
'For me personally, it's going to take a little longer than maybe even this week,' the junior said. 'You've got to try to move on, but that's still going to sting for a while. I don't think anybody is just 24 hours and done with it after a game like that.'
Wide receiver Matt VandeBerg is one of the faster players on the Hawkeyes, whose processing needs to move into their road trip this weekend to New Jersey to face Rutgers (2-1) for the first time since the school joined the Big Ten in 2013. It's the Big Ten opener for both schools.
VandeBerg is one of the fastest processors, apparently. His answer to last week was Usain Bolt to the point.
'I'm not going to revisit Saturday, 24-hour rule,' VandeBerg said. 'I'm focusing only on Rutgers.'
Quarterback C.J. Beathard had the 24-hour rule come up and give him a hug after the game.
Beathard's family was in town from Tennessee. He said everyone was a little down after the game, but then his 6-year-old sister had something to tell 'Goo Goo.' (That's her nickname for her big brother.)
'I'm all down, they're down, we just lost,' Beathard said Tuesday. 'My sister, she's 6 and she calls me 'Goo Goo,' she said, 'Goo Goo, guess what? I said, 'What, Tatum?' 'I got three pictures with Herky today.' I'm like ... She has no idea what just happened.
'Innocent moments like that make you realize the world is going to keep spinning and life is going to go on. At the end of the day, we've got our entire season ahead of us.'
On to Piscataway.
2. O-line should get a boost
Ferentz said he expects junior guard Sean Welsh and sophomore center James Daniels to be back in the lineup this week. Welsh sprained an ankle against Iowa State. He was available last week, but was held out for precautionary reasons. Daniels suffered a knee injury in practice before Iowa State. He hasn't played since the opener, but was in uniform and went through warmups last week.
Where did the absence of Welsh and Daniels hit Iowa the worst? The two critical blitzes where on one Beathard was blindsided for a pick six and the other forced Iowa to punt and ended up being the Hawkeyes' final offensive play of the game?
'There's a couple mechanical things involved there that need to be straightened out and have to be straightened out, and without getting too specific there, but yeah, they're coachable and they're fixable, and they're important, obviously,' Ferentz said. 'They were both important.'
Or was it the 34 rushing yards, Iowa's worst performance since October 2013?
Yes and yes. Those are the answers.
One more injury note, running back Derrick Mitchell, who suffered a leg injury in practice last week and missed NDSU, won't play this week, Ferentz said. Mitchell is Iowa's primary third-down back. His pass blocking was missed last week, Beathard said.
'Derrick is a great third-down back,' Beathard said. 'He knows his protections well.'
3. Wadley watch
You've counted the carries junior running back Akrum Wadley had against NDSU. It was four, with the last one coming midway through the third quarter.
You're wondering why so few. And that's OK, you should. Ferentz pointed to the Hawkeyes' lack of sustained drives that simply led to fewer touches for everyone. The Hawkeyes ran just 49 plays against NDSU. It was just the third time in the last eight-plus seasons Iowa was held to less than 50 plays (44 in a win at Nebraska last season and 49 in a loss at Minnesota in 2010).
'In a perfect world, we're going to be moving ball a little bit better and sustaining some drives,' Ferentz said. 'Third down, certainly we've got to do a better job there.'
Wadley has been nursing a bruised knee the last two games. He said Tuesday he's feeling much better, but did admit that senior LeShun Daniels was 'much healthier than me' last week.
For the 'Ferentz doghouse' theorists, this isn't that. Yes, Wadley had a drop near the end of the first half. So did wide receiver Jerminic Smith and he remained in the game. Against Iowa State, VandeBerg dropped a pass. He caught three passes and two TDs last week. Players don't get benched for dropped passes. Fumbles? Wadley hasn't had one in more than a year, 105 carries to be exact.
This was the work of a bruised knee and a condensed playbook in a tight game.
4. Speaking of playbook ...
You've probably noticed that Iowa has played a lot of its 4-3 base personnel on defense. In the first two games, there were a handful of personnel packages, including dime (two extra corners), nickel (one extra corner) and one look at the third-down pass package (raider, which is a 3-4-4 look).
That's been the plan.
'Every week we try to come up with a plan that we think is going to be effective against the team that we're playing,' Ferentz said. That sounds straight-up vanilla, but Iowa's defense under Ferentz and defensive coordinator Phil Parker has been basic, allowing players to read keys and attack.
One number on defense that is different this season is the number of blitzes. Parker has said he likes to keep that between 17 and 22 percent of passing downs. This season, the Hawkeyes have sent an extra rusher 13 times in 208 plays against. That's 6 percent.
'That's all the coaches on that one,' linebacker Josey Jewell said. 'Whatever coach (Parker) does, it works for us.'
5. Change of captain
Saturday will be the first time in 17 games the Hawkeyes change one of their team captains.
Ferentz said Tuesday LeShun Daniels will join Beathard, VandeBerg and Jewell as captains. Daniels replaces senior cornerback Desmond King. Beathard, King, VandeBerg and Jewell were captains for the first three games this season. Last year, it was Beathard, center Austin Blythe, safety Jordan Lomax and defensive end Drew Ott.
Before theorizing, here's what Ferentz said: 'The (16-member) leadership group votes on them, and last year was one of those years where we just kind of settled in,' Ferentz said. '... In years past we've had a lot of multiple ones, so no big story there.'
For whatever this is worth, King spoke to reporters on Tuesday and was totally himself.
l Comments: (319) 398-8256; marc.morehouse@thegazette.com