Quartet of Little Hawks, Warriors take their shot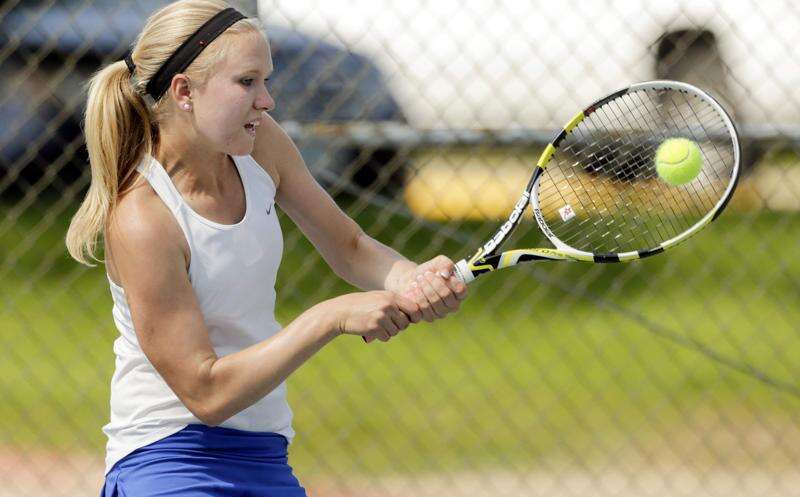 IOWA CITY – The girls' tennis individual state tournament begins Thursday, and the Class 2A area field is led by Cedar Rapids Washington and Iowa City High with four participants each.
City High senior Eve Small – a two-time state runner-up and third-place finisher as a freshman – considered flipping to doubles with Innes Hicsasmaz, but eventually decided on a fourth try at an elusive singles state championship.
'I can't blame her for that, I understand," Hicsasmaz said. 'But it's a bummer because I know, I'm almost certain that we would have won state. We would have won a state title as a doubles team."
Given their undefeated doubles record over the past two seasons, it's hard to argue. Nevertheless, Hicsasmaz followed suit and decided at midseason that she would also play singles. She'll face Pleasant Valley freshman Lily Feldman in the first round Thursday at the Hawkeye Tennis and Recreation Complex.
'I've been feeling really confident in my singles game," Hicsasmaz said.
Hicsasmaz has just two losses in singles this season – including a May 21 regional championship against Small. The junior credits her improved mental game and less reliance on her backhand for her success. Fewer backhands produced a potent forehand to finish off points. Her left-handed serve – which last year she considered her main weakness – has become consistently strong.
'Lefties have this really nice, wicked spin on their serve that pulls people out," Hicsasmaz said. 'And they try to get around it and hit a nice forehand for righties and it ends up hitting them right in the stomach."
Small received a two seed in the singles bracket. City High junior Susanna Gianola and freshman Bihotza James will compete in the doubles field.
'I think we've figured out, Susie and I, how we work," James said. 'And how if we get down, how we can get back up. We really just focus on...just serves and returns over and over."
The state tournament will close out a stellar freshman season for James, who lost just once at No. 6 singles for City High. With Gianola, her doubles record is 16-2.
'She's probably one of the most poised freshmen that I've ever worked with," City High Coach Fred Pedersen said. 'Everything rolls off of her. She's very mature. She doesn't get too rattled. She just plays tennis."
While freshman success did not come as a surprise to James, her significant level of improvement as a result of the structured varsity practice and meet schedule did.
'I feel like I was capable of doing it but I didn't know that this season would help me so much," James said. 'I figured it would kind of go more over time. I didn't realize how much I could accomplish in such a short amount of time."
Cedar Rapids Washington's four state participants are led by the doubles team of senior Lilly Hartman and sophomore Hannah Sherman. Hartman brings plenty of doubles state tournament experience to this first-year union with Sherman – a doubles state quarterfinal appearance last season after a state runner-up finish in 2013.
'Lilly is a natural doubles player," Washington Coach Spencer Eells said. 'Big serve, likes to go to the net, has great hands and then really good doubles instincts. Hannah's just a big groundstroker."
Hartman and Sherman earned a No. 3 seed and will open with Becky Hughes and Ariana Mitra of fellow Mississippi Valley Conference squad Cedar Falls.
'I find that playing with Lilly is awesome because even if I get down on myself, she's able to lift me up and keep me going," Sherman said.
Sophomore Kelly King and senior Jennifer Greif will represent the Warriors in the singles bracket. Greif faces defending state champion Chloe Jefferies of West Des Moines Valley in the opening round.
WEST, PRAIRIE COMPRISE OTHER AREA 2A PARTICIPANTS
Iowa City West senior Megan Jans – who finished runner-up in 2A state doubles last season with Brittani Langland – is again competing in doubles, this time with sophomore sister Abby Jans.
What was initially viewed as a potentially combustible combination produced a regional championship, and the pair narrowly missed receiving a seed for the state tournament.
'I've told her the same thing that I've been telling her all season," Megan Jans said about any postseason advice for Abby. 'Just not to worry too much about winning. Not think about who we're playing."
Cedar Rapids Prairie qualified three for the state tournament. Sophomore Vale Caro decided to play singles once older sister and doubles partner Magui Caro was unable to compete in the state-qualifying regional meet due to illness. Vale Caro could potentially meet Jefferies in the singles quarterfinal.
A pair of Prairie Hawk underclassmen – sophomore Karleigh Schilling and freshman Anna Postnikov – will meet Mary Hill & Eren Sagun of Des Moines Roosevelt in the opener. Hill won the 2A doubles state championship over Megan Jans and Langland last season with Meera Prasad.
SAINTS APLENTY IN CLASS 1A FIELD
Also Thursday, the 1A girls' state tournament begins at the Prairie Ridge Sports Complex in Ankeny.
Cedar Rapids Xavier senior Allison Jasper is the lone area singles representative and is the No. 3 seed after finishing third at last year's state meet.
She opens with Osage's Amber Schwarting.
'Playing at the number one spot was huge for her," Xavier Coach Matt Foxhoven said. 'The competition she sees every meet is top in the state."
Xavier's doubles team of Jeanne and Claire Bouchard also received a three seed. The identical twin sisters return to the state tournament for the first time in two years.
'We know each other's game," Claire Bouchard said. 'We know how to set each other up for that volley and put them away. We've just got to keep our feet moving and have fun together."
The twins meet Caitlin McIlravy and Sydney Dunphy of Creston/Orient-Macksburg in the opener.
'Three seniors so that helps, they've been there before," Foxhoven said. 'All three of them really took advantage of playing in the offseason and working on things they needed to."
l Comments: douglas.miles@thegazette.com