Home / Sports / Iowa Prep Sports / Prep Baseball and Prep Softball
North Linn's Alex Sturbaum fueled by fun in final baseball season
Senior had 3 hits and 3 RBIs in 11-8 win over Northeast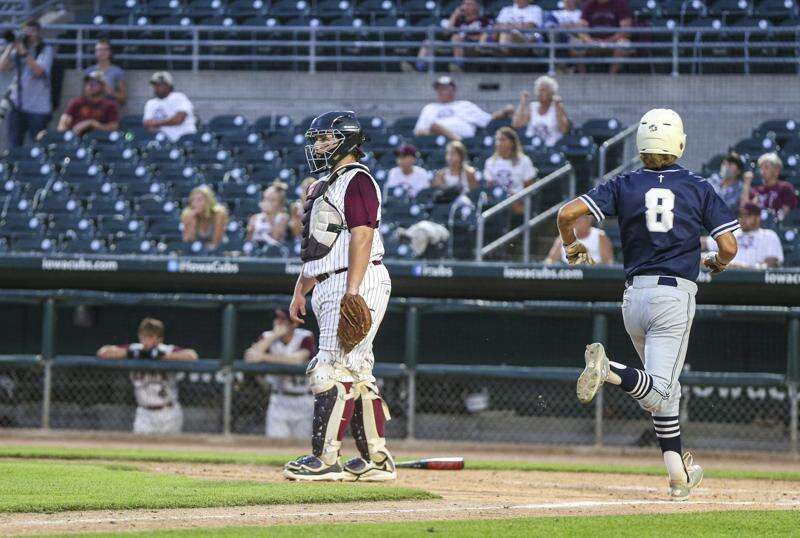 TROY MILLS – Alex Sturbaum's final baseball season is turning out to be his best.
Sure, the North Linn senior catcher's offensive production is at its highest in three seasons as a starter and he's helped guide a young pitching staff to a 25-1 record, but there is much more to it.
Enjoyment is at an all-time high.
"It's honestly been my favorite summer," Sturbaum said. "It's my favorite season of the entire year. I'm having a lot of fun coming out here and playing."
Sturbaum tallied a team-high three hits and three RBIs, leading Class 1A second-ranked North Linn to an 11-8 victory over Northeast Saturday in the last game of the North Linn Classic. The Lynx defeated Clayton Ridge, 7-2, in the opener.
Teammates have been the biggest reason for the added excitement.
"They make it worth coming out here," Sturbaum said. "Actually, putting in some work to get better and make a run at it. My senior season it makes it all sweeter."
North Linn Coach Travis Griffith has noticed a difference in his No. 3 hitter. Sturbaum is more relaxed and has placed as much pressure on himself like a year ago.
"He laughs a lot more this year," Griffith said. "I think he's having more fun this year than he ever has.
"This year, he's just found a way to play loose and have fun."
This will be his last season of baseball. He earned a bowling scholarship from Hawkeye Community College. Sturbaum has bowled for more than 13 years and was a state qualifier.
"I enjoy bowling," Sturbaum said. "I've been doing that for longer than I've been playing baseball. It was a tough choice."
"He's the best bowler I've ever had play baseball," Griffith said. "He's a heck of a bowler."
Sturbaum, who is hitting .487 with 28 RBIs, continued his clutch contributions with two key hits against the Rebels. The first came in the three-run fourth. His two-out single tied the game, 5-5, and set up Jarin Peyton, who followed with an RBI single for the fourth of six lead changes in the game.
He added a two-run, two-out double over the center fielder's head in the sixth. The Rebels (7-11) took their chances with first base open and Sturbaum made them pay.
"I was a little bit surprised they pitched to me," said Sturbaum, who had a hit and two RBIs against Clayton Ridge. "I've been in that situation before and they just walked me.
"It was a 3-1 count and I saw one come right down the middle, so I connected. It just went a long ways."
His last shot provided all the insurance the Lynx needed, giving them a three-run cushion for Gunner Vanourney, who pitched the final 1 2/3 innings for the save.
"He's been coming through clutch all season for us," Griffith said. "Another big moment there, hitting that double and giving us a little bit of breathing room."
Austin Hilmer scored four times and had two hits. Cael Bridgewater drove in two runs without an official at-bat and Vanourney, Jake Van Etten and Cole Griffith each had two runs apiece.
Sturbaum and junior Hilmer possess the most experience in the program that has reached the state semifinals each of the last two seasons. Sturbaum has embraced his role as a leader and that has been a boost for younger teammates. He has hopes for another state appearance, but the moments along the way are most important.
"I will be content knowing we put it all out on the line and come ready to play no matter what," Sturbaum said. "Whether win or lose, I'll be happy if we do that (but) I'd like it to be at the state tournament."