No regrets in Trials attempt
N/A
May. 24, 2015 7:57 am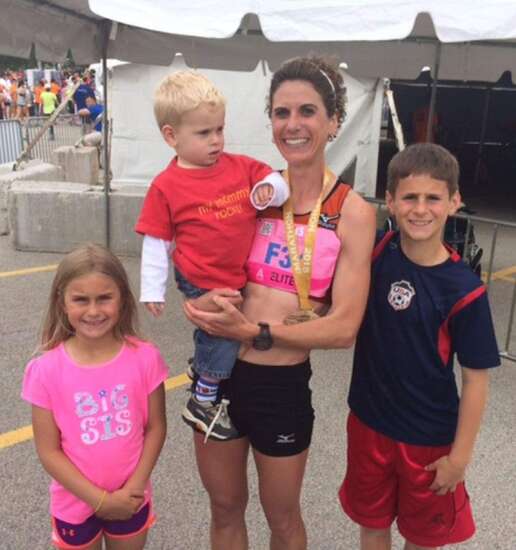 Editor's note: Erin Moeller, 37, of Mount Vernon is a lifelong runner who qualified for the last two Olympic Marathon Trials. A native of Ryan, she's a graduate of North-Linn and Wartburg and works for Benchmark Inc. in Cedar Rapids. She and her husband, Andy, have three children - Ryne, Evelyn and Kellyn.
By Erin Moeller, community contributor
In case you're wondering, I did not run under 2 hours and 43 minutes in last weekend's Cellcom Green Bay Marathon.
As I feared, the weather was 'beautiful" ... for the spectators. Unfortunately, temperatures in the 70s is not much to my liking for racing 26.2 miles.
My intended pace was slowed and I ended up with a finishing time of 2 hours, 47 minutes and 46 seconds. If there was any consolation for not meeting my goal, it was that I was able to cross the finish line first. Technically, seven men beat me, but they award a winner to the top male and top female.
Yes, winning the race was great fun. However, going into the race, I honestly didn't care what place I got - I just wanted to run faster than 2:43. The disappointment hasn't left my body, the sting reminding me my hopes and dreams didn't quite come together.
I'm not trying to justify (well, maybe I am) but I thought I'd share a few stats with you in an effort to put my race into perspective. In October, I ran a 2:45 marathon in Chicago. I really thought my increased mileage/effort/workouts would allow me to shave off those two measly minutes I needed to dip below 2:43. My speed workouts were going well, mile splits were improving in my long runs, and I knew I had improved my fitness throughout the months of training.
However, as I analyzed the race results of the rest of the field (in comparison with other recently completed marathon times), I discovered the second place female finisher on Sunday recently ran a 2:42 marathon, and she finished in 2:54. Another female runner recently run a 2:50 marathon and she finished in 3:04 on last Sunday.
Obviously, Sunday did not provide conditions prudent to running a fast marathon.
As I compared the time from my recently completed marathon to the slowed times of my fellow competitors, I was able feel a bit better about my finish. However, the ending result is the same - I did not qualify for a third Olympic Trials.
Looking back on the past several months, I can honestly say I have no regrets.
Yes, I put myself out there sharing with each of you that I had set this goal for myself. So yes, it hurts (a lot) more accepting this defeat.
Yes, I picked the Green Bay Marathon - knowing weather could be a factor, but it was a course I was familiar with and have enjoyed in the past.
Yes, I invested a lot of time and lost a lot of hours of sleep while I was out running countless miles.
However, if I knew all of this before making the decision back in January, I wouldn't change a thing.
Just like Garth Brooks says - life's a dance, you learn as you go. This whole process has been such a joy as I shared this dance with you. The training was tough, but the support and encouragement I received from so many was truly amazing. Thank you.
As for selecting to run the Green Bay Marathon in May - given our family schedules, I felt this was my best opportunity to run a fast time in good racing conditions. Who would have predicted temps in the mid-70s on a Sunday morning in Green Bay on May 17? n case you're wondering, it was 43 degrees in Green Bay the day after the marathon. What luck?
Maybe I didn't run my goal time, but I still gained mental toughness and demonstrated to our three our three children goals we set for ourselves require hard work, determination and sacrifices. Despite wanting this really bad and working really hard at making it happen, I didn't have control over everything and have to accept the results.
Speaking of our three kiddos, it was an indescribable feeling covering the 26.2 miles and seeing their smiling faces, as well as those of Andy and my parents who also made the trip to support me, along the route. Getting shouts of encouragement and high-fives along the way was awesome. As Andy shared with me after the race was long over - the kids could not have cared less what my pace was, they just thought it was cool that I was winning. Ah, to be a kid again.
I could sense their excitement and, despite the fatigue settling in my legs as the miles wore on, I was not about to disappoint them.
As the temperature continued to rise, I faced a headwind throughout many of the final miles heading back to historic Lambeau Field, and it was apparent that I was not going to make my goal time. Regardless of my disappointment I dug deep and found the strength to finish.
Now that the marathon is behind me, I'm enjoying some much needed days of rest from running. Despite loving to run, my achy muscles need a little time to recover.
Many have asked - what next? Is there still time to qualify? Are you going to try again? Many of you have reached out to me throughout this past week to offer support and encouragement. I appreciate that you believe in me and think I still have it in me to do this. Obviously, it wasn't in His plan for me last Sunday. However, maybe Sunday was just part of the bigger plan.
I just need to be patient. Surely someday as I look back on this experience that we all enjoyed together, I'll be able to make sense of it all.
As for now, I think I'll head out for a run. I'm planning to leave the watch behind and not pay attention to my pace. I can't wait. I run because I love it. I run because it's fun.
I hope you find the time to get out there for a few miles, too. Make sure to have fun while you're at it.
Happy running.
You may contact Moeller at emoeller26.2@gmail.com