NCAA facts, TV information for Iowa teams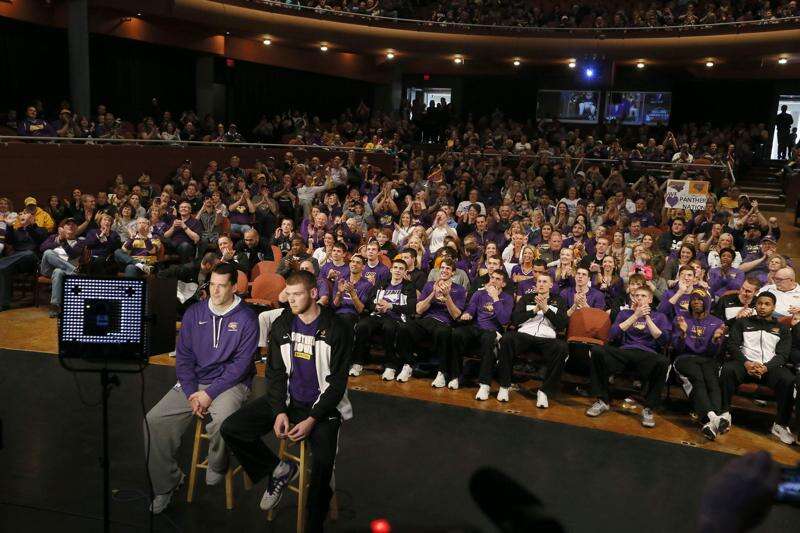 Some NCAA tournament facts and figures:
Time/TV information (all times Central)
South Region — 3. Iowa State vs. 14. UAB, 11:40 a.m. Thursday, Louisville (truTV, Verne Lundquist/Jim Spanarkel//Allie LaForce)
East Region — 5. Northern Iowa vs. 12 Wyoming, 12:40 p.m. Friday, Seattle (TBS, Spero Dedes/Mike Gminski//Jaime Maggio)
South Region — 7. Iowa vs. 10. Davidson, 6:20 p.m. Friday, Seattle (TNT, Spero Dedes/Mike Gminski//Jaime Maggio)
See Also:
Hawkeyes excited to learn seed, face Davidson
UNI gets 5th seed, buoyed by strong support
No. 3 seed Cyclones open NCAA tourney against 14th-seed UAB
Seedings
Iowa State was seeded ninth overall, just one spot below Kansas. The Jayhawks won the Big 12 regular-season title, while the Cyclones claimed the Big 12 tournament title and won two of three meetings with Kansas. The difference gave Kansas an opening weekend in Omaha, while it sent Iowa State to Louisville. ISU's opponent, Alabama-Birmingham, was seeded 57th.
Among Big Ten teams, Wisconsin was seeded sixth, Maryland 14th, Michigan State 25th, Iowa 27th, Purdue 36th, Indiana 37th and Ohio State 39th. Iowa's opponent, Davidson, was seeded 38th.
Northern Iowa was seeded 20th, the lowest among the fives. Its opponent, Mountain West Tournament champion Wyoming, was seeded 47th. Missouri Valley regular-season champion Wichita State was seeded 26th.
Next round
With a win, Iowa State will play the SMU-UCLA winner on Saturday. If Iowa beats Davidson, it will play the Gonzaga-North Dakota State winner on Sunday. If both Iowa and Iowa State win, they would play each other in Houston on March 27.
If Northern Iowa beats Wyoming, it will play the Louisville-Cal-Irvine winner. Potential Sweet Sixteen opponents include Villanova, Lafayette, N.C. State and LSU on March 27 at Syracuse, N.Y.
Team W L Tournament Coach Yrs Record W% Tourney
Davidson 24 7 12 8 13 .381 Bob McKillop 26 496 299 .624 7 3 7 .300
Iowa 21 11 23 27 25 .519 Fran McCaffery 19 346 250 .581 6 2 6 .250
Iowa St. 25 8 16 16 16 .500 Fred Hoiberg 5 113 54 .677 3 4 3 .571
UAB 19 15 14 9 14 .391 Jerod Haase 3 53 45 .540 0 0 0 .000
UNI 30 3 6 3 6 .333 Ben Jacobson 9 196 104 .653 2 2 2 .500
Wyoming 25 9 14 9 19 .321 Larry Shyatt 10 173 143 .548 0 0 0 .000
l Comments: (319) 339-3169; scott.dochterman@thegazette.com