Mount Vernon's Bruns perserveres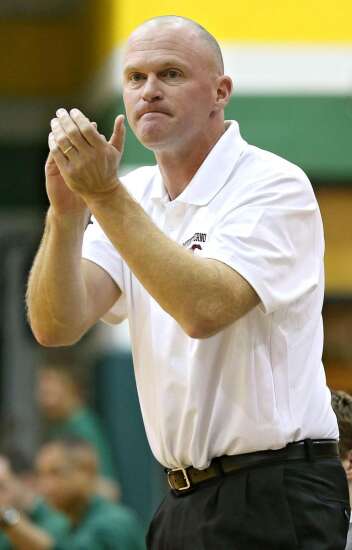 MOUNT VERNON - Tragedy does not define Wes Bruns. He won't let it.
When life has kicked and punched him to the ground and so very close to submission, he gets back to his feet, brushes off the dirt and blood, then smiles.
His resiliency is the ultimate lesson for every player on his Mount Vernon boys' basketball team. A great lesson for everyone, really.
'The Lord gives us what we can handle. You make the best of it," said the second-year Mustangs coach. 'I always knew that if I ever played it as woe is me, my mom, my dad, my brothers would kick me in the butt. They'd say 'Get your butt up and do something.' That's how I was raised, I don't know any better. Everyone has struggles in life, it's how you deal with them. You've got to have a good frame of mind."
Bruns was a senior in high school at Cedar Rapids Prairie when his father, Laverne, died unexpectedly of complications from a blood clot. Laverne Bruns won 480 games in 31 years as a prep coach, was the man who instilled the love of the game into his youngest son.
Wes was at a Prairie practice when he was pulled aside by head coach Jeff Wessel and told he needed to get to the hospital right away. As a tribute to his father, he played a game the very next night.
Bruns' mother, Sharon, eventually remarried, but unimaginable horror struck on Christmas night 1992. A wood-burning stove caused carbon monoxide to build in the family home in northern Missouri, killing Bruns' mother, stepfather and two brothers, Al and Dennis.
His sister, Joni, and her husband were at the hospital in Keosaqua, Iowa, with their ill 1-year-old baby and survived, as did Wes, who was sleeping in the basement of the home. He was emergency airlifted to a hospital in St. Louis, where he underwent extensive treatment and eventually therapy to regain his motor skills.
He does not remember a thing about that night.
'I had tried to get up because they found me on the floor with a big gash on my head," he said. 'This was a Sunday, and they didn't tell me what had happened until … I came out of a coma on Wednesday, they told me Friday. They had a psychologist there. I had no clue.
'Thank goodness for aerobic conditioning. That saved my life."
Bruns recovered physically and went into the teaching and coaching professions, with head coaching positions at Cedar Rapids LaSalle and Cedar Rapids Xavier. He married, and he and wife, Holly, began a family.
Their daughter, Allie, is 10, daughter, Grace, 7, twins, Anna and Eli, 4. The youngest Brunses were born prematurely at 25 weeks and spent the first 117 days of their lives at St. Luke's Hospital in Cedar Rapids.
Eli Bruns has a severe case of cerebral palsy, will never walk or talk and needs constant care.
'You always have to help him because he can't help himself," Bruns said. 'It really opens your eyes and puts life into perspective. You think you need this, this and this, but there is always someone who needs more.
'It's humbling, terribly humbling. It is a stress to the family, but somehow we stay together, stick it out and love each other through and through. We wouldn't have it any other way. I think every family has those issues. You just deal with it."
Eli Bruns contracted pneumonia late last winter, couldn't eat and spent weeks in the hospital, eventually having a gastrointestinal tube surgically inserted into his abdomen to help make sure he was receiving nutrition. The most tense of those tense times came during Mount Vernon's postseason.
The Mustangs finished 18-6, losing to North Cedar in a Class 2A substate final.
'Honestly, there were nights going into games where I felt like I had not prepared them enough," Bruns said. 'I worried, but they responded. (Former MV Coach) Ed Timm always told me 'Trust your players,' and if you teach them stuff, the leadership would take over. That's what happened."
Mount Vernon returns its top four scorers and should be one of the better teams in the area, but the Mustangs have moved up a class, the smallest 3A school in the state. Nearby powers like Cedar Rapids Xavier and Dubuque Wahlert potentially lurk in the postseason.
Just another challenge.
'These kids, they are the ones you need to talk about. It's a fun group," Bruns said. 'To stay actually involved in this game helps me tremendously. It's a great lesson for life. Like I told our kids, 'It's never going to be perfect. You play, and it's never going to be A, B and C.'
'There's going to be chaos. The ball is going to bounce here, bounce there, there's going to be a call go against you. That's life. Anything can be thrown at you. It's not that you hide and protect yourself. Something is going to happen. You've got to live 110 percent. I don't know any better."
l Comments: (319) 398-8259; jeff.johnson@thegazette.com