Morris, Van Sloten, Boffeli agree to free-agent deals
May. 10, 2014 8:01 pm, Updated: May. 10, 2014 10:34 pm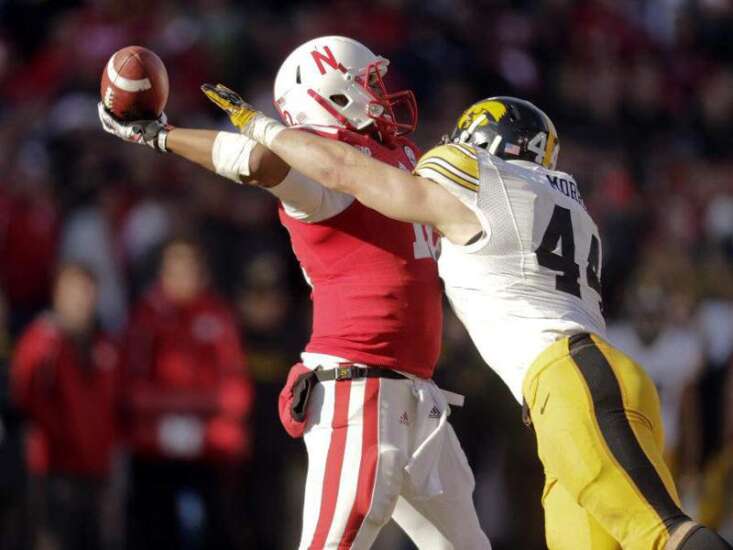 IOWA CITY - Iowa linebacker James Morris turned his draft-day disappointment into opportunity Saturday night.
After the Solon native when undrafted, he had the pick of several NFL clubs to continue his career. After speaking with agent Neil Cornrich, Morris agreed to terms with the New England Patriots.
'It's a great organization, a great coaching staff," Morris said. 'It's a great opportunity for me to come in and contribute, but that's down the road. Right now I'm just worried about getting myself in the best position so I'm ready when fall camp comes."
Morris paid little attention to the ongoing draft until midafternoon when he watched the Dallas Cowboys select Iowa teammate Anthony Hitchens. He then watched the rest of the draft unfold.
'Around 6 o'clock my phone started ringing off the hook," he said. 'It was just teams and managers trying to basically set up free-agent contracts in the event I don't get drafted because it's sort of a mad dash.
'Throughout the whole process I was hoping to be drafted. But by the time I knew I wasn't, I was somewhat happy because now you have a little freedom to try and pick the situation for you. All the cards are pretty much on the table. Now I sort of get to decide where I fit best. I talked to my agent a lot, and I felt like we made a good choice in New England."
Morris started 42 games at middle linebacker for Iowa. He recorded 400 tackles, ranking sixth in team history. He also had 10.5 sacks, 33 tackles for loss, six interceptions and forced three fumbles.
Morris stands nearly 6-foot-1 and weighs 241 pounds. He was a second-team all-Big Ten selection last year and played in 50 career games. He as named to the Capital One first-team Academic All-America team and was an academic All-Big Ten selection three consecutive years.
Iowa tackle Brett Van Sloten agreed to terms with the Baltimore Ravens on Saturday night. Van Sloten, a Decorah native, was a second-team all-Big Ten selection. Van Sloten, who stands 6-foot-6 and weighs 300 pounds, was a two-year starter and team captain.
'I'm looking forward to the next chapter of my life," Van Sloten said. 'I'm just going to go out there and compete on a daily basis."
Van Sloten was part of an offensive line that allowed just 15 sacks, fewest in the Big Ten. He joins a Ravens offensive line that includes former Hawkeye Marshal Yanda.
'I'm looking forward to learning from him," Van Sloten said. 'He's established, he knows what it takes to be successful. I'm hoping to learn a lot from him in terms of that.
Iowa guard Conor Boffeli said he developed a bond with Vikings coaches during a meeting at the combine.
'They've shown interest throughout this process, and it's going to be a good fit overall," Boffeli said.
'I met with some scouts and some assistant O-line coaches at the combine and talked with them a bunch. Their head O-line coach has been in contact with me prior to the draft saying they were interested. I've come to like the head O-line coach (Jeff Davidson) and respect him, and I think it's going to be a real solid fit for me up there going forward. That's how I made my decision."
Iowa long snapper Casey Kreiter announced Saturday on Twitter that he will get an opportunity with the Dallas Cowboys.
Comments: (319) 339-3169; scott.dochterman@sourcemedia.net