Monika Czinano hits a career-high 38; Iowa subdues Purdue in Big Ten tournament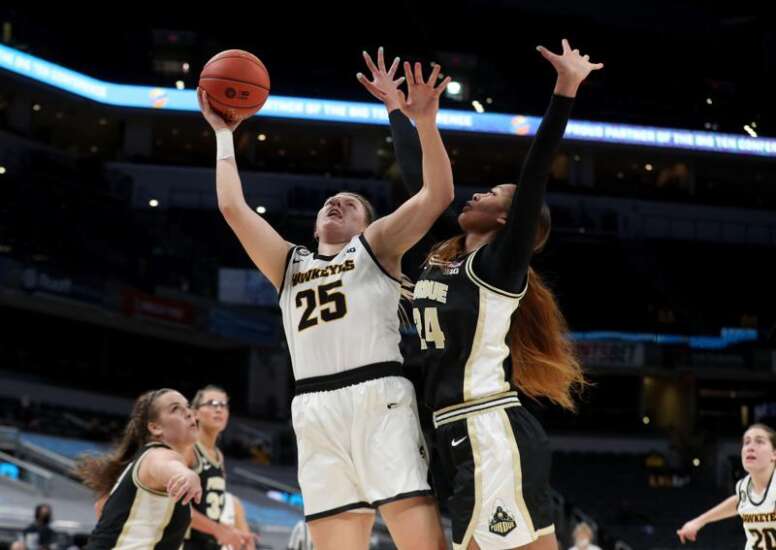 INDIANAPOLIS — The Iowa Hawkeyes ruled the stretch run, just like last time.
Monika Czinano ruled the paint, all game.
Czinano established a new career-high with 38 points, and Iowa ran away in the final 7 1/2 minutes to subdue Purdue, 83-72, in a second-round game at the Big Ten women's basketball tournament Wednesday night at Bankers Life Fieldhouse.
'A lot of it, the guards drove, and they had to crash on them. I was able to relocate,' Czinano said. 'The slide, short corner ... it was really open.'
A junior post, Czinano made 16 of 18 shots from the floor (including her first nine), canned all six of her free-throw tries and grabbed nine rebounds, enabling the Hawkeyes (16-8) to advance to Thursday's quarterfinal against 19th-ranked Rutgers (14-3).
Tipoff is scheduled for about 8 p.m. (CT) (TV: FS2). The third-seeded Scarlet Knights received a double-bye.
'It's a short turnaround. It's so late tonight, that's what bothers me,' Iowa Coach Lisa Bluder said. 'We'll eat and go to bed.'
Czinano's 38 points ranked fourth-highest in a Big Ten women's tournament game.
The victory was Iowa's second this season against Purdue (7-16). In the first meeting, the Boilermakers led by six points before the Hawkeyes jolted them with a 17-2 run and won, 87-81.
Purdue was in position again Wednesday, leading 61-60 on Kayana Traylor's free throw with 7:37 to go.
But Iowa scored the next nine points, igniting a telling 21-6 spree.
Caitlin Clark added 27 points, seven rebounds and nine assists. But this was unequivocally Czinano's night.
A career night.
And it had to be, because the rest of the team shot 29 percent from the floor, including 3 of 22 from long distance.
'If you would tell me we made three 3-pointers and still won by 11, I'd say you're crazy,' Bluder said.
Iowa overcame the non-Czinano chilliness by racking up 21 assists to just nine turnovers, and outrebounding the Boilermakers 39-35.
The national leader in field-goal percentage, Czinano was 5-for-5 from the floor in the first period for a game-high 10 points.
Iowa kept pushing, built a 30-21 advantage on Kate Martin's basket at the 6:08 mark in the second.
Czinano made it 9-for-9 for a 32-24 lead, then Purdue stormed back into it.
Traylor scored 10 points in less than five minutes, and her drive put the Boilermakers in front, 36-34.
Clark hit 3 of 4 free throws in the final 41 seconds, and Iowa led 37-36 at intermission.
Traylor led Purdue with 19 points. Madison Layden added 18, Brooke Moore 14.
Iowa earned a 90-84 victory against Rutgers on Dec. 31. The Scarlet Knights enter the tournament with a nine-game win streak.
'We know they're going to press,' Bluder said. 'We'll be prepared for that. I don't think they're going to zone us, but the way we shot tonight, they might.'
IOWA 83, PURDUE 72
Big Ten Tournament, Second Round, at Indianapolis
PURDUE (72): Fatou Diagne 2-4 0-0 4, Brooke Moore 6-15 0-1 14, Kayana Traylor 7-14 3-4 19, Tamara Farquhar 3-7 1-2 7, Madison Layden 5-13 3-4 18, Cassidy Hardin 1-4 0-0 3, RaShaya Kyle 3-7 1-2 7, Jenelle Grant 0-1 0-0 0, Ajah Stallings 0-1 0-0 0. Totald 27-66 8-13 72.
IOWA (83): McKenna Warnock 1-5 2-2 4, Monika Czinano 16-18 6-6 38, Kate Martin 2-5 0-0 4, Caitlin Clark 8-21 9-11 27, Gabbie Marshall 2-9 3-4 8, Tomi Taiwo 0-2 0-0 0, Megan Meyer 0-1 0-0 0, Sharon Goodman 1-6 0-0 2. Totals 30-67 20-23 83.
Halftime: Iowa 37, Purdue 36. 3-point goals: Purdue 10-30 (Moore 2-9, Traylor 2-5, Layden 5-10, Hardin 1-4, Grant 0-1, Stallings 0-1), Iowa 3-22 (Warnock 0-4, Martin 0-2, Clark 2-8, Marshall 1-6, Taiwo 0-1, Meyer 0-1). Team fouls: Purdue 21, Iowa 14. Fouled out: none. Rebounds: Purdue 35 (Diagne 7), Iowa 39 (Czinano 9). Assists: Purdue 14 (Traylor 7), Iowa 21 (Clark 9). Steals: Purdue 3 (Moore 2), Iowa 10 (Martin 4). Turnovers: Purdue 14, Iowa 9.
Comments: (319) 368-8857; jeff.linder@thegazette.com