Mitch Swinton dedicates himself to Lil' Racer Car Club
Club has over 1,500 kids, and keeping up is a tiring but worthwhile job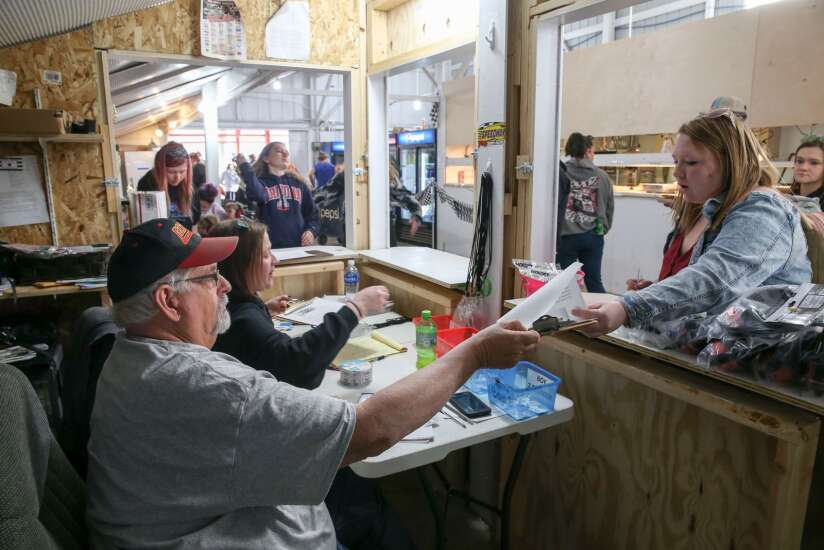 VINTON — It all started with a trip to the races for Mitch Swinton. In 2005, he took his then-6-year-old-son Ross to the track in West Liberty and quickly realized there wasn't much for kids to do.
That's when he decided to start the Lil' Racer Car Club which is beginning its first season exclusively at Benton County Speedway in Vinton.
"I was going to Lee County Speedway in Donnellson and they had a great club," Swinton said. "I figured I could do it."
On the club's first night, it signed up five kids and gave away Easter eggs filled with candy.
"I thought this was going to be easy," Swinton said. "Sixteen years later we have 1,500-plus kids in the club."
Swinton himself didn't have much of a childhood growing up in Marble Rock and moved to Grand Forks, N.D. on the night of his high school graduation to live with his brother who was stationed there with the Air Force.
A few weeks later he was relocated to Minneapolis and Swinton had nowhere better to go.
"I lived with him for a while and it wasn't working out," Swinton said. "I got my own apartment and then went slowly downhill."
Swinton struggled with alcohol and at one point lived on the streets of Minneapolis before going through treatment.
He got his life together, started college at Iowa Lakes, then transferred to the University of Iowa.
Sporting a big head of hair, he walked past his future wife Lori, who was cutting hair at the Old Capitol Mall when she asked, "Do you mind if I cut that off?"
The two went on their first date on April 24, 1984, and were married later that year.
That was also the last time Swinton had a drink of alcohol as he approaches 37 years of sobriety Saturday.
"I don't need it," Swinton said. "I do a lot of fun things without it."
Now the Lone Tree resident and city council member spends his free time and efforts into providing opportunities for kids that he never got.
"Because I didn't have much of a childhood I started this club for me," Swinton said. "I like kids running down and smiling when they get a trophy. It's all for them. If they weren't here, I wouldn't be here. I'm reliving my childhood each week and I can act like I'm 12 in my clubhouse."
Although he may feel 12 at heart, Swinton did have spinal surgery in February and relies on four volunteers — Rachel and Alyssa Baugh, Kylie Meskimen and Shelby Reck — to help sign the kids up when they rush the booth.
Regardless of limitations, Swinton will continue to do what it takes to keep his club alive as long as possible.
"We do what we can do with limited funds," Swinton said. "I do this every week because I love what I do. When it gets to a point when I don't love it, I won't do it anymore but for right now this is what keeps me going."
The dream scenario for Swinton still is all about the kids.
"I would love to find that elusive national sponsor," Swinton said. "I'm happy to piece together 30 sponsors, but if someone wants to sponsor us I think they'll like what we do. The smiles on (the kids') faces is worth a million dollars to me."