'Megan Show' not enough for Iowa women's basketball in loss to Purdue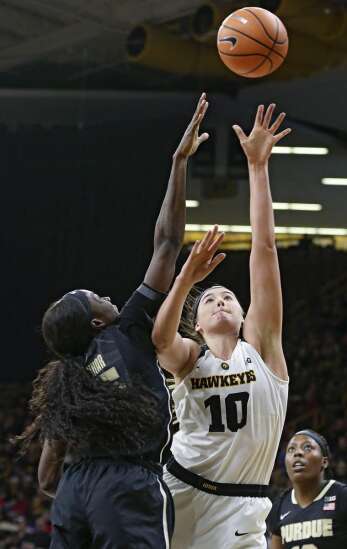 IOWA CITY — Megan Gustafson 'got everything she wanted,' according to Purdue Coach Sharon Versyp, posting a career-high in scoring.
Purdue's No. 10 ... well, she can play, too.
Andreona Keys nearly tripled her season average, scoring 34 points and leading Purdue past 17th-ranked Iowa, 76-70, in a Big Ten women's basketball game Saturday afternoon at Carver-Hawkeye Arena.
It was Purdue's first win here in nine years.
'This team has a lot of grit,' Versyp said, using a word Iowa Coach Lisa Bluder has used a lot this season in characterizing the Hawkeyes. 'And our senior here,' nodding at Keys, 'she put everybody on her back.'
Keys and Gustafson (37 points, 14 rebounds; her 17th double-double of the season) played to a virtual stalemate. Keys ultimately got more help from her teammates.
'We need to get more people involved than just Megan,' Bluder said. 'It can't just be the Megan Show.'
Chase Coley was the only other Hawkeye in double figures, scoring 10 points. Kathleen Doyle and Alexis Sevillian combined to shoot 5 of 28 from the floor as Iowa slipped to 15-3 overall, 3-2 in the Big Ten.
Keys came into the game averaging 13.0 points per game. But she hit 13 of 19 floor shots Saturday.
'(Iowa) played a triangle-and-two a lot, and since I was opoen, I shot it,' she said. 'My teammates knocked down shots, too.'
Dominique Oden added 16 points, Karissa McLaughlin 15 for the Boilermakers.
'It seemed our focus wasn't always there on defense,' Coley said. 'We had some defensive lapses, and we couldn't always find Keys on the court.'
Iowa (15-3, 3-2) rallied from a seven-point first-half deficit to forge a 32-32 tie at halftime, then scored the first two baskets of the second half.
Purdue roared back with a 17-6 run for another seven-point lead. Iowa got within 49-48 before Purdue scored eight of the last nine points of the third quarter and led 57-49 heading to the fourth.
Gustafson scored Iowa's first three hoops of the final period, then Sevillian's 3-pointer made it 59-58. Again, Purdue answered behind 3-pointers by Keys and Oden for a 67-60 advantage with 4:10 to go.
Coley's turnaround jumper at the 2:32 mark cut it to 67-65, but Purdue put it away at the free throw line.
Gustafson made 17 of 23 shots from the floor, and all three of her free throws. Her previous career-high was 35 against Western Kentucky earlier this season, and she eclipsed that with a basket with 2 seconds left.
She climbed three spots Saturday to No. 9 on Iowa's career rebounding chart, with 796.
Doyle contributed 10 assists.
Carly Mohns made the first start of her career, replacing Amanda Ollinger at small forward.
'I felt Carly deserved an opportunity, to have a chance to start on our home court,' Bluder said.
The Hawkeyes play their next two games on the road — at Nebraska on Tuesday; at Minnesota on Sunday — then return home for a contest Jan. 25 against Ohio State.
Purdue hosts Northwestern on Thursday.
PURDUE 76, IOWA 70
At Iowa City
PURDUE (76): Ae'Rianna Harris 2-6 0-0 4, Karissa McLaughlin 4-10 4-4 15, Andreona Keys 13-19 4-4 34, Dominique Oden 7-10 0-0 16, Tamara Farquhar 0-6 0-0 0, Miracle Gray 0-3 0-0 0, Nora Kiesler 3-3 1-2 7. Totals 29-57 9-10 76.
IOWA (70): Chase Coley 5-10 0-0 10, Carly Mohns 1-1 0-0 2, Megan Gustafson 17-23 3-3 37, Alexis Sevillian 3-13 0-0 7, Kathleen Doyle 2-15 2-3 7, Hannah Stewart 2-4 0-0 4, Zion Sanders 0-0 0-0 0, Amanda Ollinger 1-1 0-0 3. Totals 31-67 5-6 70.
Halftime: Iowa 32, Purdue 32. 3-point goals: Purdue 9-17 (Harris 0-1, McLaughlin 3-7, Keys 4-5, Oden 2-4), Iowa 3-16 (Sevillian 1-9, Doyle 1-6, Ollinger 1-1). Team fouls: Purdue 16, Iowa 12. Fouled out: none. Rebounds: Purdue 27 (Harris 7), Iowa 39 (Gustafson 14). Assists: Purdue 12 (Oden 4), Iowa 23 (Doyle 10). Steals: Purdue 9 (three with 2), Iowa 4 (Sevillian, Ollinger 2). Turnovers: Purdue 12, Iowa 16.
Attendance: 7,477.
l Comments: (319) 368-8857; jeff.linder@thegazette.com