Home / Sports / Iowa Prep Sports
Linn-Mar's Tatum Depuydt breaks par for MVC Mississippi divisional win
Depuydt fires 2-under 61; Liberty's Bella Pettersen earns Athlete of the Year honors; Western Dubuque grabs team title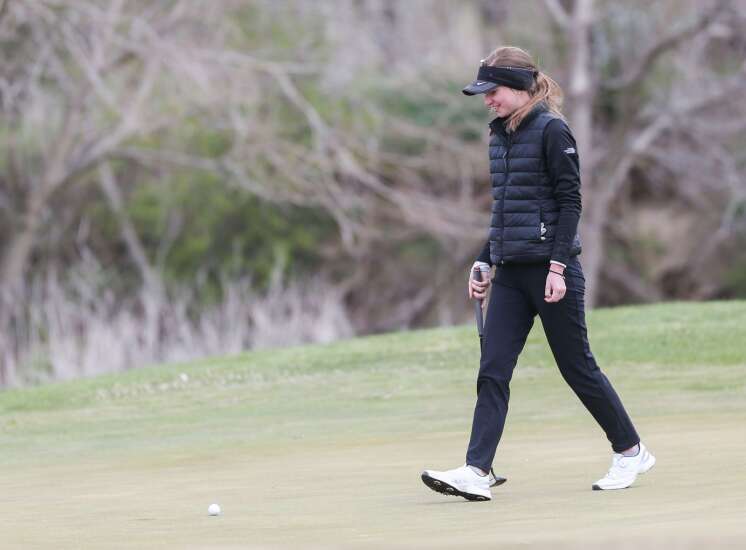 CEDAR RAPIDS — Tatum Depuydt collected some receipts on her recent effort.
The focus on fine-tuning her putting has paid dividends, especially with the challenging greens of Airport National Golf Course.
"I've been working really hard on my putting recently," Depuydt said. "Today, the work was showing."
The Linn-Mar senior broke par for the first time, shooting 2-under 61 for medalist honors Monday in the final round of Mississippi Valley Conference Mississippi divisional play.
Western Dubuque won the team title with 295 and Iowa City Liberty's Bella Pettersen shot 67 to edge Depuydt for MVC Mississippi Player of the Year honors by two strokes and a three-round total of 172.
Depuydt earned first-team all-MVC recognition for the third time. The round wasn't perfect but she handled a strong wind on a short, wide-open course, allowing herself up-and-down opportunities.
"I was just missing in all the right spots," Depuydt said. "I had some doozies. The wind was getting me off-balance a little on a few holes that were down wind. I just tried to keep myself mentally in check hole by hole."
Recent lessons had her work on contact and feeling when she putts. Depuydt posted birdies on Nos. 4, 5 and 8 for a 30 on the front. She also birdied the 15th hole. Placement on the greens was important.
"I do a lot of short-putt work that's when it comes down to clutch putts," Depuydt said. "When you make those, you're feeling confident in your short game.
"Being below the hole allowed me to be more aggressive with some putts."
More important than the birdie putts were putts to save par. Depuydt parred 12 holes with just two bogeys. She made the in-between putts from 3 to 7 feet that Linn-Mar Coach Chris James said can make or break a round.
"It was showcased today," James said. "It is those types of putts, inside 10-footers, for par that save your round. She made a few of them. I think that's huge for her."
Depuydt has signed to play golf at South Dakota State. She is looking for her third state meet appearance, placing fourth in 2019 and 16th in 2018. With the regional meets next week, she wants to end on a good note.
"I've put myself in a good position," Depuydt said. "I'm proving to myself that I'm on a track that I want to be on and I'm going to keep working, hoping the results keep showing."
Linn-Mar finished with 309, placing a distant second to Western Dubuque. Cedar Falls was third at 316, which was two shots ahead of fourth-place Cedar Rapids Washington.
Western Dubuque ruled the round and surpassed Liberty for the MVC Mississippi Division crown. The Bobcats posted a 295 team score Monday, giving them a three-round total of 814.
McKenna Stackis led Western Dubuque with 68 and Ella Kluesner had 69. Hannah Fangmann and Addy Jones filled out the score with 75 and 83, respectively. Kluesner and Stackis earned first-team honors, while the Bobcats' Amy Haldeman was Coach of the Year.
Pettersen entered the last round with 105, shooting 38 in the nine-hole MVC Super Meet and 67 in the first divisional. The freshman birdied the par-4 fifth hole and finished third Monday. Teammate Neely Maurus carded 1-over 64 as a runner-up in the third round and finished third overall with 179.
Kaitlin Hotchkiss wins MVC Valley, Iowa City West 2nd
Cedar Rapids Xavier's Kaitlin Hotchkiss carded an 80 to earn medalist honors in the Mississippi Valley Conference Valley division golf meet Monday at Irv Warren Memorial Golf Course. Iowa City West shot 382, finishing runner-up to Dubuque Hempstead by six strokes.
West was led by Rylee Goodfellow, who placed fourth individually with 87. Leigha Pacha had 94. Lucy Schmid added 99 and Marit McCaffery had 102 to complete the scoring.
West also finished second to Hempstead in the three-round divisional competition. The Trojans totalled 931. Hempstead won the division title with 914.
Hawkins earned MVC Valley Player of the Year honors, posting a three-round total of 195.
MISSISSIPPI VALLEY CONFERENCE MISSISSIPPI DIVISIONAL
At Airport National
(Par 63)
Teams – 1. Western Dubuque 295, 2. Linn-Mar 309, 3. Cedar Falls 316, 4. C.R. Washington 318, 5. Iowa City Liberty 320, 6. Dubuque Wahlert 322, 7. C.R. Prairie 330, 8. Iowa City High 346
Individuals – 1. Tatum Depuydt (LM), 61, 2. Neely Maurus (ICL), 64, 3. Bella Pettersen (ICL), 67, 4. (tie) Addie Berg (CRP) and McKenna Stackis (WD), 68.
LINN-MAR (309): Depuydt 61, Abby Hoefle 80, Ava Kline 82, Avery Carlson 86
C.R. WASHINGTON (318): Emma Sorg 76, Mya Messenger 78, Blythe Heying 82, Mackenzie Parks 82
I.C. LIBERTY (320): Maurus 64, Pettersen 67, Brianna Buttefield 94, Ashley Nadeau 95
C.R. PRAIRIE (330): Berg 68, Julianne Hodges 84, Jillian Thies 89, Yuewan Jennissen 89
CITY HIGH (346): Annika Rutt 80, Anna Knoche 85, Lauryn Varo 90, Allison Ribble 91, Dani Moen 91, Savanna Josephson 91
FINAL STANDINGS
Teams – 1. Western Dubuque 814, 2. Iowa City Liberty 831, 3. Cedar Falls 845, 4. C.R. Washington 852, 5. Linn-Mar 868, 6. Dubuque Wahlert 883, 7. C.R. Prairie 893, 8. Iowa City High 953.
Individuals – 1. Pettersen (ICL), 172, 2. Depuydt (LM), 174, 3. Maurus (ICL), 179, 4. Amara Lytle (CF), 181, 5. Berg (CRP), 185.
ALL-MVC MISSISSIPPI
First team
Pettersen (ICL), Depuydt (LM), Maurus (ICL), Lytle (CF), Berg (CRP), Ella Kluesner (WD), Anna Kalb (DW), McKenna Stackis (WD)
Second team
Sorg (CRW), Marley Richeter (CF), Taylor Urbanek (CF), Hodges (CRP), Parks (CRW), Hoefle (LM), Ava Kalb (DW), Messenger (CRW), Hannah Fangmann (WD)
MISSISSIPPI VALLEY CONFERENCE VALLEY DIVISION
At Waterloo
(Irv Warren Memorial G.C., par 72)
Teams – 1. Dubuque Hempstead 376, 2. Iowa City West 382, 3. Waterloo West 388, 4. C.R. Kennedy 401, 5. C.R. Jefferson 417*, 6. Dubuque Senior 417*, 7. C.R. Xavier 417, 8. Waterloo East NS
Individuals – 1. Kaitlin Hotchkiss (CRX), 80, 2. Morgan Hawkins (DH), 81, 3. Maddie Dolan (WW), 86, 4. Rylee Goodfellow (ICW), 87, 5. Kylie Felderman (DS), 90
*-Won tiebreaker with best fifth-person score.
I.C. WEST (382): Goodfellow 87, Leigha Pacha 94, Lucy Schmid 99, Marit McCaffery 102
C.R. KENNEDY (401): Leyla Grawe 92, Kirin Nguyen 99, Elli Vaske 102, Sidney Swartzendruber 108
C.R. JEFFERSON (417): Anna Warkel 98, Kylee Thomas 104, Kierra Thomas 107, Addy Loomer 108, Rhianna Briney 111
C.R. XAVIER (417): Hotchkiss 80, Meera Julka 104, Kyla Johnson 113, Anna Esker 120
FINAL STANDINGS
Teams – 1. Dubuque Hempstead 914, 2. Iowa City West 931, 3. Waterloo West 976, 4. C.R. Kennedy 985, 5. Dubuque Senior 1,005, 6. C.R. Jefferson 1, 046, 7. C.R. Xavier, 1,048, 8. Waterloo East NS
Individuals – 1. Hawkins (DH), 195, 2. Hotchkiss (CRX), 212, 3. Goodfellow (ICW), 216, 4. Pacha (ICW), 217, 5. Dolan (WW), 219
Comments: kj.pilcher@thegazette.com