Home / Sports / Iowa Hawkeyes / Iowa Basketball
Jordan Bohannon returning for another season with Iowa Hawkeyes
Iowa's career leader in assists and 3-pointers will have a 6th season in program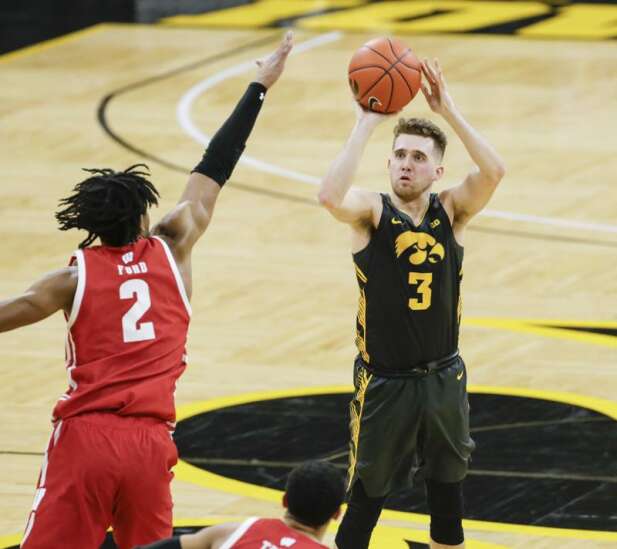 Jordan Bohannon, the Iowa men's basketball program's all-time leader in assists and 3-point baskets, will get a second Senior Day.
Bohannon announced Monday that he is taking advantage of the extra year of eligibility the NCAA made available to 2020-21 athletes because of the COVID-19 pandemic, and he'll be on the Hawkeyes' roster for a sixth year.
"Excited for a season with FANS! Missed y'all. This past season just never felt right. 'Let's make a baby.' " Bohannon tweeted Monday afternoon.
Twitter
On Saturday, Hall of Fame college basketball writer Dick Weiss tweeted that Bohannon would reportedly return for his bonus season. The player confirmed it to the Des Moines Register Monday, noting he was going to play the 2, or off-guard position, next season.
If so, that presumably wouldn't cut in to the playing time of junior-to-be point guard Joe Toussaint.
On a The Gazette's On Iowa Podcast in early March, former Northern Iowa player Matt Bohannon said he'd urge his youngest brother to play another season.
"If I were in his position and I had another year of school, I know what I'd choose looking back now," Matt Bohannon said.
"You got another year of college basketball, go play it."
Twitter
Bohannon joins Illinois' Trent Frazier, Michigan's Eli Brooks and Wisconsin's Brad Davison as Big Ten seniors using bonus seasons.
Bohannon has scored 1,638 points in his career spanning five seasons. He has averaged over 10 points per game in each of his four non-redshirt seasons and 11.5 for his career. He has made 364 3-pointers, second in Big Ten history to the 374 of Ohio State's Jon Diebler.
His 639 assists supplanted Jeff Horner for No. 1 on Iowa's career list, and his 14 in a January game against Minnesota were the most by a Hawkeye since 1989.
Bohannon's 143 games played will make him the most of all active players in Division I next season, and he'll need 15 to break the NCAA record of David Lighty, who was at Ohio State from 2006 to 2011.
Bohannon was Iowa Mr. Basketball at Linn-Mar High School in 2016, the last of four brothers to compete in Division I. He started 28 games as a freshman at Iowa, and 133 overall. He has made 40 percent of his 3-pointers and 88.7 percent of his free throws in his career.
He was the Hawkeyes' leader in assists and was third in scoring in the 2020-21 season. He averaged 6.5 points and 2.5 assists in Iowa's two NCAA tournament games.
In late March, Bohannon said he would return for another season if Iowa Senate File 245 passed. Bohannon has been among NCAA athletes crusading for state and federal NIL laws.
The bill, which would have allowed college athletes to profit on their name, image and likeness, died in the Senate. So while NIL will be a law in at least 11 states at the start of the 2021-22 college basketball season, there probably will be no money to made off NIL for Bohannon and his teammates next season.
His return means Bohannon gets one more trip to Hilton Coliseum, with Iowa playing at Iowa State. Last time, Bohannon left his shoes on the court after Iowa's 84-68 win in 2019 for its first victory there since 2003.
He'll surely get quite a welcome back from Cyclone fans.
Comments: (319) 398-8440; mike.hlas@thegazette.com