Jane Meyer v. University of Iowa athletics trial starts Monday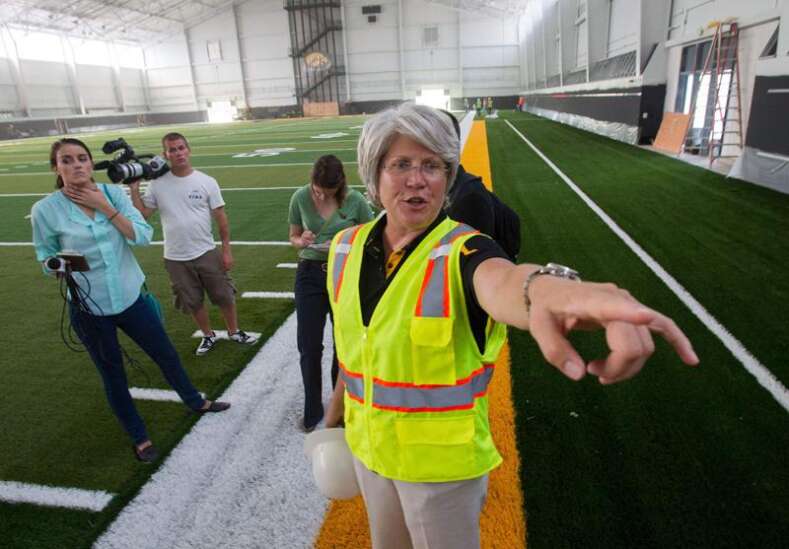 The employment discrimination lawsuit of former University of Iowa athletics official Jane Meyer is slated for trial next week in Polk County with potential witnesses including UI Athletics Director Gary Barta, Board of Regents President Bruce Rastetter, Head Football Coach Kirk Ferentz and Big 12 Conference Commissioner and former UI Athletics Director Bob Bowlsby.
Meyer, a former UI associate athletics director who worked for the department from 2001 to 2014, is suing her former employer for gender and sexual orientation discrimination.
She alleges in the suit filed Nov. 4, 2015, the UI moved her from her position in athletics, eventually eliminating her job, after she complained about the 2014 firing of Tracey Griesbaum, Meyer's longtime partner, from Griesbaum's position as head field hockey coach.
The trial starts Monday and is expected to last up to three weeks, said Meyer's attorney, Jill Zwagerman. There were no settlement talks as of Friday morning, Zwagerman said.
'We're going on Monday," she said.
Barta fired Griesbaum in August 2014 after an internal investigation reported several field hockey players complained Griesbaum was verbally abusive and pressured them to compete while injured. Other student-athletes and alumna disputed these statements and supported the ousted coach.
Meyer filed a written complaint with Barta Dec. 4, 2014. Within days, Barta put Meyer on administrative leave then UI moved her to Facilities Management because they anticipated a wrongful termination lawsuit by Griesbaum. A UI Athletics statement at the time said the Iowa Attorney General advised Barta to shift Meyer out of the department until the matters are solved.
The UI eliminated Meyer's $176,617-a-year job Sept. 9.
Barta's testimony will likely be a big moment in the trial, Zwagerman said.
'Anytime the decision-maker testifies about a decision to transfer or fire an employee, that testimony is important," she said.
Zwagerman has listed nearly 40 potential witnesses, including coaches, associate athletic directors, UI attorneys and Regents staff, but she does not know if they all will be called to the stand.
'We try to include everyone we think will be relevant, but sometimes people have overlapping information and we end up calling one and not the other," she said.
Meyer filed a federal lawsuit in November alleging her First Amendment and gender rights were violated.
Griesbaum filed her own lawsuit against the UI in March. Her trial is set for June 5 in Polk County.
l Comments: (319) 339-3157; erin.jordan@thegazette.com