ISU's Kemboi back on friendly blue oval at Drake Relays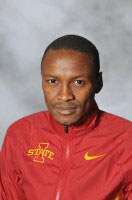 DES MOINES - Nearly four years ago, a precocious Edward Kemboi lined up for the biggest event of his life - the 2011 NCAA Track and Field Championships at Drake Stadium.
The then-17-year-old Iowa State athlete's heart raced, but his legs moved faster.
'I remember being the only freshman in the field," the transplanted Kenyan said.
He didn't run like one.
Kemboi splashed into Iowa State running lore that June day by finishing fifth in the 800 meters, garnering All-American status while setting a still-standing outdoor school record of 1:46.06.
Now the more decorated junior - who endured a serious stress fracture last season, then surged to a runner-up finish in the 800 at last month's NCAA Indoor Championships - comes full circle, hoping to help the Cyclones grab an array of Drake flags in the stadium where his career took off. Kemboi will compete in Saturday's distance medley relay.
It will serve as a steppingstone toward another planned June trip to the lead pack - this time in Eugene, Ore.
'We want to use this weekend as kind of a workout for him," said ISU distance runners coach Jeremy Sudbury. 'We are going to put a pretty good squad out there in the DMR, so it should be exciting and kind of fun."
That's the Relays - regardless of the weather.
The state's top high school athletes and competitors from the collegiate and professional ranks co-mingle to form this signature track and field event that concludes with Sunday's road races.
'What I'm excited about in general, conceptually, is this idea of raising the bar," Relays Director Brian Brown said. 'I really feel like we've done that in every event."
Olympic medalists and world champions dot the fields in the elite events this week.
Several Iowa athletes will compete in the university and college divisions, as well.
Iowa State's Christina Hillman - who won the NCAA indoor title in the shot put - will look to jump start her outdoor season in Friday's discus event. Northern Iowa's Matt Schiffer carries an undefeated season into Saturday's men's discus competition.
Iowa's Babatunde Amosu, the Big Ten Field Athlete of the Week, seeks to build off his triple-jump win at last weekend's Mt. SAC Relays by shining Saturday, too.
And that's just a sampling of Iowa university-based athletes to watch as events unfold at Drake Stadium.
'I'm excited," Brown said.
So is Kemboi, who is on a path charted long ago when he set foot in Ames about four years ago armed only with a campus map and an unwavering will to succeed.
'I didn't even now what (being an All-American) meant," said Kemboi, who ran just .08 off his school record outdoor pace in the 800 at Mt. SAC. 'I just wanted to be in the final. And I did it."
There's more to come - beginning this weekend at the site that started it all.
'I think every time Ed lines up and puts the Iowa State jersey on, he wants to do something special," Sudbury said.
l Comments: robgray18@yahoo.com