ISU defensive line talented, but inexperienced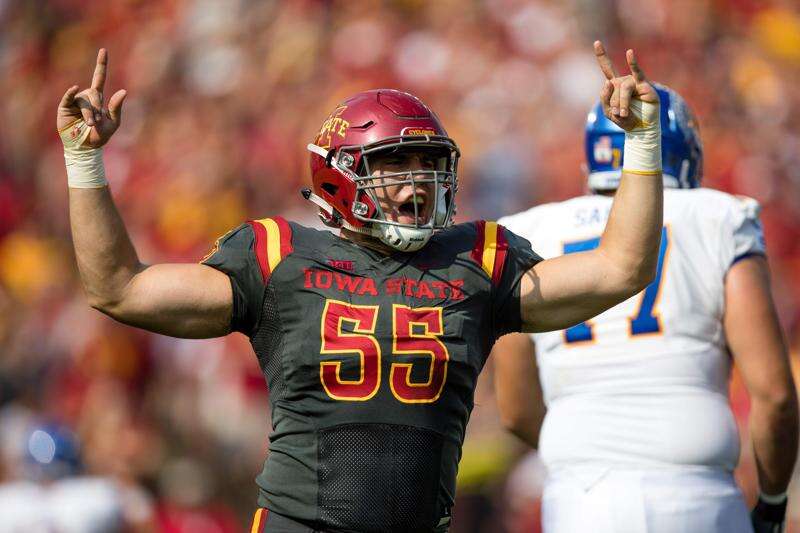 AMES — The first step for the Iowa State defensive line was catching up to its opponents in size.
That happened during the offseason with a host of junior college additions.
The next step in the growth of defensive line coach Eli Rasheed's group doesn't happen as quickly. Now the challenge is to get as caught up as possible in the experience of playing on a Division I defensive line.
'It's all basics (in practice),' Rasheed said. 'That's for a lot of our guys. Just common block reactions and getting a great pass rush.
'I think down the line we're going to be really talented. We're just young and inexperienced right now. But we've got really good talent.'
Iowa State lost three starters along the defensive line in seniors Demond Tucker, Jhaustin Thomas and Mitchell Meyers and has tried to bridge the gap with junior college transfers.
Defensive tackle Ray Lima (6-foot-3, 310) and defensive end Matt Leo (6-7, 265) are on campus this spring, but there's a growth curve there, too. Lima is just a sophomore and Leo only started playing football in the last couple years.
'(Lima's) going to play as much as he can handle,' Rasheed said. 'He's our bridge between those six to eight seniors. He and Kamilo Tongamoa, that's the reason we signed those guys, to help bridge that gap. We want to get him as many plays as we can.'
Tongamoa still is finishing up junior college classes and is expected to arrive this summer, but will be another big body inside at 6-5 and 320 pounds.
Leo arrived after the start of spring ball and has been on a slower integration plan than the other linemen. Being relatively new to football, especially at the Power Five level, ISU Coach Matt Campbell is taking things slow and getting him ready for fall.
'We've really done a great job, I think, of making sure that we didn't get him hurt,' Campbell said. 'We kind of held off in terms of how much we're going to give him. But I think what you see is that foundation to Matt is really starting to build.
'I think it's going to be really fun once we get through the summer into fall.'
While the junior college guys get brought up to speed, there has been a youth movement occurring simultaneously.
Sophomores JaQuan Bailey (6-3, 260) and Jamahl Johnson (6-1, 318) and redshirt freshmen Eyioma Uwazurike (6-6, 250), Joshua Bailey (6-2, 294) and Carson Lensing (6-4, 227) are in the mix to get snaps this fall.
J.D. Waggoner (6-3, 255), Vernell Trent (6-3, 275) and Spencer Benton (6-2, 245) are all steadying presence in the unit.
'(We don't have) a ton of experience, but I don't think that's the worst thing not to have,' said Waggoner, who had offseason surgery to repair a torn pectoral muscle. 'We have a lot of hungry guys who just want to be great and improve.
'I definitely have my work cut out for me coming back in the fall. I've got to show that I can play again. I definitely think we'll be good with these young guys.'
l Comments: montzdylan@gmail.com