Is Iowa a Big Ten women's basketball contender? Next 2 games will have a big say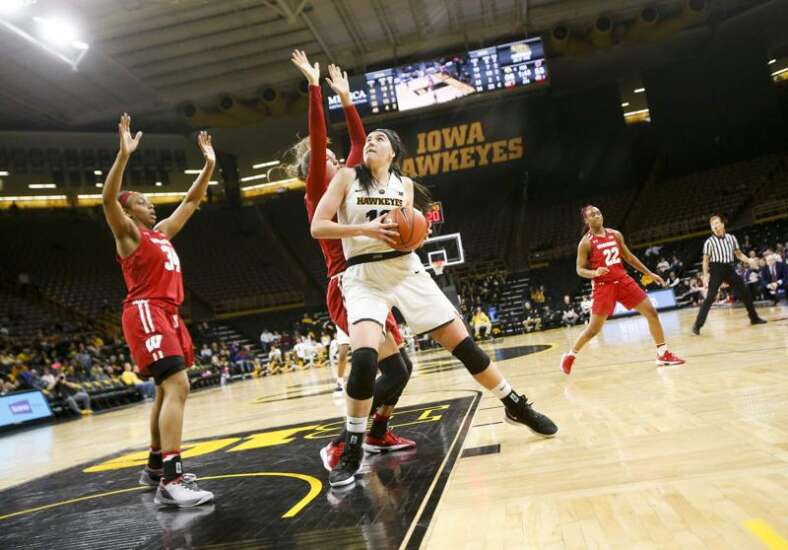 IOWA CITY — Mackey and Williams.
They are two Big Ten arenas, difficult on Big Ten women's basketball visitors. How the Iowa Hawkeyes play in both in the next five days will play a major role in how they fare in the Big Ten race.
An important two-game road stretch begins Thursday for the 17th-ranked Hawkeyes (11-3 overall, 2-1 Big Ten) against Purdue (11-5, 2-1).
Tipoff is 7 p.m. (Iowa time) at Mackey Arena in West Lafayette, Ind.
'We like to pride ourselves on grit,' Iowa senior Tania Davis said. 'The next two games are going to be really tough. But I feel we are up to the challenge. We have a veteran-based team.'
After facing Purdue, it's another road trip Monday at Minnesota. Win at least one of the two, and the Hawkeyes remain in the title chase.
But, as Coach Lisa Bluder said, 'It's no easy task. Getting a road win would be monumental, because they're so hard to come by.'
Iowa's Megan Gustafson will be tested in the paint by Purdue's Ae'Rianna Harris, who ranks third in the nation in blocked shots, at 3.38 per game.
'She's a really good player. She anticipates how people are shooting,' Gustafson said. 'I've got to get ready for that, using ball fakes.
'It's so important to have a veteran team, with people that can handle the environment no matter where we go.'
Gustafson registered 37 points and 14 rebounds in the Hawkeyes' 76-70 loss to Purdue last year in Iowa City. Afterwards, Bluder said, 'It can't just be the Megan Show.'
Since then, Gustafson became Iowa's all-time leading scorer and rebounder. She leads the nation in scoring (26.4 points per game) and double-doubles (13).
Makenzie Meyer may have snapped out of a shooting slump Monday when the Hawkeyes defeated Wisconsin. The Mason City native scored 10 points of 4-of-7 shooting.
'I hope to extend that groove,' she said.
'Shooting is so mental,' Bluder said. 'Shooters need to get themselves back in the gym and feel that rhythm again.'
l Comments: (319) 368-8857; jeff.linder@thegazette.com