Iowa Wrestling Weekend That Was: NCAA D-II and D-III qualifiers, Big Ten pre-seeds announced
Coe's Kaleb Reeves pins his way to a regional title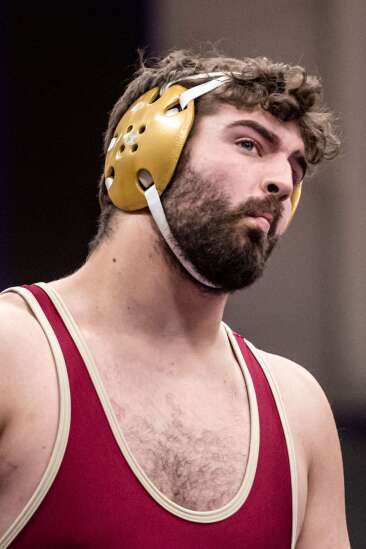 Iowa, Iowa State and Northern Iowa begin the wrestling postseason this weekend, NCAA Division II and III held national qualifiers last weekend, Austin DeSanto earned bronze overseas and more in the Wrestling Weekend That Was.
Kaleb Reeves' pin parade
Coe heavyweight Kaleb Reeves possesses a penchant for pins. He displayed his ability against one of the toughest and deepest brackets at the NCAA Division III Lower Midwest Regional on Friday and Saturday in Springfield, Ill.
Reeves decked the field, reaching his 100th career victory during his title run. He went 4-0, winning each by fall for 11 this season and 84 in his career. The Kohawks' All-American earned the tournament's Gregorian Award, which goes to the wrestler with the most pins in the least amount of time. His matches lasted a whopping 6:22, including a 12-second pin over Dubuque's Darryl Aiello in the final.
Reeves (16-1) is an accomplished Greco-Roman wrestler, competing with the nation's best at the senior level. The technique has served him well, putting opponents in unfamiliar positions. The approach works better against upper weights than light wrestlers, who have leg attacks to counter the upper-body maneuvers. Reeves, a former Sigourney-Keota prep, was able to capture his second straight regional title with dominance.
He was one of four Kohawks to grab national tournament berths. L.J. Richardson also made the finals and was second at 174 pounds. Former Washington (Iowa) state champion Tristin Westphal (184) and former West Delaware prep Jared Voss (197) placed third to advance.
Former Cedar Rapids Jefferson prep and Cornell 174-pounder Jacob Sherzer qualified with a third-place finish. He was the lone Ram to advance to the NCAA tournament March 10-11 at Roanoke, Va. Sherzer is a fifth-year senior and has never had a winning season until a 23-16 mark last year. He improved to 19-8.
Luther managed two qualifiers in Clayton McDonough (149) and 184-pounder Donovan Corn, who was runner-up to Loras' Shane Liegel. Corn, a National Wrestling Coaches Association All-American in 2021, will make his second straight NCAA tournament appearance.
Upper Iowa advances 4
Upper Iowa will have four wrestlers in the NCAA Division II Championships March 10-11 at Alliant Energy PowerHouse in Cedar Rapids. The Peacocks will serve as hosts for the national tournament.
Colton Bye led Upper Iowa with a runner-up finish at 184 at the Super Region V Championships. Tate Murty (141), Eric Faught at 157 and 165-pounder Chase Luensman each placed third to advance for the Peacocks. Luensman, a former Monticello prep, earned his third NCAA trip.
Upper Iowa finished fifth with 80 points.
NCWWC brackets released
The National Collegiate Women's Wrestling Championships will be held Friday and Saturday at Alliant Energy PowerHouse in Cedar Rapids. Some of the nation's top women's collegiate wrestlers will be on display.
The competitors' paths to a national title have been released. Wrestling power McKendree (Ill.) University is the only team to win team titles in the freestyle event, winning the 2020-22 events. According to Flowrestling's Kyle Klingman, the Bearcats boast four national champions and have qualified 10 wrestlers.
McKendree is led by top seeds Emily Shilson (109) and Sydnee Kimber at 191. King (Tenn.) University is ranked No. 1 and leads the field with three No. 1 seeds — Jessica Corredor (101), Ashlynn Ortega at 143 and 136-pounder Ana Luciano. They are among the 15 Tornado qualifiers, which is the maximum number of qualifiers for a team. Title contender North Central (Ill.) also qualified 10.
According to Klingman, the field has nearly doubled in four years. Nineteen teams participated in the inaugural tournament in 2019 and 37 are represented in this year's tournament, including Simpso0n, coached by former World champion, Iowa two-time NCAA champion and Iowa City High four-time state champion Jeff McGinness.
Austin DeSanto medals
Former Iowa All-American and current Hawkeye Wrestling Club member Austin DeSanto earned bronze at 61 kilograms at the United World Wrestling Ranking Series No. 2 tournament in Alexandria, Egypt.
DeSanto built a 9-0 lead before pinning Georgia's Shota Phartenadze in the medal round.
Team USA finished first overall with eight medalists, including Iowa wrestling commit Cody Chittum, who is training in Iowa City and is expected to join the Hawkeyes next season. Chittum claimed silver at 70 kg.
Big Ten pre-seeds announced
The pre-seeds for the Big Ten Championships were released Monday. Iowa has two top seeds with all 10 wrestlers at eighth or better. Spencer Lee (125) and Real Woods led the way at No. 1 in their respective weights.
Patrick Kennedy at 165 and heavyweight Tony Cassioppi are No. 3 seeds, while Max Murin (149) is fourth. Cobe Siebrecht (157), Abe Assad (184) and 197-pound NCAA finalist Jacob Warner are seeded fifth. Nelson Brands at 174 and 133-pound transfer Brody Teske are seventh and eighth, respectively.
The Big Ten leads the country with 88 allocated NCAA berths. The conference will qualify at least seven automatically with each weight. The most come at 157 with 10 automatic berths. Eight will advance at 165 and seven at 184. All other weights have nine qualifiers.
Comments: kj.pilcher@thegazette.com