Iowa women's basketball rewards Zion Sanders with a scholarship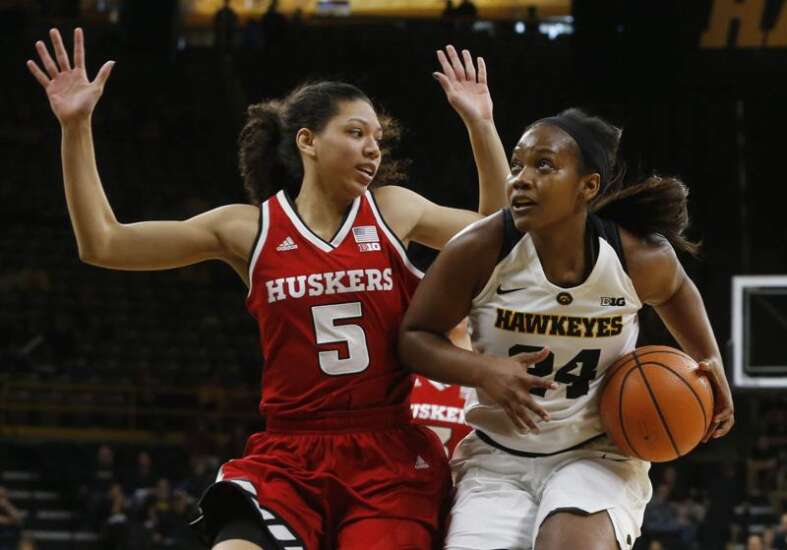 IOWA CITY — The Iowa Hawkeyes have added a scholarship player for this season.
No, they haven't made any roster additions. Instead, Coach Lisa Bluder stripped the term 'walk-on' from Zion Sanders.
'She has gone into games and filled in for us in situations in which we absolutely needed her,' Bluder said Tuesday. 'She has stayed the course. She is one of our best student-athletes. And I'm glad to be able to offer her a scholarship.'
The scholarship is for this season. Future monetary assistance will be determined on a year-by-year basis.
A guard from Evansville, Ind., Sanders became a necessary piece for the Hawkeyes during Makenzie Meyer's absence. Meyer missed the first half of the Big Ten season with a broken bone in her left hand. Sanders has scored 13 points in 19 games played.
Bluder broke the news to Sanders in front of the team, and it was followed by a mob scene from the players.
'It's one of the most enjoyable things I get to do,' Bluder said. 'I honestly had tears in my eyes afterward.'
The Hawkeyes (21-6 overall, 9-5 Big Ten) take a five-game winning streak into Wednesday's game at Rutgers (19-9, 7-7). Tipoff is 6 p.m. (Iowa time) at Piscataway, N.J.
After a 4-0 start in Big Ten play, the Scarlet Knights have tailed off; they have dropped seven of their last 10 games and have slid to ninth place in the Big Ten.
As a result, C. Vivian Stringer's quest for 1,000 career wins will have to wait until the Big Ten tournament, postseason competition or next season.
Stringer owns a 46-year career mark of 996-399. That includes a 269-84 mark in 12 seasons at Iowa from 1983 through 1995.
'I'm sure it's still emotional for Vivian when she faces Iowa,' Bluder said. 'I'm glad she's still (four) away. I didn't want it to come down to us against them for her 1,000th. I'll celebrate when it happens, but I'm glad it won't be against us.'
If Iowa wins its final two games (it hosts Indiana at 11 a.m. Saturday), it is entrenched in fifth place in the Big Ten. The Hawkeyes can climb in the standings if one of three teams ahead of them — Ohio State, Nebraska or Minnesota — lose both of their remaining games.
In addition to its Twitter campaign, the UI sports information department has launched a website to promote junior post Megan Gustafson for postseason recognition.
Gustafson has moved into the national scoring lead at 24.9 points per game. She ranks fifth in rebounding (12.6 per contest).
'Certainly, her success has pushed us into becoming a very good basketball team,' Bluder said.
l Comments: (319) 368-8857; jeff.linder@thegazette.com