Iowa women's basketball closes gap on Big Ten-leading Rutgers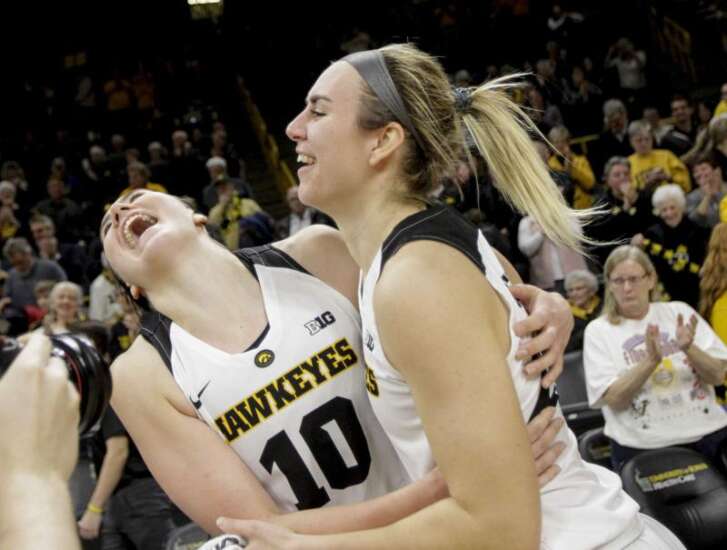 IOWA CITY — C. Vivian Stringer's postgame press conference was about to end quickly, quietly and a bit awkwardly.
Then the subject turned to Megan Gustafson.
'She's the best I've seen,' said Stringer, the former women's basketball coach at Iowa and the current coach at Rutgers. 'The best center in the country, bar none.
'We had no answer for her. None.'
Join the club.
Gustafson posted 32 points and 12 rebounds, leading 15th-ranked Iowa to an important 72-66 Big Ten victory over No. 18 Rutgers in front of 6,035 Wednesday night at Carver-Hawkeye Arena.
The Hawkeyes (15-4, 6-2) hopped into sole possession of second place in the Big Ten, one game behind Rutgers (15-4, 7-1), snapping the Scarlet Knights' 10-game winning streak.
'We have a graph in our locker room that shows the (Big Ten) standings, but it's too early to be talking about it,' Iowa Coach Lisa Bluder said.
Maybe not. The Hawkeyes won their fourth straight game and continue to take on the look of a team that intends to stay in the hunt for the long haul.
After a back-and-forth first half that featured six ties and 11 lead changes, Iowa led throughout the second half. Never by a lot (the largest advantage was 56-48 early in the fourth quarter), but by enough.
Rutgers closed within 63-62 on Tekia Mack's basket with 1:40 to go, then Hannah Stewart made a key play on both ends of the floor.
Her driving basket gave the Hawkeyes a bit of breathing room at 65-62, then she blocked a shot by Arella Guirantes with 35 seconds left. Kathleen Doyle rebounded and made the first of two free throws, and it remained at least a four-point margin until the final horn.
'Pretty happy locker room,' Bluder acknowledged. 'That was a good win over a good opponent. (The Hawkeyes) were locked in. They took the lead in the second quarter, and never gave it up.'
Rutgers was whistled for 26 fouls, Iowa 12. Stringer — who coached at Iowa from 1983 through 1995 before leaving for the East Coast, and owns 1,012 career wins — was asked if she had any feelings about that.
A few tense moments passed, then she answered, 'No.'
Iowa, which is 6-0 against Rutgers since the Scarlet Knights joined the Big Ten, was 19 of 25 from the free-throw line, Rutgers 8 of 12.
The 72 points was the most Rutgers has allowed in a game this season. The Scarlet Knights entered the contest allowing 53.9 points per game.
'When you play such an aggressive team, and you attack the basket, it's hard for them to keep you in front of them,' Kathleen Doyle said.
Gustafson scored Iowa's first 13 points. She was 13 of 16 from the field, starting 8-for-8.
'We knew about what they would do on defense,' Gustafson said. 'They played a lot of high-side defense, and we took advantage of that. Credit my teammates for getting me the ball.'
Doyle added 17 points and six assists. Makenzie Meyer tallied 11 points, all in the second half.
Stasha Carey paced Rutgers with 17 points. Guirantes added 12, Ciani Cryor 11.
The Hawkeyes host Purdue at 2 p.m. Sunday.
IOWA 72, RUTGERS 66
At Iowa City
RUTGERS (66): Stasha Carey 7-10 4-5 17, Victoria Harris 0-1 0-0 0, Charise Wilson 1-4 2-2 4, Ciani Cryor 5-9 0-0 11, Arella Guirantes 5-16 2-3 12, Jordan Wallace 0-0 0-0 0, Noga Peleg Pelc 1-5 0-0 3, Caitlin Jenkins 3-5 1-2 7, Sierra Calhoun 2-6 0-0 6, Tekia Mack 1-2 0-0 2, Zipporah Broughton 2-2 0-0 4. Totals 27-60 8-12 66.
IOWA (72): Hannah Stewart 2-4 0-0 4, Megan Gustafson 13-16 6-7 32, Makenzie Meyer 2-6 6-6 11, Tania Davis 1-4 2-2 5, Kathleen Doyle 5-11 5-10 17, Amanda Ollinger 0-1 0-0 0, Alexis Sevillian 1-5 0-0 3, Monika Czinano 0-1 0-0 0. Totals 24-48 19-25 72.
Halftime: Iowa 35, Rutgers 33. 3-point goals: Rutgers 4-25 (Carey 0-1, Wilson 0-2, Cryor 1-3, Guirantes 0-8, Peleg Pelc 1-4, Calhoun 2-6, Mack 0-1), Iowa 5-17 (Meyer 1-4, Davis 1-3, Doyle 2-7, Sevillian 1-3). Team fouls: Rutgers 26, Iowa 12. Fouled out: Cryor, Stewart. Rebounds: Rutgers 34 (Jenkins 7), Iowa 29 (Gustafson 12). Assists: Rutgers 17 (Cryor 4), Iowa 19 (Davis, Doyle 6). Steals: Rutgers 7 (Harris, Cryor 2), Iowa 7 (Davis 3). Turnovers: Rutgers 14, Iowa 12.
Attendance: 6,035.
l Comments: (319) 368-8857; jeff.linder@thegazette.com