Iowa to provide extra security around Dakich
Jan. 28, 2015 4:03 pm, Updated: Jan. 28, 2015 9:01 pm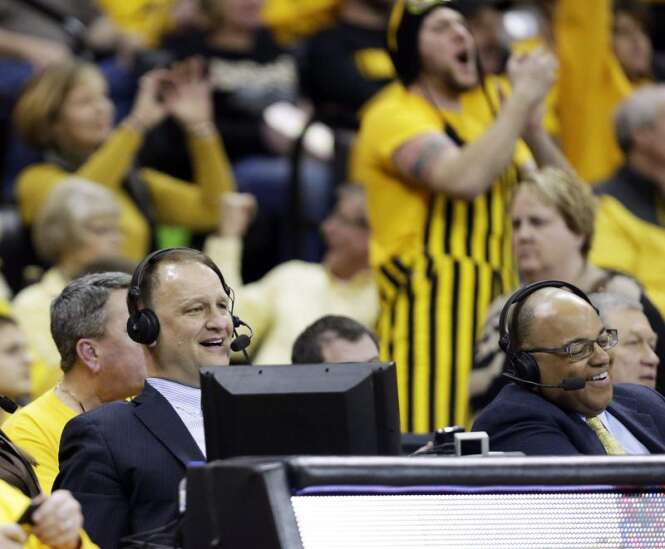 IOWA CITY - Iowa athletics will ramp up security around ESPN broadcaster Dan Dakich during the Hawkeyes' basketball game Saturday against No. 5 Wisconsin at Carver-Hawkeye Arena.
During Iowa's 82-50 loss at Wisconsin last week, Dakich called Hawkeyes center Adam Woodbury 'cowardly" and 'gutless" after the junior twice poked eyes of Wisconsin players. Woodbury said his actions were accidental and apologized. Dakich, who also called for Woodbury's suspension, did not back down from his comments last week. That caused a wave of reaction among Iowa - and other - basketball fans last week on social media and other platforms.
'We have decided that there will be a member of the security staff sitting behind the television table," said Rick Klatt, Iowa's associate athletics director for external relations. 'Hopefully we'll be fine.
'It's probably the prudent thing to do for the circumstances."
Iowa Coach Fran McCaffery called Dakich's comments 'out of line" after the game and on his weekly radio show demanded Dakich apologize. Dakich, who has a daily Indianapolis-based radio show, asked McCaffery to appear on his show but Iowa declined the offer.
Dakich is known for strong and polarizing opinions during games. He played basketball and served as an assistant coach at Indiana, where he also filled in as interim coach in 2008.
ESPN will pair play-by-play broadcaster Bob Wischusen with Dakich on the broadcast. The 161st edition of the Badgers-Hawkeyes series tips off at 11 a.m. on ESPN.
McCaffery said on his radio show Wednesday that he's ready to move on past the issue.
' I suspect in this case that Dan will be incredibly professional," McCaffery said on his radio show Wednesday. 'That's what I expect to see. With me, I said what I said, he said what he said, and it's time that we move on. I think in fairness to Adam Woodbury, we just need to move on."
'We need to have a good relationship with the folks at ESPN. They do a great job with our telecasts, and we need to continue that. I've known Bob Wischusen a long time. He did a lot of our games at Siena. There's not a more professional guy going. I suspect when those guys roll into town on Saturday, they'll do a great job, and we'll do the best we can to perform, and we'll put that other one in the past."
Radio show host Gary Dolphin suggested the fans will move on, too.
'I don't know about that," McCaffery said, laughing. 'I hope you're right."
l Comments: (319) 339-3169; scott.dochterman@thegazette.com