Iowa players recall bitter defeat to ISU
Dec. 10, 2014 12:02 pm, Updated: Dec. 11, 2014 3:55 pm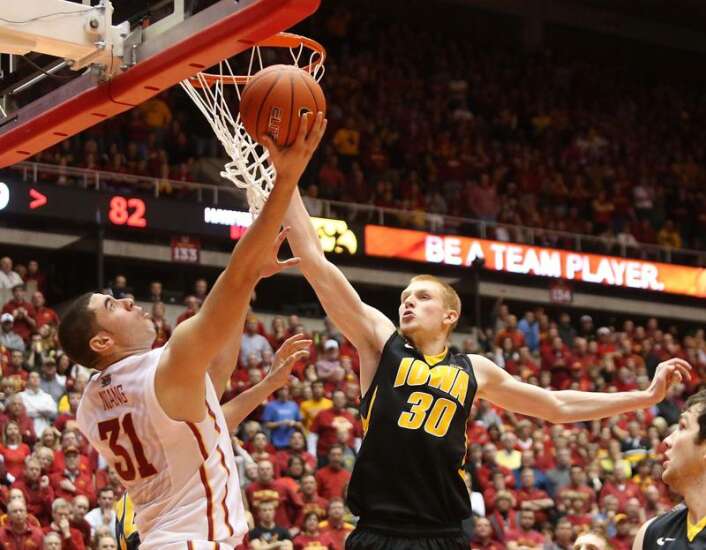 IOWA CITY - Gut-wrenching defeats were part of Iowa's basketball resume last season, but the stench from its loss at Iowa State continues to linger nearly a year later.
Iowa State and Iowa met last December in perhaps the most anticipated game between the rivals, Iowa State students lined up around Hilton Coliseum for hours in the bone-chilling cold for a shot at a floor seat. Both teams were ranked, the arena was sold out, the game was televised nationally and the pace was furious.
The Hawkeyes dictated the game's tempo and led by five points with 1 minute, 21 seconds left. Then, depending on your perspective, either Iowa unraveled or Iowa State made the crucial plays at the right time. The Cyclones scored the game's final eight points and beat the Hawkeyes 85-82.
Iowa senior forward Aaron White can recall in photographic detail every misstep he and his teammates made late in the game.
'I don't think it's stuck with us," White said. 'I think it hurt a little more than other losses because we had them.
'I had the offensive rebound, I turned it over. Mike (Gesell) was on the free-throw line ready to seal the game. Shoot, Woody (Adam Woodbury) fouled 45 feet away from the hoop, which was uncharacteristic of him and our team. Georges (Niang) made the reverse layup over me and Jarrod (Uthoff). There were some plays that you look back at and ... how did we lose that game? But at the time we did."
'We felt like we should have won that game last year," Gesell said. 'It's one of those that goes down to the wire in a hostile environment."
The critical plays began with a minute remaining. Iowa led 82-79 and Uthoff missed a jumper. White grabbed the offensive board and attempted to dribble, but ISU point guard DeAndre Kane stole the ball. Iowa State's Melvin Ejim was fouled by Gesell and hit a pair of free throws with 42 seconds left to cut Iowa's lead to 82-81. On Iowa's next possession, Devyn Marble was fouled but missed the front end of a one-and-one. Iowa State secured the rebound and called timeout.
With 18 seconds left in the game, Niang went around both White and Uthoff for a bucket and gave Iowa State an 83-82 lead. Six seconds later, Iowa State's Monte Morris fouled Gesell, who missed both free-throw attempts. His second shot rattled in and out before Iowa State's Dustin Hogue grabbed the rebound. Hogue was fouled and then knocked down two free throws.
Iowa had one chance to tie when Zach McCabe nearly connected on a 3-pointer with three seconds left. He missed the shot, and Iowa blew an opportunity to beat Iowa State at Hilton for the first time since 2003.
In the last 90 seconds, Iowa State sank all six of its free throws. Iowa missed its final four free-throw attempts.
'It stuck with me, but I'm past it now," Gesell said. 'I use it as a learning experience. I feel like every game like that is another step to improve on, and I think I'm a better player because of it."
Now, a year later, those memories burn as the Hawkeyes (8-2) play host to the No. 13 Cyclones (6-1) on Friday. Only once in the last 11 meetings between the rivals has the visitor emerged victorious. While last year's defeat remains bitter, Iowa's players embrace the chance to reverse the outcome.
'You've got to get over it," White said. 'I'm just happy we've got another opportunity. We've got them at home."
'This is the instate rivalry," Gesell said. 'The media, the fans, they all make a huge deal out of it. It's something where guys from Iowa, they want to beat the other team. They want to have the state that year. But at the same time, it's another game, another opportunity for us, another resume builder for us. So it's another great opportunity."
l Comments: (319) 339-3169; scott.dochterman@thegazette.com