Iowa notes: Duzey's return, Outsey's move
Aug. 8, 2015 7:47 pm, Updated: Aug. 8, 2015 10:10 pm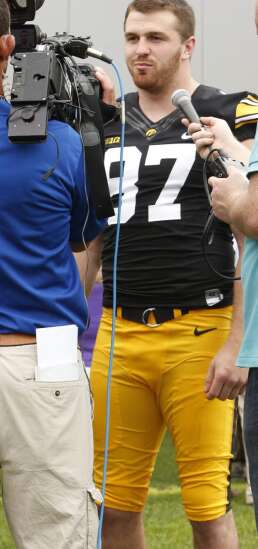 IOWA CITY - Jake Duzey entered the spring as one of Iowa's most consistent receiving threats. The senior tight end exited the spring on crutches.
In what could be described only as a freak injury, Duzey suffered a torn patella tendon in his left knee in one of the final spring practices.
'I just went up on a corner ball in the end zone and caught the ball and came down and I guess that's when it tore," Duzey said. 'I did score a touchdown."
Obviously the injury was painful for Duzey, but it also hurts Iowa's offense. Duzey led all Big Ten tight ends with 36 receptions last year. He has 58 career catches for 678 yards and five touchdowns. In 2013, he burned Ohio State's secondary for an 85-yard touchdown. Duzey earned honorable mention all-Big Ten honors last year and has 13 starts.
'It couldn't come at a worse time, but things happen and you've got to accept it," he said. 'I'm doing everything I can to get back on the field with the guys."
Duzey (6-foot-4, 248 pounds) has started running but still is withheld from contact. His target date for return is late September or early October.
'A little bit faster than we had originally thought," he said. 'We'll just see what happens and stick to what the trainers say.
'It's been a great experience for me looking at the outside, and kind of getting all of those mental reps has been a pretty good thing for me. I've been just helping those guys out with whatever they need."
ON THE MOVE
With a ton of linebackers in Iowa's depth chart and the tight end pool fairly shallow after this season, freshman Jameer Outsey shifted from linebacker to tight end, a move classified by Coach Kirk Ferentz as mutually beneficial.
'He was doing OK at linebacker, showed some good attributes, but as far as really being able to play the game at that position the way we'd hoped, probably not," Ferentz said. 'His growth potential, you know, I think is going to limit him at linebacker. So we've had a discussion with him and we've talked about defensive end, tight end, and his preference was offense. Right along with that, we have a real need right now. We've got a couple seniors that are going to graduate at that position, and again, based on three days of watching him, I think he's got the potential to be a good football player at that position."
Outsey (6-3, 235) red-shirted last year and was a three-year starter on both sides of the ball at Franklin High School in Somerset, N.J. He's rooming with Duzey during training camp.
'He's extremely athletic and he seems to be picking up the stuff pretty quick," Duzey said. 'It's only three days, but I'm pretty sure he'll be a great tight end."
TICKET UPDATE
Iowa's season-ticket sales for the general public and UI faculty are down 16 percent from last year, according to numbers provided by the athletics department.
As of Aug. 6, Iowa had sold 37,980 season tickets. Last year a month before kickoff, Iowa had sold 45,613.
'We've planned for a reduction, we've seen a reduction," said Rick Klatt, Iowa's associate athletics director for external relations. 'Our goals remain the same: at the end of the season to be a top-25 school once again in attendance - and I think that's reachable - and to meet our financial goals, which is the Regents budget."
Iowa's sales to incoming freshmen are up 40 percent. This week, the department will offer full-time Kirkwood Community College students a chance to buy student season tickets.
Iowa also has reached out to about 1,700 organizations for single-game group sales.
'We've known we'd be down. We are down," Klatt said. 'We planned for it. So now our attention is how do we grow our single-game sales?"
l Comments: (319) 339-3169; scott.dochterman@thegazette.com