Iowa Hawkeyes love their alternative uniforms ...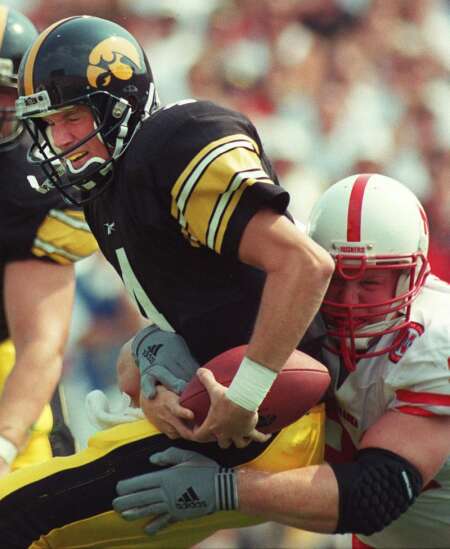 IOWA CITY — If sarcasm were water, Kirk Ferentz would've drowned everyone during Tuesday's news conference.
After a half-hour of answering questions, mostly about the Hawkeyes (5-3, 2-3 Big Ten) matchup Saturday with No. 3 Ohio State (7-1, 5-0), Ferentz finally was asked about the alternative uniforms his team will wear for the 2:30 p.m. game at Kinnick Stadium.
Just keep this thought in mind before taking in his answer: The kids love them.
'I couldn't sleep Saturday night,' Ferentz said, the thought bubbles dripping with sarcasm. 'I was so excited. And it was even better to see the helmets. We wore the helmets in practice today. I was trying to concentrate on what we were doing, but I just kept looking at those helmets.
'Those are awesome.'
Linebacker Josey Jewell, cornerback Josh Jackson, quarterback Nate Stanley and tight end Noah Fant were the ... models? ... for a video the UI sports media staff shot during the bye week Oct. 14. That was unveiled Sunday afternoon. If the CIA is looking for spies, those four players did a tremendous job keeping this a secret.
It also helped that their cellphones were collected before the shoot.
'I think it's a little bit cool,' Jewell said.
What's your favorite part?
'Win and then watch it on tape,' he added without missing a beat.
'I' is incorporated into the background of the numbers, filling them in with a gray color. The helmet also is grayish, with the 'I' filling it in. There's still a stripe on the upper arm, but this one is black and gray. Pants have a thin yellow stripe. Everything is layered over black.
'I think they're pretty sweet,' Stanley said. 'I don't know who designed them (Nike). I think a team of people, but they did a great job.'
Favorite part?
'I really like how they incorporated all the 'I's' in the uniform, especially with the numbers,' Stanley said. 'I think that's pretty special and pretty cool. It's cool to have the alternate uniforms, but they still incorporate who we are.'
The helmets are very popular.
'The helmets are pretty nice,' Fant said. 'With the different color scheme, it's pretty cool and I like them a lot.'
Hey, Fant was a recruit just two short years ago. Did alternative uniforms mean anything to him (he came to Iowa, so obviously they weren't a deal breaker)?
'It matters to some people, me personally, I like the alternative uniforms,' Fant said. 'I like changing it up. I like different styles and different looks. The main purpose is football, but me personally, I like the alternative uniforms. I think a lot of guys on our team do, too.'
Even Josey Jewell?
'They're definitely cool, I like the design,' linebacker Ben Niemann said. 'I think even Josey likes them, too, no matter what he says. What it comes down to, we have to be ready to play regardless of what we wear.'
Back to Ferentz. The sarcasm might still be coming out.
'I'm probably killing our recruiting effort right now, right?' he said laughing.
Let's rewind this story a little bit.
Ferentz has had two 'arrivals' in Iowa City. Hayden Fry hired him in 1981 to coach the Hawkeyes' offensive line. Just two years earlier, when Fry started his 20-year career in Iowa City, he wanted to change the Hawkeyes' image. It was, after all, 20 consecutive nonwinning seasons before Fry took over.
The Pittsburgh Steelers were the football heavyweight champion. They also wore black and gold. Fry wrote to the Steelers and asked permission to copy their uniforms.
They said yes. Could you imagine that now? No, you couldn't, because no way anyone would do that now.
'As (late Iowa radio voice) Jim Zabel said, it was only two bad decades of football,' Ferentz said. 'I think that was a good time to change.'
Growing up and being in Pittsburgh during this time, a Fry quote about the uniforms caught Ferentz's attention.
'I still remember Coach Fry saying, 'We may not be very good when we snap the ball, but we're good coming out of the huddle,'' Ferentz said. 'I remember that like it was yesterday. I had no idea who Hayden Fry was or who the Iowa Hawkeyes were, but I remember reading that quote because I'm from Pittsburgh. I mean, that was the psychology in his mind was just try to change things and straight ahead, let's go.'
Then, in December 1998, Ferentz became head coach of the Hawkeyes. Iowa's uniforms drifted during Fry's later years. They were kind of all over the map, with those winged shoulder pad jerseys that has virtually no one screaming throwback. Iowa's apparel contract at the time was with Reebok.
So, when the Hawkeyes lined up against Nebraska on Sept. 4, 1999, they were back in the Steelers uniforms and have been ever since.
They mean something to Ferentz. And, hey, isn't that a story you can get behind?
'I mean this in all sincerity: That's reverence for what Coach Fry did for this program,' Ferentz said. 'We went back to the original — the ones that he brought, put us in.'
No, that 1999 game against Nebraska didn't go great. The Huskers were No. 5 in the country and won 42-7. And, yes, this is No. 3 Ohio State on Saturday.
Ferentz has a thought on that.
'What I hope, after the game, people say is 'They really played well in those uniforms,'' Ferentz said. 'Those awesome uniforms.'
Almost made it out of that statement without sarcasm. Almost.
l Comments: (319) 398-8256; marc.morehouse@thegazette.com