Iowa football Game Report: Hawkeyes 56, Nebraska Cornhuskers 14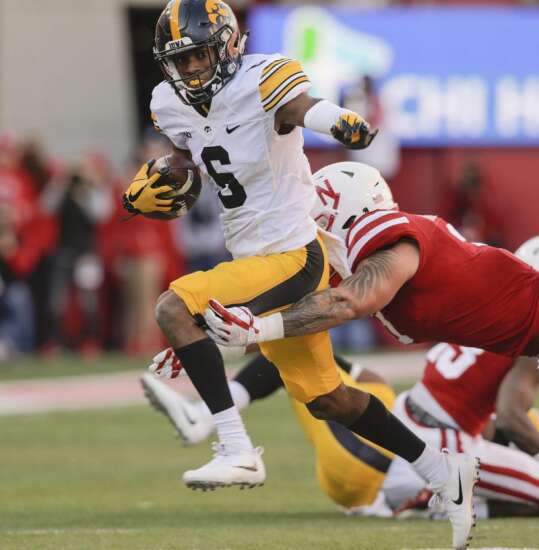 LINCOLN, Neb. — News and notes from Iowa's win over Nebraska in the regular-season finale Friday at Memorial Stadium.
Play of the game
The Set Up — It was 14-14 at halftime. The Hawkeyes had 105 rushing yards at the half. That's been a good marker for Iowa. Since 2015, when the Hawkeyes rush for 100-plus yards they're 26-1. When they don't, Iowa is 0-11. So, tracking well.
Then again, the Huskers' one good thing on offense is their passing game, mostly quarterback Tanner Lee and wide receiver Stanley Morgan. They had it going in the first half, hooking up for a pair of TDs.
So, going into the third quarter, this was anyone's game.
What Happened — And then Nebraska kicked off to begin the third quarter.
Wide receiver Ihmir Smith-Marsette started returning kickoffs last week. For everything that Iowa's special teams haven't been the last couple of weeks, whoever made this call deserves a fine scotch.
Smith-Marsette had a handful of drops in the last two games, making this an even bolder move.
Smith-Marsette made it pay off for his coaches. He started the kick return to open the second half up the right sideline. Showing the discipline that will get head coach Mike Riley fired probably before the weekend is out, the Huskers' coverage collapsed on the right.
Smith-Marsette was spun near the Iowa sideline and he saw the left was green space.
The Result — Smith-Marsette filed the green space and cruised into the end zone. But fellow true freshman Geno Stone was called for an illegal block in the back, and so this officially went down as a 74-yard return.
Five plays later, the Hawkeyes took care of the scoring part, with running back Akrum Wadley crashing in from the 1-yard line.
That made it 21-14 Iowa. Nebraska collapsed soon thereafter. Smith-Marsette's return single-handedly corrected the slow starts at the beginning of halves Iowa's offense has experienced this year.
Great return by Smith-Marsette - block in the back at very end prevents TD November 24, 2017
Great return by Smith-Marsette - block in the back at very end prevents TD pic.twitter.com/iDXwZDMAmq
— HeavensBarstool (@HeavensHawkeye)
Climate change
The game-time temperature was 69 degrees. That's not a run-of-the-mill Nov. 24 day on the prairie.
It made for terrific conditions for the third-largest population in Nebraska, which is Memorial Stadium during a home football game.
When Iowa last played at Nebraska, in 2015, the game-time temperature was 24 degrees. That's Fahrenheit. Also, the wind blew at 13 mph that day to add to the discomfort.
Nebraska wants Iowa
This week, new Nebraska Athletic Director Bill Moos said he has asked the Big Ten to make Iowa the Huskers' permanent Black Friday foe.
Iowa has played Nebraska on Black Friday since the Huskers began league football play in 2011, and will do so through 2019. That was before Shawn Eichorst was fired as Nebraska's AD.
This fall, the Big Ten announced the Hawkeyes will play Wisconsin in the 2020 and 2021 season-finales, and the Huskers will face Minnesota.
'I'm going to really push, to establish Iowa as being our rival,' Moos said on a Husker Sports Network radio show Monday. 'We came into the Big Ten and we need a rivalry game, and I've already been to the Big Ten and talked to them about that so hopefully we can keep that Black Friday game and have that be Iowa each year.'
Moneyball
Iowa's seventh win of the season meant a merrier Christmas for the Hawkeyes' coaching staff in more than one way.
From Ferentz's contract: 'The University will find an average salary increase of 8% for the nine on-field assistant coaches as well as the Head Strength Coach, the top Assistant Strength coach and the Director of Football Operations on July 1 after any season in which the team finished with at least 7 wins, participated in a postseason bowl game and achieved a Graduation Success Rate of at least 67.5% in the most recent calculation period.'
Iowa's GSR was 76 percent (11th-highest in the Big Ten) according to NCAA figures released earlier this month.
If the Hawkeyes win their bowl game, Ferentz will get a $500,000 bonus for an 8-win season. He gets a $100,000 bonus for his team being bowl-eligible.
Turning corners
This week, four-star cornerback Chase Williams of Corona, Calif., announced he was waving off his verbal commitment to Nebraska.
A few weeks ago, four-star cornerback Brendan Radley-Hiles of IMG Academy in Bradenton, Fla., did the same thing.
The severe unlikelihood Nebraska Coach Mike Riley and his staff would be retained for next season and beyond undoubtedly was a key factor in the preps' decisions.
Injury report
Iowa was once again without safety Amani Hooker (bruised knee). His replacement, Miles Taylor, had to leave the game with an apparent knee injury in the first quarter and was replaced by freshman Geno Stone, who had eight tackles.
Nebraska was without freshman receiver J.D. Spielman (shoulder), who had 55 catches for 830 yards this season. The Huskers lost starting linebacker Mick Stoltenberg (was in a walking boot after he got hurt) and linebacker Marcus Newby (head) to injury in the first quarter. Another outside linebacker, Collin Miller, was knocked out of the game in the second quarter.
Next opponent
In all likelihood, Iowa will play someone from the Pac-12, ACC or SEC in a bowl game after Christmas and before Dec. 30 in either California, Tennessee or New York. Does that narrow it down for you?
The announcement — be it Foster Farms, Holiday, Music City or Pinstripe Bowl — will come on Dec. 3.