Iowa basketball using honesty in self-assessment
Dec. 3, 2017 5:00 pm, Updated: Dec. 3, 2017 6:42 pm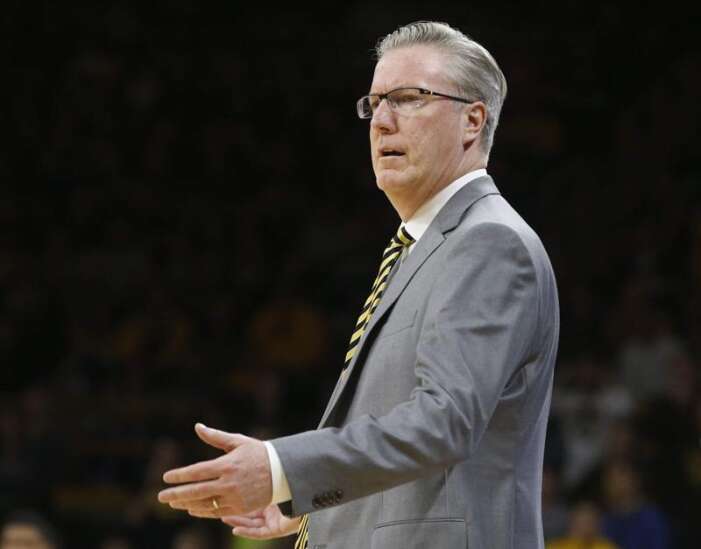 IOWA CITY — On Friday, before the Iowa men's basketball team lost its Big Ten Conference opener to Penn State, the Hawkeyes were asked about honestly assessing themselves.
Most coaches and athletes will tell you an honest assessment is required after a win or a loss, but there's also no doubting a frank, clear study of what's in the mirror is of more importance after a loss.
For Iowa, Saturday was another game in which that's the case, and another loss in which the Hawkeyes were left frustrated with not fully understanding the roots of inconsistency and poor carry-over of scouting report from practice to the game.
The looks on the faces of the players were much the same as that after the Virginia Tech loss. Confusion, disappointment and, yes, anger. Not a fly-off-the-handle anger, mind you, but anger all the same.
'I want to win every game, every time I step on the floor,' point guard Jordan Bohannon said Friday. 'It really does piss me off when I lose a game, and I hope everyone on this team has the same mindset. I know they do.
'Moving forward, I need to start having a little better understanding of why we lost a game and learning from it.'
Honesty can be difficult. It can be uncomfortable.
Across the board, from Coach Fran McCaffery to the Hawkeyes players, all have said they are not pointing fingers — something that, per human nature, is very easy to do. Each said things in a similar vein to Bohannon about needing to understand what they're doing as individuals and how that then applies to the team.
Tyler Cook said Saturday night that the talking has to lead to action at some point. That made his comments Friday leading into the Penn State game all the more applicable. The Hawkeyes don't find honesty difficult, they said.
'I don't think it's that hard,' Cook said. 'There's no one else to blame but yourself really, when stuff is going bad. I think there's no other option.
'I don't think anybody shies away from accepting blame when it belongs to them. I'm not saying we're pointing fingers, but we're taking responsibility for what we're not doing a good enough job of.'
Iowa doesn't have a lot of time to reflect or assess, so the time spent doing that Sunday has to be efficient as the Hawkeyes prep for Monday's 7 p.m. tipoff at Indiana on BTN.
Cook and Bohannon see themselves as the guys in the locker room that need to lead the way in making sure everyone involved is, in fact, honest with themselves and to snuff out the blame game if they even sense it starting to creep up.
That starts with being an example when they are called on the carpet themselves. McCaffery used Cook as an example of how this group will 'accept coaching.' The sophomore who can put up highlight-reel dunks and deliver highlight-reel staredowns is 'a guy that has a reputation, (but) he doesn't expect the superstar treatment. He doesn't get it. We hold him accountable in film session like everybody else, and he reacts positively,' McCaffery said.
If Iowa wants to make something of this year, as they and many others expected them to, accountability and honesty from coaches and players is how it will happen.
'You want a group of guys that have the character to do that,' McCaffery said. 'It's not a standard for everybody else and not me. No, it's a standard for everybody.
'Like we lose — if we have a stinker, we're all in this together. I'm taking the blame. Okay, maybe we're not doing a good enough job teaching it, coaching it, drilling it, whatever, and then I think they appreciate that. … Let's go on to the next and do better, all of us.'
l Comments: (319) 368-8884; jeremiah.davis@thegazette.com